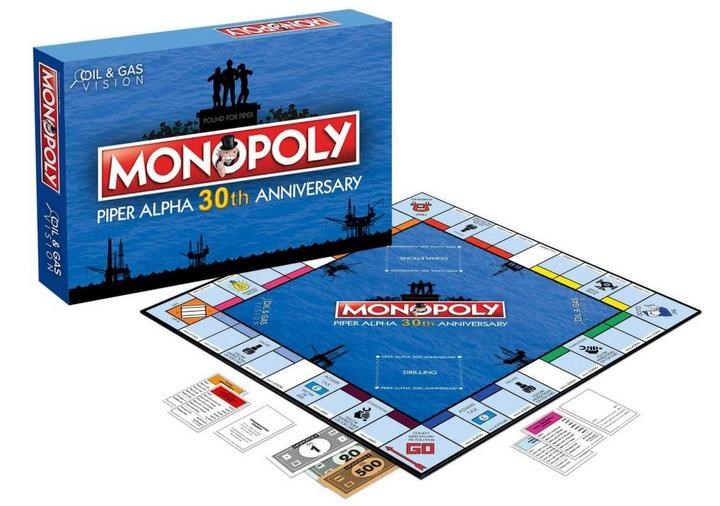 THE release of an edition of Monopoly that marks the anniversary of the tragic Piper Alpha oil platform disaster has sparked outrage among the relatives of the 167 people who died.
The classic board game has been transformed into an oil-themed edition by fundraisers, with each square on the board sponsored by companies working in North Sea oil. The game is being sold for £34.99 (US$49.50) to raise funds to maintain a memorial to Piper Alpha in Hazlehead Park in Aberdeen.
Despite these good intentions, there has been fierce opposition to the game which marks 30 years since the incident.
Roy Carey who leapt from the burning rig into the sea to avoid being killed told The Sun newspaper: "This is inappropriate. It seems callous considering there are families out there who lost fathers and sons.
"They've made a game out of something extremely serious."
Catherine Speirs lost her father in the disaster. She said: "I thought it was a sick April Fool's joke. It's like they're making a mockery of Piper Alpha."
The root cause of the explosion on 6 July 1988 followed the placement of a blind flange that had not been fully tightened. A series of events involving a shift handover and confusion over work permits led to a condensate pump being restarted in error. The blind flange failed, leading to a release of hydrocarbons. The ensuing explosions and fire resulted in the deaths of 167 men.
Kenny Dooley, of PR firm C-Growth, came up with the idea for the game and has said it will be redesigned following the reaction.
"I think some people have misunderstood what it means," he told The Sun. The new edition will be called Oil and Gas Monopoly and will still feature Piper Alpha on the front of the box.
A Facebook post by the charity 167 Souls, which is behind the board game, says the cost and production has been covered by the sponsors of the game's squares so every penny raised by those who buy it will go towards the upkeep of the memorial. It hopes to raise £69,000 from the initiative.
Sponsors of the squares include Bristow's, OPITO and Shell which has substituted the four train stations squares with its Brent platforms
The reactions have not all been negative. Teresa Conor said: "Having lost my dad in the Piper Alpha disaster I am very impressed by the support from various companies around the UK…This shows me that people still care even after 30 years have passed and shows me how this affected the UK as a whole."
IChemE's publications including The Chemical Engineer will be commemorating the 30th anniversary of Piper Alpha. IChemE's Loss Prevention Bulletin will publish a special edition in June that will include insights on the incident from Stephen Richardson, who was involved in the Cullen Inquiry into the disaster.