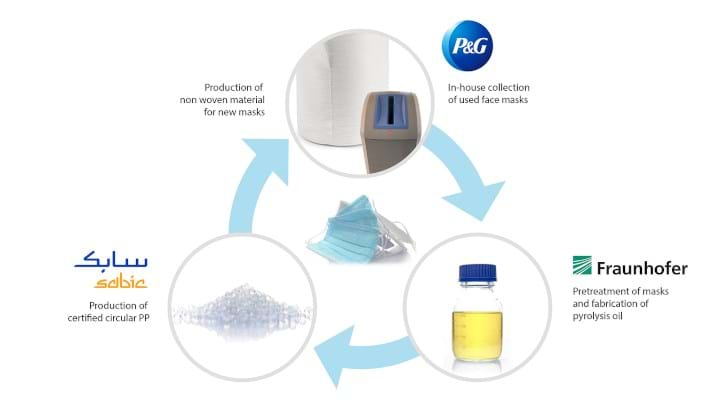 SABIC/Fraunhofer
A COLLABORATION between research and industry is developing a closed loop process where single-use face masks can be recycled to produce new masks.
The use of billions of disposable face masks globally throughout the pandemic has raised environmental concerns, particularly when they are discarded as litter in public places. Fraunhofer Institute UMSICHT, SABIC, and Procter & Gamble (P&G) have announced that they have completed a pilot project to explore whether or not recycled face masks can be used to produce new masks.
P&G collected used face masks from employees and visitors to its manufacturing and research sites in Germany using special collection bins. The masks were sent to a dedicated research pyrolysis plant at Fraunhofer.
Alexander Hofmann, Head of Department Recycling Management at Fraunhofer UMSICHT, said: "A single-use medical product such as a face mask has high hygiene requirements, both in terms of disposal and production. Mechanical recycling would have not done the job. In our solution, therefore, the masks were first automatically shredded and then thermochemically converted to pyrolysis oil. Pyrolysis breaks the plastic down into molecular fragments under pressure and heat, which will also destroy any residual pollutants or pathogens, such as the coronavirus. In this way it is possible to produce feedstock for new plastics in virgin quality that can also meet the requirements for medical products."
SABIC then used the pyrolysis oil as a feedstock for to produce new polypropylene by combining it with a fossil-based feedstock in what is known as a mass balanced approach. According to Plastics Europe, this is a way to attribute renewable feedstock to an end-product in a transparent and auditable way when it might not be possible to physically trace the renewable feedstock as it is processed together with fossil fuel-based feedstock. The mass balance approach is seen as an important step on the way to a circular economy.
P&G processed the polypropylene polymer to non-woven fibres material to produce new face masks. Hansjörg Reick, P&G Senior Director Open Innovation, said: "This pilot project has helped us to assess if the closed loop approach could work for hygienic and medical-grade plastics. Of course, further work is needed but the results so far have been very encouraging."
Hofmann told The Chemical Engineer that research is continuing at Fraunhofer on the chemical recycling of plastic waste. He also described the challenges for scaling up the mask-recycling process. "The handling and logistics issues are particularly important for a scale up. This concerns, for example, the collection and consolidation of the masks, the transport, but also the handling, since contaminated products are involved. Furthermore, the process parameters must be optimised in the course of a scale up, especially the yields of pyrolysis oil. Last but not least, an appropriate operator and investor consortium must be found."
"Assuming the appropriate financing, we at Fraunhofer believe that the process can be industrialised within 1.5–2 years."