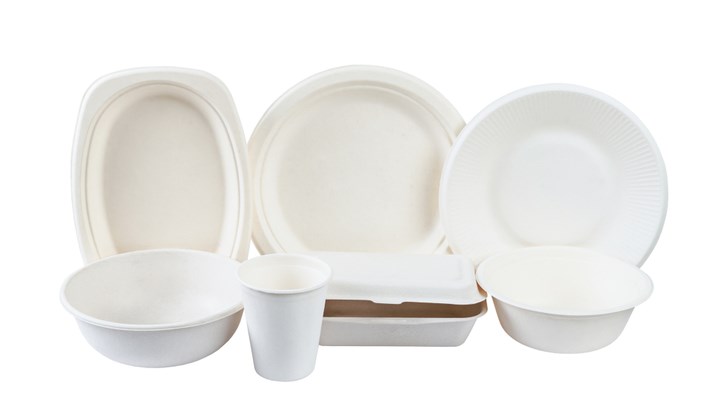 FOLLOWING nine months of collaboration, partners Solenis and Zume have open-sourced a recipe and method for manufacturing non-plastic PFAS-free food and consumer packaging.
The partners say the unveiling of this process marks an important milestone for the industry.
Per- and polyfluoroalkyl substances (PFAS) are used in a variety of applications, including as coating for paper and cardboard containers for fast-food and to-go boxes. However, PFAS have been linked to harmful health effects, including decreased fertility, weakened immune system response, and increased risk of certain cancers.
In a co-written report, specialty chemicals company Solenis and Zume outline a method to be used in a single process flow to produce oil- and grease-resistant (OGR) moulded fibre packaging. The resulting product is additionally fully compostable within 90 days of disposal. Zume is a sustainable solutions company working to replace single-use plastics with 100% compostable, plant fibre-based products.
The companies identified five parameters needed to achieve OGR without using PFAS, which include thermoforming; freeness; chemistry management; charge management; and part formation. Using these parameters, they produced moulded fibre packaging that resisted oil at 60°C for 2 hours. According to Pam Horine, VP of Product Research & Compliance at Zume, this matches oil holdout in PFAS-containing products.
Thermoforming is the process of heating material to its forming temperature and then applying force to shape the material. The researchers discovered that OGR action of Solenis's OGR imparting TopScreen coating technology could be boosted by using a hot pressure at a minimum 11.5 MPa in Zume's patented Molded Fibre Cell technology – used to produce products such as food containers to replace plastics – and a set of Zume designed products. Solenis's existing TopScreen OGR barrier coatings are a new alternative to polyethylene film and PFAS used in paper, paperboard, and moulded fibre packaging.
The report adds that a higher pressure is recommended if there are no negative effects, eg decrease of part aesthetics. Horine explained that part aesthetics refer to the appearance of a part. "At higher pressures, the part may develop areas of local discoloration that would not be acceptable to consumers."
The team determined that optimum OGR was achieved when the pulp slurry used to produce the moulded-fibre products is managed to a Canadian Standard Freeness (CSF) of 200–300 CSF. Horine said that CSF is a standard test used in the pulp and paper industry that describes how quickly water drains from a known quantity of pulp.
Achieving optimum OGR further requires managing the sequence of chemical addition and mixing times; keeping the charge of the slurry and white water within recommended ranges (-100 to -2 mEq and -30 to 15 mEq, respectively); and ensuring uniformity in the fibre matrix and minimising void volumes.
The technique outlined is specific to the brands identified.
John Panichella, CEO of Solenis, said: "Our goal is to encourage any manufacturer in the world to start using this technology as quickly as possible."
"Through this joint initiative with Zume, global brands can meet their commitments to eliminate the use of PFAS faster than ever before."
Zume also announced that it would no longer manufacture products containing PFAS at its California packaging facility, effective immediately. The company is collaborating with partners around the world to ensure production is PFA-free by the end of 2021.
While PFAS use currently persists, industries and organisations are making moves to avoid them, including in food contact applications. 
In July 2020, the US Food and Drug Administration (FDA) announced that three manufacturers of certain PFAS used in food packaging were beginning a 3-year, voluntary phase-out of sales of these substances for food contact purposes, in January 2021. This followed a study which revealed the potential health risks of chronic dietary exposure to PFAS. A fourth manufacturer informed the FDA in 2019 that it had stopped sales of short-chain PFAS products in the US.
In October 2020, the EU announced a new chemical strategy aiming to make chemicals production more sustainable while phasing out PFAS and endocrine disrupters.