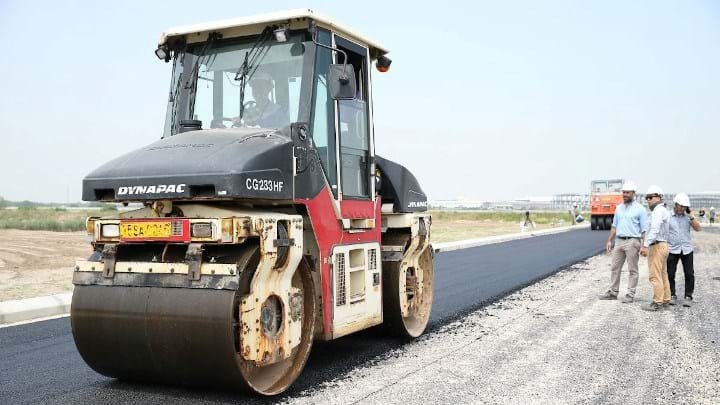 Dow
MATERIALS science company Dow and Vietnamese industrial zone developer DEEP C Industrial Zones have built Vietnam's first asphalt road enhanced with recycled plastics at a DEEP C industrial zone in Haiphong, Vietnam.
In June, recognising that plastic waste is a pressing global issue, Vietnam's Prime Minister Nguyễn Xuân Phúc launched a national campaign to combat plastic waste. At the launch event he underlined the need for effective measures to prevent and reduce plastic waste and called for investment, research, and application of new technologies for treating and recycling plastics and the development of alternative products and materials to accelerate a circular economy in Vietnam.
Dow and DEEP C are collaborating to provide innovative solutions to address plastic waste and advance a circular economy in Vietnam.
The completion of a 200 m stretch of the road was celebrated at an event attended by leaders from both companies, and representatives from the Haiphong People's Committee, a state administrator in the locality.
Plastic for the road is sourced from local waste collector URENCO Haiphong, which provides post-consumer recycled plastic, mostly flexible packaging such as polyethylene film. The recycled plastics are cleaned, dried, and shredded before being mixed with aggregate at a temperature between 150–180°C. Once mixing is complete the asphalt is paved, resulting in longer lasting, more durable roads.
The next phase of this project is to be carried out in November, and upon completion the road will reach a length of 1.4 km. As a direct result, 6.5 t of flexible packaging will be diverted from becoming litter or entering landfills.
After the 1.4 km road is built, Deep C plans to expand the project to the whole industrial zone.
Ekkasit Lakkananithiphan, General director of Dow Vietnam, said: "The project value chain is an impressive display of cross-sector collaboration – it brings together local governments, infrastructure investors, asphalt suppliers, waste collectors and the material science industry to help tackle the plastic waste issue in Vietnam."
Bruno Jaspaert, General director of DEEP C Industrial Zones, said: "The launch of our first recycled plastic road marks a significant milestone in DEEP C's journey to become the pilot eco-industrial park in Vietnam."
"These durable, safe new roads not only benefit DEEP C and our tenants, but also serve as a powerful message as Vietnam places plastic waste management as a top environmental priority."
Nguyễn Quang Vinh, General Secretary of the Vietnam Chamber of Commerce and Industry and Vice Chair of Vietnam Business Council for Sustainable Development, said: "This […] project is an excellent example of how businesses are accompanying the Government on the sustainable development journey generally and a proper reply to the recent call of the Prime Minister to fight against plastic waste particularly."