LONG-TIME partners Calgavin and the University of Birmingham, UK have broken ground on a new, joint flow processing research centre, near the engineering company's current base in Alcester, Worcestershire, UK.
The centre will be the focal point for the integration of commercial, application-specific research with fundamental university-led research that underpins Calgavin's science and engineering-based business.
Pipes are universally used to transfer fluids from one place to another, but they can also be used to heat or cool fluids, to mix them, and to carry out reactions. The new Centre for Flow Processing (CFP) will focus on optimising the conditions in pipe flow for these purposes by designing sophisticated flow-modifying inserts.
Researchers will use mathematical modelling to design inserts that can then be made using processes such as 3D-printing, and rapidly tested in Calgavin's state-of-the-art test rigs and in Birmingham's advanced flow imaging facilities. This approach has been successfully demonstrated by a joint research project for highly viscous liquids, typically of polymers and foodstuffs, leading to a new Calgavin product line. The joint research project is supported by Innovate UK.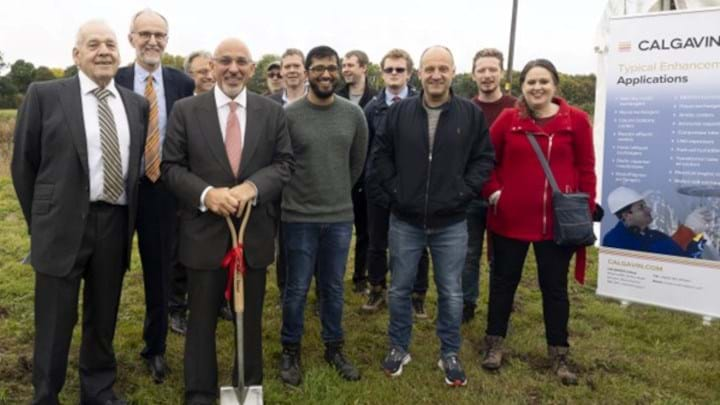 Calgavin
At the groundbreaking event, Calgavin founder and MD Martin Gough commented on "how it had taken years of planning and hard work, and sincerely thanked all who had supported Calgavin in getting to this significant point in the development".
Gary Leeke, Head of the School of Chemical Engineering at Birmingham (pictured sixth from the left), said: "The School of Chemical Engineering is proud to be working alongside Calgavin on the exciting new Centre for Flow Processing, which is a terrific opportunity for students and staff of the University to work in collaboration with Calgavin's staff on projects with huge industrial impact."
Calgavin's partnership with Birmingham began in 1980 with the setup of a small research and pilot production facility and developed centred on the School of Chemical Engineering. Over the years, Calgavin has employed many students through industrial placement and joint research projects, some of whom are now members of its highly-skilled staff team.
The company said it's "cutting edge competency" is particularly supported by its partnership with the School of Chemical Engineering, but also by several other UK and European universities. Calgavin said that its combined development approach positions it at the forefront of its science-led technology business.