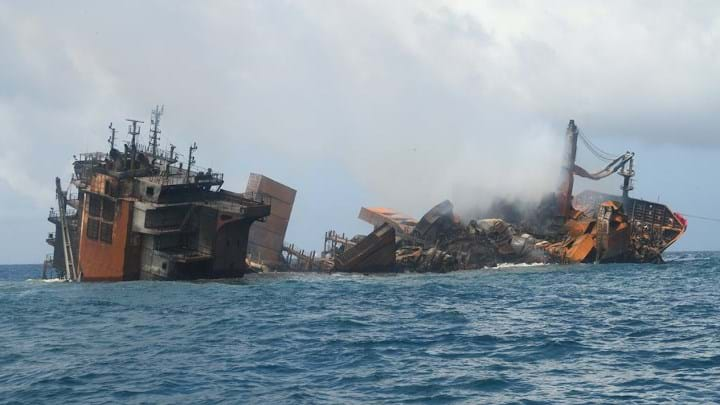 Sri Lanka Ports Authority
EXPERTS have begun modelling how oil might spill from a cargo ship that caught fire off the coast of Sri Lanka and then sank.
It had been transporting toxic chemicals and plastic pellets, and efforts are now underway to clean up the pollution that is washing up on the shoreline, in what has been described as the worst beach pollution incident in Sri Lanka's history. While there are currently no signs that fuel oil has leaked from the ship experts have begun planning how they would respond.
The X-Press Pearl caught fire on 20 May while anchored around 18 km off the port of Colombo. The ship was carrying 1486 containers, including 81 with dangerous goods. This included 25 t of nitric acid, which had been leaking before the ship reached Sri Lanka. The owner says it tried to remove the leaking container but was prevented from discharging it at ports in Qatar and India as they did not have the facilities or expertise to deal with it. All 23 crew were evacuated from the ship, and the fires were declared put out on 31 May. Despite efforts to salvage the vessel it flooded and sank.  
The ship's cargo included caustic soda, sodium methoxide, methane and around 350 t of fuel oil. Sri Lanka's Marine Environment Protection Agency has posted pictures of its clean-up efforts, including workers bagging up huge volumes of HDPE and LDPE plastic pellets that have washed onto beaches.  
The International Tanker Owners Pollution Federation (ITOPF), which helps respond to marine spills, estimates that 150 km of shoreline has been impacted by cargo lost from the ship. Divers have attempted to survey the integrity of the hull, and there are currently no signs of oil leaking from the ship. ITOPF is working with Oil Spill Response Limited to model a spill, and are coordinating with the Sri Lankan Navy to plan how they would respond.
Dharshani Lahandapura, Chair of Sri Lanka's Marine Protection Authority said: "This is probably the worst beach pollution in our history," The Hindustan Times reports.
A criminal investigation has been launched into the incident; and the Prime Minister has ordered relief for the affected fishing industry. The Guardian reports that fishing has been banned within 50 miles of the wreck.