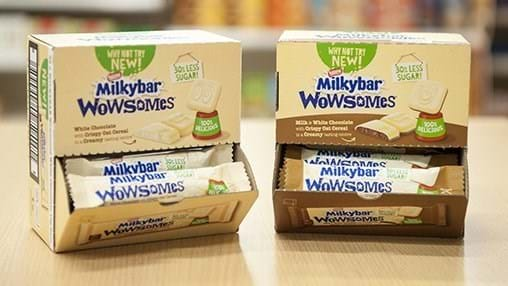 NESTLÉ has announced it is launching its first product containing a new form of natural sugar that tricks the tongue into thinking the product is just as sweet despite containing 30% less sugar.
Its Milkybar Wowsomes chocolate bars will first appear in shops across the UK and Ireland next week.
The Swiss food giant announced it had made a breakthrough in sugar research in late 2016 and said it expected the development to reduce the sugar it uses in confectionery by 40%. Inspired by candy floss, experts created aerated, porous particles of sugar that dissolve more quickly in the mouth giving a faster burst of sweetness. This allows someone to perceive the same level of sweetness as normal while consuming less sugar.
Milkybar Wowsomes contain 30% less sugar than similar chocolate products and no artificial sweeteners, preservatives, colours or flavourings.
Nestlé congratulated its R&D teams in Switzerland, the UK and Czech Republic for the speed at which they have brought the new sugar to commercial use.
"It is with great pride that the UK and Ireland becomes the first market in the world to use this exciting technology to create such a great tasting confectionery product," said Stefano Agostini, CEO of Nestlé UK & Ireland. "We have an unrivalled research and development network and the experts at our Product Technology Centre in York have been instrumental in this breakthrough. Teams across our UK business and around the world have been working incredibly hard to make this launch a reality."
As the health problems related to high levels of sugar in the diet become apparent, many companies are seeking to reduce the sugar content of products. A new form of sugar rather than an artificial sweetener is likely to be more acceptable to consumers who may worry about the use of artificial ingredients or simply dislike their taste.
Nestlé is not the first to try such an approach to reducing the content of an 'unhealthy' component in food. The University of Nottingham spinout company Eminate licensed its technology to make hollow salt crystals, or microspheres, to Tate & Lyle in 2011. SODA-LO is now a commercial product. In 2013, the technology was also adapted to sodium bicarbonate, used as a raising agent, to help lower the sodium content of baked goods.