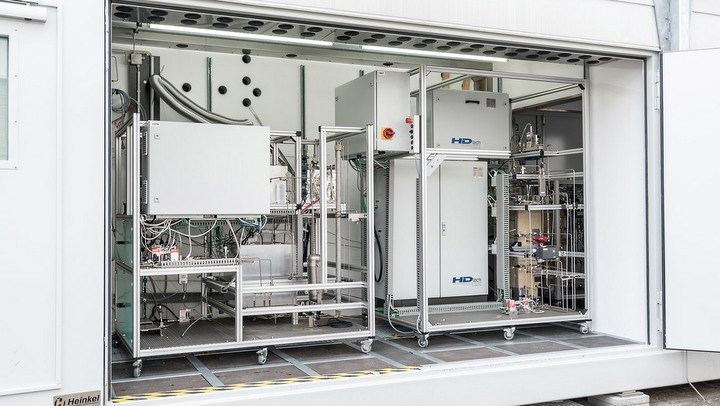 Tobias Hang/Fraunhofer IMM
TWELVE research groups from seven countries have developed a sustainable method for producing biofuel from wood waste. The process takes place in a mobile unit which has the potential to decentralise fuel production.
Wood waste and tree bark are ideal raw materials as they don't need to be specially cultivated and don't compete with food production. Wood waste is also available in large quantities, for example in Germany around 12m t/y is available, compared to a gasoline consumption of 16m t/y. When it is combusted, it only releases the CO2 that was absorbed by the trees as they grew, making it carbon neutral.
The aim of the EU-funded project BIOGO was to develop a biomass-to-liquid plant capable of producing sustainable synthetic fuel. The plant is transportable and has a modular infrastructure that contains catalytic reactors for each process step.
"The goal of the BIOGO project was to develop a plant that could fit in a container with standard dimensions of 12 x 3 x 3 m, and that could accommodate all the procedural and processing steps," said Gunther Kolb from Fraunhofer Institute for Microengineering and Microsystems, who coordinated the project. "At the same time, we had to make the manufacturing process as environmentally-friendly and resource-efficient as possible."
Wood waste is first converted into pyrolysis oil, which is the liquid fraction produced by fast, thermal decomposition of organic matter in the absence of oxygen. The pyrolysis oil is then converted into syngas by adding heat, air, and steam. In the next step, methanol is produced from the syngas, and finally gasoline is produced from the methanol by extracting oxygen.
One of the key goals of the project was to advance the catalysts needed for the processes. In the methanol-to-gasoline (MTG) step, synthetic gasoline is generated using zeolite catalysts. Zeolite catalysts had been used for MTG previously, but the newly developed metal-oxide zeolite catalyst has significantly improved stability and a high activity. The new catalyst also reduces the dependence on rare earth oxides and precious metals.
The fuel can be generated wherever there is sufficient wood waste, so unlike petroleum, it doesn't need to be transported from refineries to filling stations. "An important component of the BIOGO concept is decentralised production," said Kolb. "To achieve this, we have developed mobile production units that can be housed in containers and installed where they are needed."
The prototype container was designed to accommodate even larger reactors and the teams are planning to develop the plant further with a goal of producing up to 1,000 L/d of synthetic gasoline. However, the synthetic gasoline won't replace traditional fuels without incentives. "As long as the price of oil remains at its present level, the new technology won't be able to compete," said Kolb. "The key question will be whether we in Europe really want to move away from fossil raw materials and are prepared to exempt eco-fuels from taxation or subsidise their production."