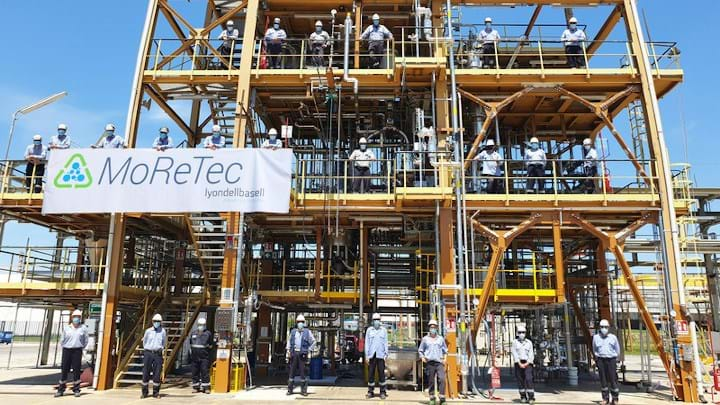 LyondellBasell
LYONDELLBASELL has started operation of a new pilot plant for a pyrolysis process that it is developing to convert plastics waste into new plastics feedstock.
The chemicals major commissioned the pilot plant at its Ferrara site in Italy in July and has now started it up. It is capable of processing 5–10 kg/h of post-consumer plastic waste. The company has named its process MoReTec and describes a molecular recycling technique that uses a catalyst in the pyrolysis process to improve the breakdown of plastic.
Currently, mechanical recycling is the dominant recycling technique for post-consumer plastics. This involves shredding, cleaning and melting the waste for reuse, but the plastic is often unsuitable for reuse in food packaging. LyondellBasell aims for its process to instead breakdown the waste into its molecular components so it can be reused in food and medical applications, creating a truly circular system that would reduce the need for virgin feedstocks from oil. It aims to use the process to open up recycling routes for multilayer and hybrid plastic materials.
The technology has been developed in partnership with Germany's Karlsruhe Institute of Technology (KIT). LyondellBasell says the technology has significant potential because of its lower energy use and more efficient chemical conversion process, which will allow increased commercial scale.
During 2019, LyondellBasell screened potential catalyst systems and tested a variety of plastic waste streams. The pilot stage aims to understand the interaction of various waste types in the molecular recycling process, test the various catalysts, and confirm the process temperature and time needed to decompose the plastic waste into molecules. The research will support scaleup to a semi-industrial proof-of-concept plant by 2021.