KBR has signed an agreement with Mura Technology under which KBR will be an exclusive licencing partner, offering Mura's proprietary advanced recycling technology, Catalytic Hydrothermal Reactor (Cat-HTR).
Cat-HTR is a recycling process that converts plastics back into hydrocarbon feedstock that can be further refined to produce virgin-grade plastics and other materials or used in other sectors such as to make roads. It can be used on a variety of wastes, including those considered unrecycleable such as multilayer, flexible plastic films, pots, tubs, and trays.
Under the agreement, KBR will provide studies, basic engineering, technical services, proprietary equipment, and modules for Cat-HTR technology, globally. The agreement between KBR and Mura is expected to help identify new markets for the advanced recycling technology and support its global development.
Steve Mahon, CEO of Mura Technology, said: "We face a global plastic pollution disaster, as only a minority of plastic waste can be recycled – the rest goes into the ocean, incineration or landfill – at great expense. Meanwhile, we take more oil out of the ground to make new plastics. We want to change the way the world thinks about plastics – not as a waste product, but as a valuable resource – using our technology to forge an environmentally friendly, plastic neutral and sustainable future."
"This partnership will accelerate our plans to help eliminate plastic waste from the environment."
A 2017 scientific report estimated that only 9% of 6.3bn t of plastic waste produced as of 2015 had been recycled. The rest was either incinerated (12%) or ended up in landfills, dumps, or the environment.
The Ellen MacArthur Foundation said in a 2017 report that 95% of plastic, worth US$80–120bn/y, is lost to the economy after short use, and more than 90% of plastic is produced from virgin feedstock accounting for 6% of global oil consumption. It added that if use grew as expected, the plastics sector could account for 20% of total oil consumption and 15% of the global annual carbon budget by 2050.
Cat-HTR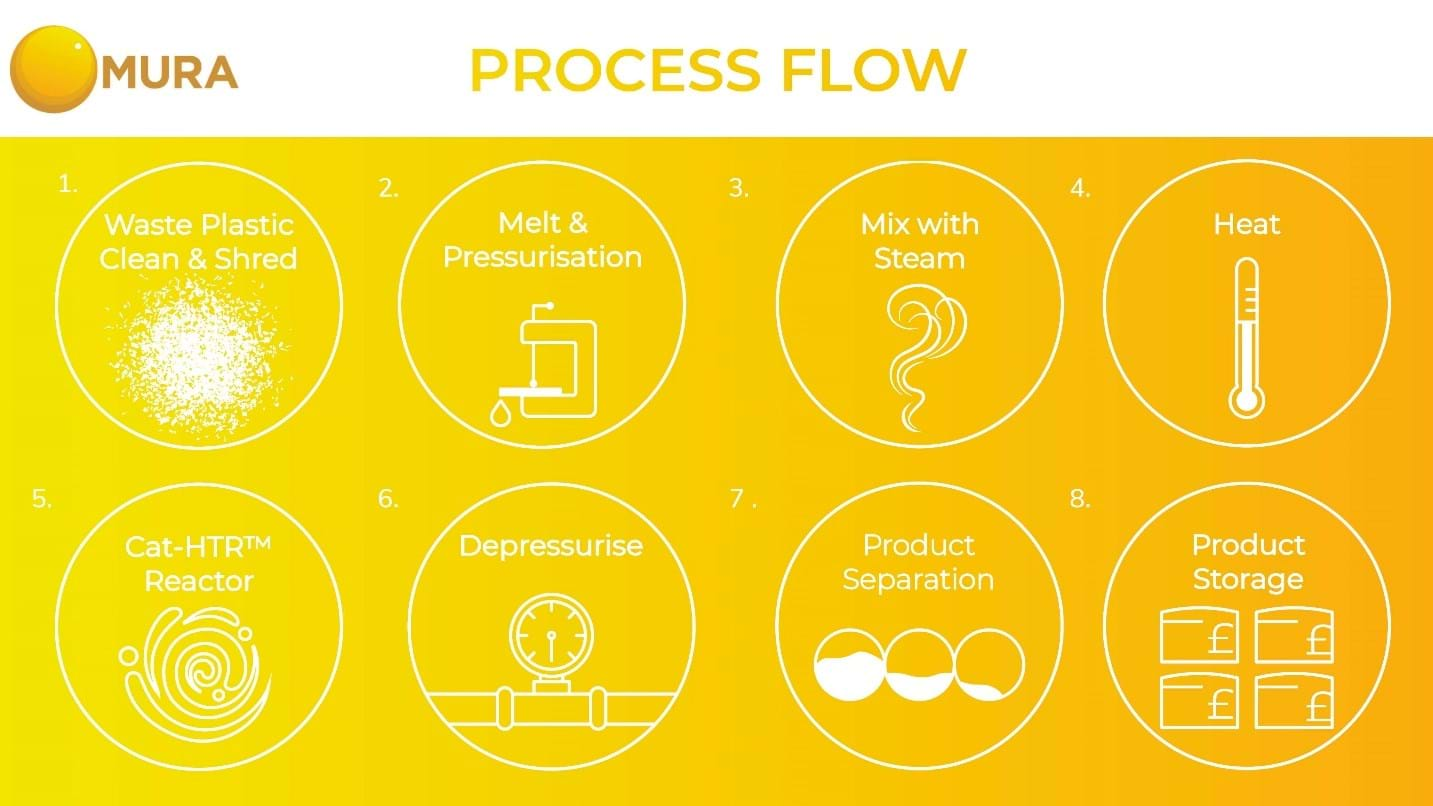 Mura Technology
In Cat-HTR, supercritical steam is used to act as molecular scissors, cutting the bonds in longer chain hydrocarbons to produce shorter chain products that can be reused.
Mura's technology, originally developed by Licella Holdings, has the potential to help create a circular economy in which waste is reduced and plastics are kept within the economy or longer. It could also cut carbon emissions, with each ton of plastic processed saving 1.5m t of CO2 compared to incineration.
Mura plans to have 1m t of global plastic waste recycling capacity in operation or development by 2025. Its technology was proven at a large-scale pilot in Australia, and a commercial, 80,000 t/y site is under development in Teesside, UK