INEOS has awarded McDermott a contract for the licence and engineering of a new propane dehydrogenation (PDH) plant in Europe.
Ineos announced in June this year it would invest in the unit, along with a new cracker that will be the first built in Europe in 20 years. A location for the unit has not yet been selected. The PDH unit will use McDermott's Lummus Technology CATOFIN dehydrogenation process to produce 750,000 t/y of propylene and is scheduled to be commissioned in 2023. It will feed Ineos' polypropylene units and propylene derivative businesses. A deal has also been signed with Clariant for the long-term supply of catalyst used by the unit.
Rob Ingram, CEO of INEOS Olefins & Polymers Europe North described the investment as a major step forward for the European petrochemical industry. "These new units will be the most cost-competitive in Europe. The ethylene and propylene produced will increase our self-sufficiency in these key products and creates a platform for future growth of our derivative businesses."
There are eight CATOFIN PDH units operating around the world, producing more than 4m t/y. The technology is described as a continuous process in which multiple fixed-bed reactors run through a controlled sequence of reaction and reheat/regeneration. During the hydrocarbon processing step, fresh feed and recycle feed from C3 splitter bottoms are vaporised by exchange with various process streams and then raised to reaction temperature in the charge heater, according to McDermott technical literature.
It reads: "The reactor effluent is routed through a high-pressure steam generator, feed-effluent exchanger and trim cooler to the compressor. The compressor discharge is cooled, dried and routed to the low temperature recovery section to reject light ends. The low temperature section offgas, which is a hydrogen-rich gas, can be sent to a pressure swing adsorption (PSA) unit to purify the hydrogen.
"The reactor temperature drops during the reaction step due to the endothermic reactions. Ancillary equipment is required for the reheat/regeneration steps, which are necessary to prepare the off-line reactors for their next reaction phase. During the reheat step, any carbon deposited on the catalyst is also burned off. The entire reactor sequence is computer controlled and requires no operator input for the cyclic operation."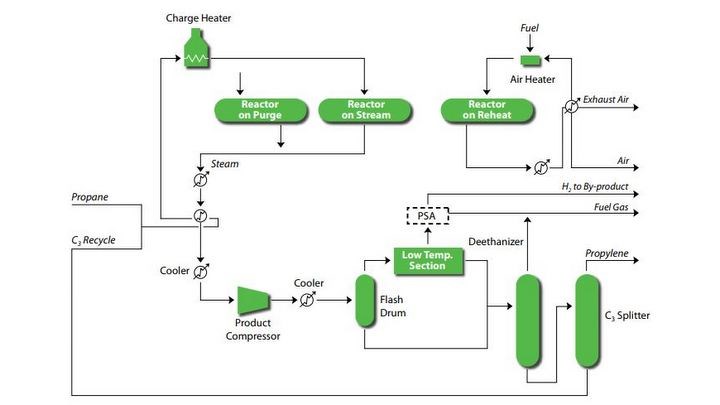 McDermott Technology