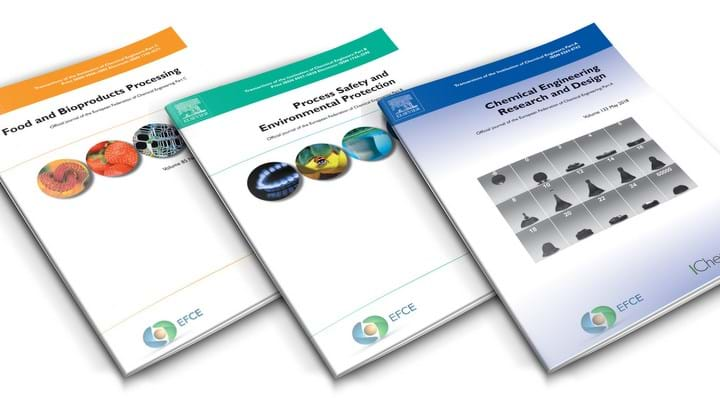 IChemE has announced an increase in impact factor for three of its journals; Food and Bioproducts Processing (FBP), Process Safety and Environmental Protection (PSEP), and Chemical Engineering Research and Design (ChERD).
Impact factors are calculated based on a ratio of the citations to a journal in the most recent year to a count of articles and reviews published in the journal in the previous two years. They are used to provide a quantitative measurement of a journal in relation to competing journals. The three IChemE journals are now in the top third of peer-reviewed chemical engineering journals.
FBP had the biggest increase in impact factor going from 1.970 to 2.744, which makes it rank 45th out of 137 chemical engineering journals compared to 56th last year. It is also now 57th out of 160 biotechnology and applied microbiology journals, compared to 88th last year, and is 36th out of 133 food science and technology journals, compared to 46th last year.
Editor-in-chief of FBP (Food), Ian Wilson, said:
"This is a fantastic result for the journal and great exposure for those who have contributed to it. FBP's impact factor had a blip in 2016 owing to the way the factors are calculated, and it is good to see it back on its steady climb.
"Chemical engineering has a key part to play in food processing and manufacturing. It's so important that we support high quality research and scholarship in this area, to help tackle the global challenges such as population growth, competition for and depletion of natural resources."
Editor-in-chief of FBP (Bioprocessing), Nigel Titchener-Hooker, said:
"The ethos of FBP is to encourage transfer of knowledge across the biomanufacturing sphere, and these results speak volumes to that. A significant amount of hard work has been put into FBP; from all the editors and reviewers to the staff at Elsevier and IChemE. The figures from Thompson Reuters is evidence of their combined efforts to make FBP interesting, relevant and topical."
PSEP reported a 40% rise in impact factor last year and has had a further 18% rise, from 2.905 to 3.441, in the latest figures. It is now ranked 27th out of 137 chemical engineering journals and 18th out of 50 environmental engineering journals.
Editor-in-chief of PSEP (Safety), David Edwards said:
"An Impact Factor of 3 or more is a fantastic achievement for any journal, and I'm incredibly proud of everyone involved in PSEP for helping us to achieve this figure. Process safety is, and will continue to be, fundamental to the study and practice of chemical engineering – regardless of industry or job title."
Editor-in-chief of PSEP (Environment), Adisa Azapagic added:
"PSEP has the highest Impact Factor of any IChemE journal. This could not be possible without the dedication of all our editors and our IChemE and Elsevier team. Their efforts have resulted in PSEP being a top 30 chemical engineering journal and they should all be incredibly proud."
ChERD has seen a 10% increase in impact factor from 2.538 to 2.795.
Editor-in-chief of ChERD, Eva Sorensen, said:
"We're delighted to see ChERD continue to do well, particularly when you consider the broad scope that the journal has. To date, it has been cited 11,014 times – a clear indication that the articles continue to be relevant for the modern chemical engineer."