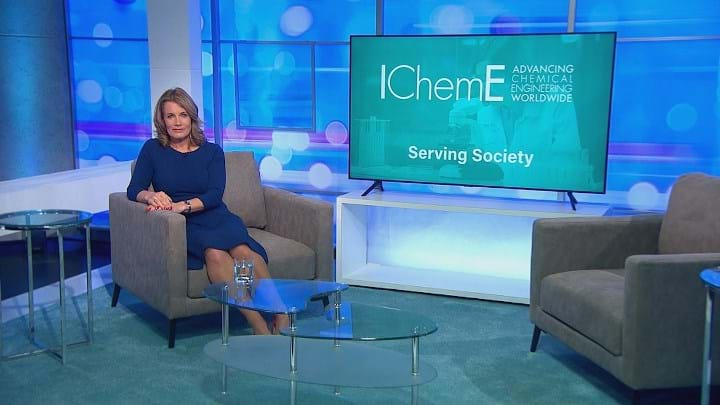 ICHEME has partnered with ITN Productions Industry News to produce a programme called Serving Society that looks at how chemical engineering is addressing societal challenges.
The programme has been produced to mark IChemE's centenary year and will premiere on the IChemE YouTube channel at 09:00 GMT on 25 January.
It is presented by Sharon Thomas, and features interviews with industry experts, as well as news items and sponsored editorial profiles. Jon Prichard, IChemE Chief Executive and Jane Cutler, IChemE President, are featured discussing how chemical engineering can be used to address the climate crisis and sustainability, the future for the sector, and how IChemE is encouraging more women into the profession.
The programme will show films from businesses and organisations across different fields of chemical engineering, including engineering and project management Atkins and global safety, security and sustainability company DEKRA.
It will also show films from Loughborough University on the next generation of chemical engineers solving emerging challenges, students at Imperial College London getting experience at a carbon capture plant, the Energy Safety Research Institute at Swansea University highlighting new technologies to use CO2 in an environmentally friendly way, and KBC on how it is supporting clients in addressing climate change and sustainability.
Prichard said: "2022 is a milestone year for chemical engineering as it marks the centenary of the profession whilst also providing a window to look at how chemical engineers are key to delivering a more sustainable future. IChemE is proud to support its members, today's chemical, biochemical and process engineers, as they serve society and address the global challenges of today and tomorrow.
"We are delighted to have the opportunity in this programme to showcase the significant contribution that chemical engineers make to society."
Nina Harrison-Bell, Head of ITN Productions Industry News, said: "We are delighted to be working with IChemE to make this programme revealing the strides the profession is making in serving society. The programme shows the opportunities for change and the impact companies are making by bringing innovative technology-based services and solutions, world-leading research and training to the next generation, businesses and consumers."