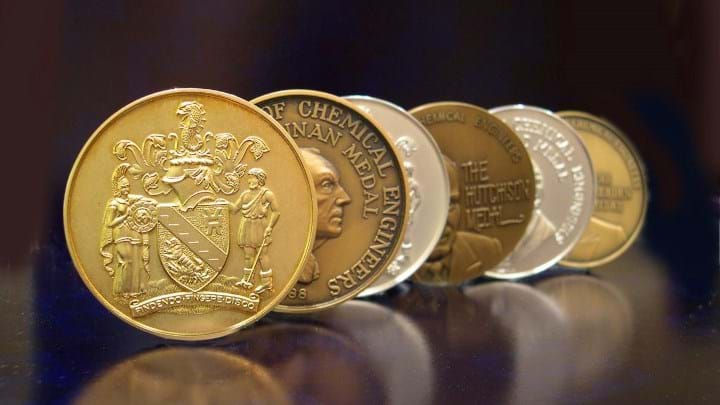 IChemE has opened nominations for its 2023 medals and prizes programme, which aims to recognise the most outstanding work in the chemical engineering profession.  
Each year, IChemE's Medals and Prizes Committee awards 22 medals and prizes to individuals and groups whose work in research, teaching and services to the profession is regarded as world leading.  
These span every area of chemical engineering, from separations to computer-aided product and process engineering; safety and loss prevention to thermodynamics and complex fluids; and particle technology to biochemical engineering.  
Outstanding volunteer contributions to the Institution are also celebrated.   
Within each medal's specialism, IChemE's position statement on climate change aligns the medals and prizes programme to reward progress towards the zero-carbon economy and the UN Sustainable Development Goals.  
As such, IChemE said its Medals and Prizes committee will be pleased to see entries which address climate change and sustainability. Medals that particularly focus on these areas include The Sharma Medal, The Warner Medal, and The Clean Energy Medal.  
IChemE said that as always, it would like the winners to represent a diverse mix of chemical engineers, and therefore particularly encourages nominations from women and chemical engineers from minority groups.   
Alexandra Meldrum, IChemE Vice President Learned Society and Chair of IChemE's Medals & Prizes Committee, said:  
 "IChemE's medals and prizes programme recognises chemical engineering excellence both in industry and academia, and celebrates remarkable contributions to the profession and the Institution.  
"We know that chemical engineers will shape the future, which is why it's so important that our medals pick out the accomplishments of early career engineers, students and universities, providing international recognition for their excellence.  
"IChemE has a focus on work that addresses climate change and sustainability with international reach. This is critical as chemical engineers work to build a sustainable future. I'm extremely excited to see this year's nominations. I am confident that we will see some fantastic evidence of chemical engineers delivering the best thought leadership and industry leadership for society." 
The winners will be announced in early 2023 and, where relevant, will be given the opportunity to share their work in webinars throughout the year.  
To read the criteria for each award or to download a nomination form, visit www.icheme.org/medals for full details of IChemE's medals and prizes programme.