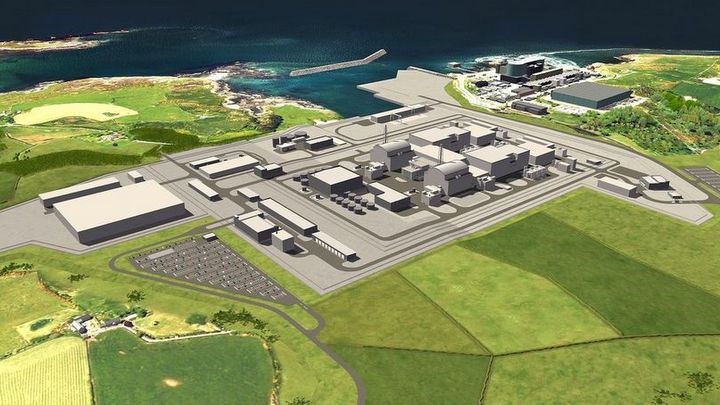 Horizon Nuclear Power
HITACHI has announced that its UK subsidiary will cease development of its 5.8 GW UK nuclear project, which includes construction of the Wylfa Newydd power plant, on Anglesey, Wales. Work on the Wylfa development had been suspended since January 2019.
The decision comes as a blow to the UK's net-zero ambitions and to the economy, with both industry and Welsh Government officials commenting on the loss and the importance of developing UK nuclear. There are plans to discuss the future of Hitachi's project development sites.
Horizon Project, a proposal by Hitachi's subsidiary Horizon Nuclear Power (HNP), was to develop nuclear power stations at two UK sites, one at Wylfa Newydd and the other at Oldbury-on-Severn in South Gloucestershire, England. The Wylfa project was reportedly worth up to £20bn (US$25.8bn), according to multiple sources. Construction at Oldbury was to begin after Wylfa was complete. In January, Hitachi suspended work on both nuclear builds because it failed to reach an agreement with the UK Government on project financing and related commercial arrangement in time to sustain ongoing levels of development.
Hitachi had been in talks with the UK Government about resurrecting the project earlier this year, reports the Financial Times. However, it has now decided to completely withdraw because 20 months have passed since the suspension began, and the investment environment has become increasingly severe due to the impacts of Covid-19.
As operations on the project are set to end, Hitachi says it will coordinate with UK Government and other relevant organisations concerning the Advanced Boiling Water Reactor (ABWR) licence, handling of the planned construction sites, and "other matters". ABWRs work by generating steam which is then passed to the turbine to generate electricity. UK ABWR is a reactor type proposed for construction in the UK, which Hitachi developed and planned to offer in the UK in collaboration with Horizon.
HNP added that it will now begin taking steps to close current development activities but intends to keep lines of communication open with Government and other key stakeholders regarding future options for the nuclear development sites.
The Wylfa and Oldbury projects were to provide at least 5.8 GW of new power capacity to the UK, enough to power around 11m homes. Wylfa would have accounted for 2.9 GW of power generation. The construction workforce was expected to be 4,000 for the majority of the time, reaching 9,000 at the peak of construction. The projects would have created 850 permanent jobs during operation at each of the sites.
Peter Hughes, Regional Secretary of workforce trade union Unite Wales commented, saying that: "the communities here need jobs and economic growth. The answer is to invest and build our economy. Not destroy it. Shame on the UK [Government]."
Hitachi does not expect the withdrawal will impact its business.
Duncan Hawthorne, CEO of HNP, said: "I understand this announcement will be disappointing for our many supporters who had hoped to see our project through to completion and I would personally like to thank you for your support throughout our time on this project.
"In particular, I would like to thank our lead host community of Anglesey in Wales, represented by the Isle of Anglesey County Council and Welsh Government, and the key representatives around Oldbury.
"I would also like to express my sincere gratitude to the many international, UK and Welsh stakeholders who have supported us in the development of our projects.
"Nuclear power has a critical role to play in helping tackle our energy needs, meeting our climate change targets and levelling up the economy through green growth and job creation.
"Wylfa Newydd on Anglesey and Oldbury on Severn are highly desirable sites for new nuclear build.  We will do our utmost to facilitate the prospects for development which will bring the major local, national and environmental benefits that nuclear can uniquely deliver as we push to transition to a net zero carbon economy by 2050."
Government and industry commentary
Tom Greatrex, Chief Executive of UK civil nuclear industry trade association Nuclear Industry Association, said: : "Today's announcement is disappointing news which nevertheless underscores the urgent need for progress on new nuclear projects in the UK if net-zero carbon emissions is to become a reality.
"It is welcome news that Hitachi and Horizon [HNP] will co-ordinate with the UK Government and other relevant organisations over the handling of sites and possible future options. Wylfa is probably the best site in the UK for new nuclear capacity, and has strong community and stakeholders support on Ynys Mon.  It is imperative that a way forward is found for the site, to deliver thousands of jobs, hundreds of apprenticeships and millions of pounds of investment into an economic boost for the area while delivering secure, reliable and low-carbon power to underpin the UK's transition to net zero.
"The nuclear industry has a bright future in this country: investing in emissions-free, reliable and secure nuclear power will cut emissions and create the skilled, long-term jobs we need for a green recovery. No electricity generation source has saved as much carbon as nuclear power has, while generating skilled, stable and long-term employment.
"The Government can secure these economic and environmental opportunities for future generations by setting out a clear pathway for new nuclear power in forthcoming policy announcements."
Welsh officials commented on the impact of Hitachi's decision on the region.
In addition to calling Hitachi's move to pull out of Wylfa "a blow for Wales and the UK's ambition to achieve net-zero carbon emissions by 2050", Chair of the Welsh Affairs Committee, Stephen Crabb said: "This was set to be the largest energy project Wales had ever seen with a positive impact on skills and employment in the region.
"Reassurances were made of Hitachi's commitment to the project over the summer that gave hope to the workers who'd be needed to construct it and the high-skilled employees who would run it. With the nation's remaining nuclear plants ageing and the need for low-carbon, high-yield plants needed to replace them urgent, it has never been more important than now to ensure energy security."
Llinos Medi Huws, Leader of Anglesey County Council, said: "This decision is a devastating blow to the Anglesey economy. The Wylfa Newydd project had the potential to transform the Anglesey and North Wales economy, particularly that of North Anglesey."
"The Wylfa Newydd project was seen as a huge enabler to create substantial jobs and supply chain opportunities."
According to Huws and Anglesey Council Chief Executive Annwen Morgan, Anglesey intends to work with UK and Welsh Governments to contemplate the future of Wylfa Newydd.
However, not all were disappointed by Hitachi's decision. Oppositional group People Against Wylfa-B (PAWB) said: "For years, PAWB has agreed with experts around the world who warned that massive nuclear projects are unlikely to be commercially successful. All of the nuclear industry's arguments have been negated by the growth of sustainable methods of energy production for continually falling costs. This is the reality that has been ignored, while still believing in the promises of jobs."
"The Gwynedd and Anglesey Joint Local Development Plan, and the North Wales Growth Plan assumed that Wylfa B would happen, and that it would be a good thing.
"We call on the Councils and the Welsh Government to start from scratch with these plans."