A EUROPEAN consortium of 11 research and industry stakeholders has launched a project to demonstrate an innovative, and potentially energy- and cost-saving CO2 capture process.
The DMX process is a second-generation carbon capture method which achieves about 99.7% CO2 purity. Like currently-used amine-based capture, DMX is a post-combustion capture process. It uses a phase change solvent which upon capture separates into a CO2-lean and CO2-rich phase which can easily be separated by decanting. The CO2-lean phase can be reused, but the CO2-rich phase has to be regenerated before reuse.
The DMX Demonstration in Dunkirk (3D) project aims to demonstrate the capability of the DMX process to be implemented at industrial scale, said CO2 Capture and Storage Program Manager at IFPEN, Florence Delprat-Jannaud. IFPEN, which developed the DMX process and is a consortium member, is coordinating the project.
On an industrial scale, the DMX capture method could reduce energy consumption by around 35% compared to amine-based capture methods such as monoethanolamide (MEA). The DMX process also has the potential to reduce costs. According to Delprat-Jannaud, the consortium aims to achieve a capture cost of about €40/t (US$40/t) of captured CO2. According to a 2013 paper, at near commercial scale, capture using 30% MEA cost about US$65/t of CO2 captured.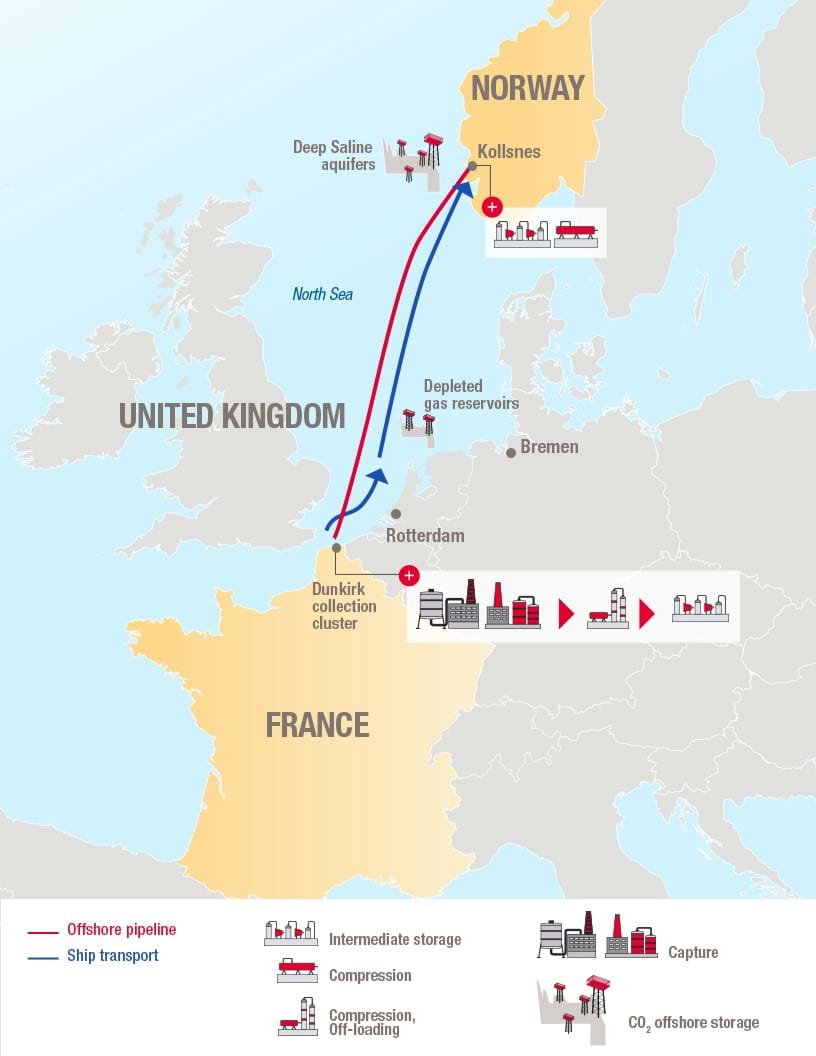 IFP Energies Nouvelles
The 3D project is part of a more comprehensive study which is dedicated to developing a future European Dunkirk North Sea Capture and Storage Cluster. It is also part of Horizon 2020, the EU's biggest research and innovation programme to date. 3D has a budget of €19.3m, including €14.8m in EU subsidies.
3D's objective is threefold:
Demonstrate the effectiveness of the DMX process at pilot scale.
The pilot will be located at consortium member ArcelorMittal's steelworks in Dunkirk, France, where it will capture 0.5 t/h of CO2 from steelmaking gases. Construction of the pilot is to begin in 2020 and operation is expected by 2021. In addition to the energy consumption savings from using the DMX solvent over MEA, using excess heat from the ArcelorMittal steelworks for solvent regeneration could cut capture costs in half to less than €30/t of CO2.
Prepare implementation of an industrial unit.
To be located at the ArcelorMittal site in Dunkirk, the industrial unit could be operational by 2025. It is to have a CO2 capture capacity of more than 1m t/y.
Design a future European Dunkirk North Sea Cluster.
The cluster should capture, pack, transport, and store 10m t/y of CO2 and be operational by 2035. It could be supported by CO2 packing and transport in the North Sea developed by other projects, such as the Northern Lights project that consortium member Total is involved with.
The 3D stakeholders expect the project to play a major role in reducing emissions from industries with high energy consumption and CO2 emissions, such as the steel industry. It believes 3D is an essential "lever" to help meet the climate targets set by the Paris Agreement.
Other stakeholders in the consortium include: Axens, ACP Polska, Brevik Engineering, Cockerill Maintenance & Ingénierie, Technical University of Denmark, Gassco, Uetikon, and Rheinisch-Westfälische Technische Hochschule Aachen University.