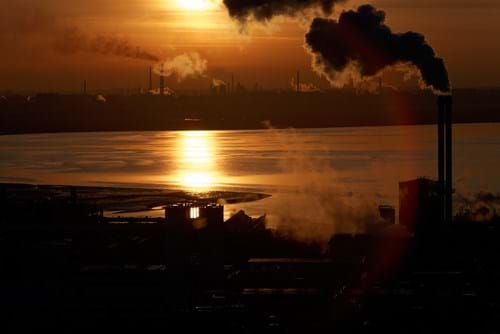 INDUSTRY in the Northwest of England should pioneer the use of hydrogen fuel, according to an ambitious proposal put forward to transform UK energy and decarbonise heat.
In a conceptual study published today, gas network operator Cadent suggests building three steam methane reformers (SMRs) in the Liverpool-Manchester region. These would produce hydrogen that would be injected into the existing gas network, providing a 10% blend that would help local industry reduce its carbon footprint.
Cadent is calling for support from the government, pointing to the low carbon and industrial growth agenda being formulated in the Clean Growth Plan and Industrial Strategy White Paper. The project is a lucrative opportunity for the UK to become a leader in hydrogen-related decarbonisation, and would provide the foundation for a national rollout of hydrogen gas and symbiotically support the development of UK CCS, the study says. Noting that the carbon abatement costs of the project would be cheaper than both nuclear and offshore wind, it hopes that with government support a final investment decision could be taken in 2022.
Appetite for ambitious concept
David Parkin, director of safety and network strategy at Cadent, said: "While this is a study on paper, it's a very real project. It has potential to transform the future of energy in the UK and be a long-term solution to decarbonising heat. We've published our conceptual study in full today and now begin a process to engage with and take on the views of key stakeholders and potential partners. We'll then be able to assess whether there is the appetite out there to take this ambitious concept forward."
The infrastructure needed would cost £600m (US$779m) and would involve building three SMRs sized at 260 MW each which would produce hydrogen for 10–15 industrial sites in the region that is responsible for 11% of the UK's industrial gas use. Major users in the region are within the oil refining, glass manufacturing, food and drink, chemicals, and pulp and paper sectors.
The carbon dioxide produced by reforming methane into hydrogen would have to be captured and stored. With gas fields in Liverpool Bay expected to cease operations in the early 2020s, Cadent proposes reversing the pipeline currently bringing gas to shore so it can carry CO2 for storage offshore. The fields would be used to store up to around 1m t/y of carbon dioxide from the SMRs and 0.6m t/y of existing emissions from industry – including those  from CF Fertilisers' ammonia production plant, which is currently released to atmosphere.
Technical challenges
While using the network to supply 100% hydrogen to industry and domestic users would be feasible Cadent reasons that providing a blend solely to meet continuous demand from industry makes more sense at this early stage because SMRs are unable to "load follow" and the salt caverns required to store hydrogen and balance fluctuating domestic demand would be prohibitively expensive. On top of this, the plan avoids the challenge of replacing domestic boilers with hydrogen burning appliances that are in the early stages of development.
The plan has technical challenges, the authors concede, noting that work needs to be done to check the effect and necessary adaptations needed to use hydrogen in existing furnaces and industrial systems, including the potential to increase NOx formation. Engineers would also need to design and demonstrate a suitable blending unit to safely deliver the gases into the distribution network.
"It appears that there are no fundamental technical or engineering barriers that would prevent significant substitution of gas by hydrogen, which may even be up to 100% in some cases. However, there remains a number of areas where further work is required to establish and provide confidence in the levels of hydrogen substitution which can be used. Towards this goal, the design of a practical testing and demonstration programme, in partnership with industry, should be the focus of further development activity," the report reads.
Cheaper promise
The study says that the costs of building the project in the Liverpool-Manchester region are lower than other promising sites for hydrogen clusters in Humberside, Teesside and Grangemouth.
The report concludes that project could underpin low-cost CCS infrastructure, support a hydrogen vehicle refuelling network in the region, and with investment in storage could lead to a wider decarbonisation of the UK's gas network, as set out in the earlier H21 study put forward by Northern gas Networks.