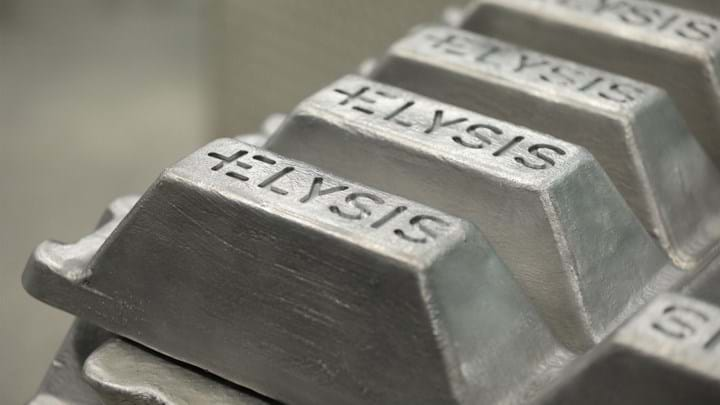 Apple
ALUMINIUM producers Alcoa and Rio Tinto have announced a new joint venture, called Elysis, which produces oxygen instead of carbon dioxide during the smelting process.
The process for aluminium production has been the same since the 1880s. Electrolysis is used to extract aluminium from aluminium oxide, using cryolite as an electrolyte and using carbon as an anode. The anode is destroyed during the process, releasing carbon dioxide. The joint venture between Alcoa and Rio Tinto will use a new material that releases oxygen instead of carbon dioxide.
Both companies are investing a combined C$55m (US$43m), and the governments of Canada and Quebec are each investing C$60m in the project. Technology company Apple is also investing C$13m, as aluminium is a key material in many of its products. It has also agreed to provide technical support.
The patent-pending technology is already in use at the Alcoa Technical Centre in Pittsburgh, US. Elysis will further develop the technology, with first sales of the new anodes – which last 30 times longer than conventional anodes – planned for 2024. The technology will be developed to so that it can either be used to retrofit existing smelters or build new facilities.
Canada is one of the world's biggest aluminium producers and using the Elysis process could cut the equivalent of 6.5m t of greenhouse gas emissions if implemented at all existing aluminium smelters in Canada.
"This discovery has been a long-sought goal for the aluminium industry," said Roy Harvey, president and CEO of Alcoa. "Today, our history of innovation continues as we take aluminium's sustainable advantage to a new level with the potential to improve the carbon footprint of a range of products from cars to consumer electronics."
"We are proud to be part of this ambitious new project, and look forward to one day being able to use aluminium produced without direct greenhouse gas emissions in the manufacturing of our products," said Tim Cook, CEO of Apple.