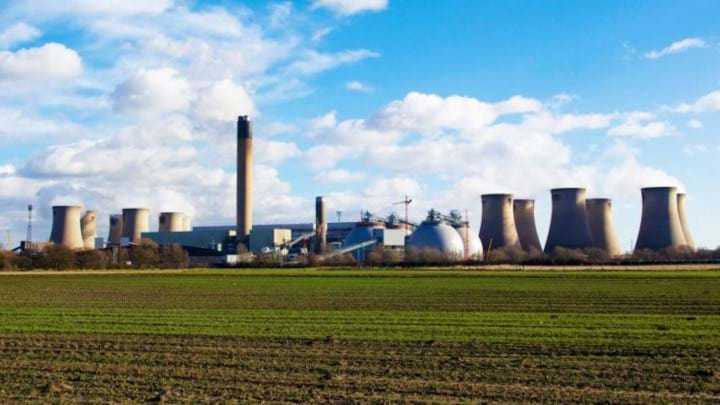 Drax
DRAX has announced the official end of coal-fired generation at its North Yorkshire, UK power station after almost 50 years. The power generator says this marks a historic milestone for the company as well as the UK's transition to a zero-carbon energy future.
Drax says the North Yorkshire site was once the largest coal-fired power station in western Europe, and is now the single largest generator of renewable power in the UK by output, following conversion of four of six units from coal to biomass over the past decade. In 2022, its biomass units generated 12.7 TWh of electricity.
Transforming its plant to use biomass instead of coal has allowed Drax to reduce its Scope 1 and 2 carbon emissions by 99% since 2012 (882 tCO2/ GWh).
Drax will now begin decommissioning to remove coal-related infrastructure from the site, beginning with the flue gas desulphurisation plant built in the 1990s to remove 90% of the sulphur from the plant's emissions.
Will Gardiner, CEO of Drax, said: "Ending the use of coal at Drax is a landmark moment in our efforts to become a world-leading carbon negative company […] By converting the plant to use sustainable biomass we have not only continued generating the secure power millions of homes and businesses rely on, but we have also played a significant role in enabling the UK's power system to decarbonise faster than any other in the world.
"We're now planning to go further by using bioenergy with carbon capture and storage (BECCS) to permanently remove millions of tonnes of carbon dioxide from the atmosphere each year, and we are engaged in discussions with the UK government to move this £2bn project forward."
In March, Drax decided to pause its £2bn (US$2.49bn) BECCS project while it awaits clarity on the UK government's commitment to the technology.
Gardiner added that global-momentum for converting coal-fired power stations to biomass is growing as more countries work to reduce their emissions. He added that if BECCS were "eventually" added to recently announced projects, sites would be able to "remove carbon from the atmosphere while generating power".
Conflicts of sustainability interest
Despite claims that burning biomass is sustainable, Drax has faced criticisms regarding its biomass sourcing. Today, just a day after Drax announced it would stop burning coal, The Financial Times reported  that Ofgem launched an investigation last year into whether the company has complied with UK sustainability rules.
To comply with UK criteria, generators must demonstrate that at least 70% of its woody biomass consignment is classified as sustainable. This compliance can, for example, be confirmed through certification from the Sustainable Biomass Partnership (SBP), an industry established group which sets standards for sustainable forest management.
Drax CEO Gardiner was a board member of SBP, until he stepped down effective from 16 March.
Documents from Ofgem that were acquired by The Financial Times following a freedom of information request conclude that Drax complied with the sustainability rules, but also raise questions about the auditing process. The documents shows that the biomass was certified as sustainable under the SBP and, in February, Ofgem commissioned engineering company Black & Veatch to complete an additional audit. In 2021, Drax awarded Black & Veatch a role in its technical services framework.
The Financial Times reports that Almuth Ernsting, co-director of campaign group Biofuelwatch, called for Ofgem to "urgently review" whether it is appropriate to rely on the SBP scheme as well as Black & Veatch, as opposed to an external group that is not associated with Drax.
Ernsting has criticised Drax's operation, warning it will "burn vast quantities of wood from clear-cut, carbon-rich, and biodiverse forests", adding that "a stable climate needs more, not less, thriving forest ecosystems".
The UK's Environmental Audit Committee has raised concerns about the sustainability of importing biomass feedstock for Drax's BECCS facility and noted that a full life cycle analysis has not been calculated.
Power station history
Construction of Drax's North Yorkshire power station began in 1967 next to the Selby coalfield. Power generation began in 1974 when the first 660 MW unit was commissioned, but the site did not officially open until the year after, once two additional units had been completed. At this time, the facility provided enough power for 2m homes and, in 1986, generation capacity was doubled to just under 4 GW.
In 2003, the station began co-firing biomass with coal and the first of four unit conversions from coal to biomass came a decade later.
Drax says its generation assets are the largest source of renewable power by output, providing 11% of the annualised total and 19% of peak, in 2022. 
The end of coal-fired generation at Drax's North Yorkshire power station follows the end of a winter contingency agreement with the UK government. Under the agreement, coal power units at the site received a six-month life extension to the end of March in case of supply shortfall.