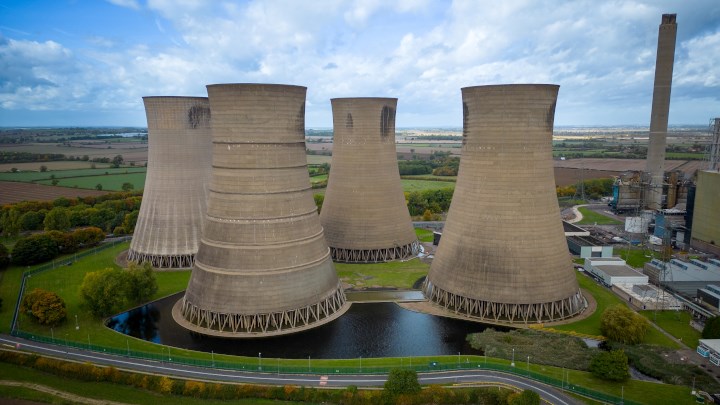 ON 7 March, two coal power plant units operated for six hours to supply additional power to the UK's electricity grid, as freezing temperatures began sweeping the nation. This was the first time that contracted contingency units had been required this winter, reports Reuters.
The units, operated by energy company EDF, were connected to the grid at about 14:50 and then disconnected at 20:30 and 20:45. An EDF spokesperson said the units will remain available for future use.
The shortage was caused by a combination of freezing temperatures and a lack of wind generation, reports The Guardian. The report also notes that strike action at French EDF plants that supply the UK also raised concerns.
Located at EDF's West Burton A power station in Nottinghamshire, the units are among five which the National Grid Electricity System Operator (ESO) has contracted to remain available to cover supply shortages this winter.
Despite the urgent need to shift to cleaner energy generation, the contingency contacts came at the behest of the UK government amid uncertainty in Europe caused by the conflict in Ukraine. Due to increased pressure on European gas markets and related energy supply concerns, it requested that companies delay coal plant closures. Uniper's Ratcliffe site would have otherwise closed in September 2022, while units at Drax and West Burton A received six-month extensions to March 2023.
Robert Buckley, head of relationship development at energy consultancy Cornwall Insight, said that the deals boosted short-term supply, the Guardian reported last August. He highlighted the significant role that coal could play in the winter, adding that its ability to be ramped up quickly when wind generation is lacking or temperatures are low "could be very important".
Buckley added that the return to polluting coal was a "trade off" between progress in tackling the climate crisis and securing supplies over winter.
Coal cover contracts
In August 2022, ESO announced contracts with EDF for two 570 MW units at West Burton A, and with Drax for two 400 MW units at its site in North Yorkshire. These are for 1 October 2022 to 31 March 2023. At the time, ESO was in talks with a third generator, and later announced a contract with Uniper to make its 480 MW unit at Ratcliffe-on Soar in Nottinghamshire available until 31 March 2023.
On 6 March, ESO announced that it had called for one contracted unit to be warmed up for potential use on 7 March. This was at the start of a week of weather warnings and anticipated sub-zero temperatures. On the morning of 7 March, ESO issued a further notice that four of its five contingency units were to be warmed. This was ahead of what the Met Office said would be the coldest night of the year so far – predicting temperatures as low as –10°C.
Reuters says that though the contingency units had been readied several times this winter, this is the first time they were needed.
ESO says that the majority of UK electricity on 7 March was produced by gas (54%), followed by wind (14.2%), nuclear (11.3%), imports (9.1%), biomass (5.4%), solar (2.9%), coal (1.8%), and finally 1.3% hydro. Coal generation increased 1% from the day before.
Unflexed demand
Separate to the call for coal startups, on the mornings of 6 and 7 March, ESO announced that its demand flexibility service (DFS) may be needed, but on both days later cancelled these notifications.
ESO's DFS, which has Ofgem approval between 3 November 2022 and 31 March 2023, is another mechanism introduced to help avoid UK energy supply shortfalls during peak demand on winter days. The service allows ESO to access additional supply by incentivising registered consumers, as well as industrial and commercial users, to voluntarily flex when they use electricity. 
Though the DFS was not called into use to face this shortage, tests have demonstrated that the service can be successfully used to deliver flexibility at scale.