CLEANTECH for UK, a coalition representing more than £6bn (US$7.2bn) in funds has launched. The initiative seeks to pave the way for a new generation of global cleantech champions in the country.
Market researcher and initiative organiser Cleantech Group says while the UK is home to excellent scientific research and innovation thrives, this world-leading capability is rarely translated into world-leading cleantech. Though the county has recently achieved record-breaking cleantech capital investment while global investments slowed, it says the nation needs to go further to maintain competitiveness.
Backed by the cleantech accelerator Breakthrough Energy that Bill Gates founded, Cleantech for UK seeks to "supercharge" cleantech innovation in the country. It will establish dialogue between the UK policy community and those that develop, invest in, and scale clean technology companies.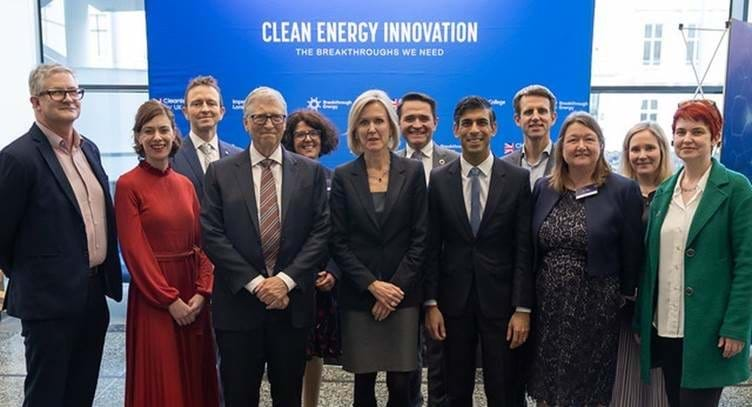 Cleantech Group
On 15 February, the initiative met for the first time at a launch event, where they were joined by UK Prime Minister Rishi Sunak, philanthropist Bill Gates, and three UK cleantech startups at the forefront of zero-carbon solutions in energy and agriculture. The event was hosted by Imperial College London.
At the meeting, participants discussed how the UK could become a world-leader in pioneering clean technology solutions on the path to net zero.
Sunak said: "Investing in renewables and cleantech is one of the best ways to strengthen our energy security, create better-paid jobs, and grow the economy.
"With the launch of Cleantech for UK, a new generation of talented British businesses can be confident that they have the backing they need to unlock green solutions to some of the biggest challenges we face.
"This shines a light on the strength of UK innovation – and our ability to find new ways of doing things to drive economic, social and environmental progress."
Cleantech Group CEO Richard Youngman said: "To secure the enormous benefits on offer to those brave enough to lead the transformation of our industrialised economies to cleaner, decarbonised and resource-efficient versions of themselves, will require innovation in all facets.
"Yes, technological, but equally in financial instruments and in policymaking. I believe a period of intense dialogue, experimentation and hyper-collaboration is needed for the UK to deliver on its net-zero goals, its economic growth ambitions, and its national security."
Founding members of Cleantech for UK are: Imperial College London's cleantech accelerator Undaunted; venture capital investors Breakthrough Energy Ventures, Clean Growth Fund, and Kiko Ventures; climate-led investor Just Climate; and Legal & General Capital.
The UK initiative joins similar programmes across continental Europe including Cleantech for Europe, Cleantech for France, Tech for Net Zero Allianz, Cleantech for Nordics, and Cleantech for Baltics.