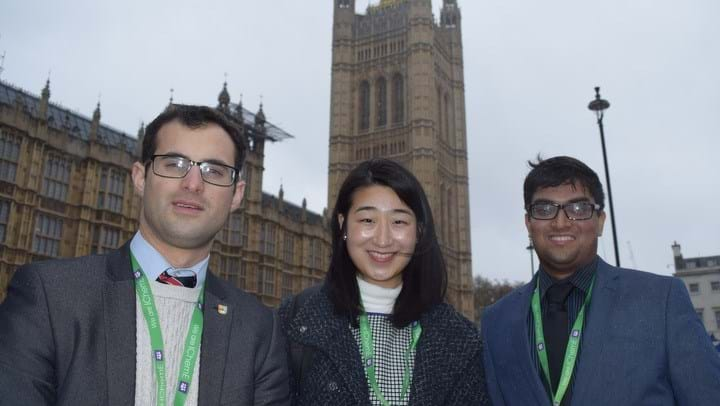 IN a reversal of roles, chemical engineers took the opportunity yesterday to quiz UK policy leaders on a range of topical science issues.
Sameen Barabhuiya, Production Engineer at Dow Chemical; Stefano Ceci, Senior Process Engineer at Johnson Matthey; and Anna Xiao, Engineer at GSK, all represented IChemE at a Voice of the Future event in Parliament, organised by the Royal Society of Biology. The annual event sees students and early-career engineers and scientists take the seats usually occupied by MPs during committee evidence-gathering sessions, and quiz MPs who appear as the witnesses.
Barabhuiya asked: "If the EU Parliament-approved ban on single use plastics does not become a fully-fledged directive before the end of the Brexit period, should the Government implement it in a bid to stop widespread pollution of the oceans, waterways and land?"
MP Chi Onwurah, Shadow Minister for Industrial Strategy, Science and Innovation, replied: "We need action by the Government to ensure that the 395 billion pieces of plastics we throw away every year is drastically reduced. We think the banning of single plastics is a start, but it's not enough. We need a much wider, systemic change.
"In some areas like green technology, it's a challenge, but it's also an opportunity. The circular economy can make a much bigger part of our manufacturing base and ensure that our manufacturing base effectively competes both in terms of environmental and innovation."
Ceci asked: "Where should UK science and technology focus development in the next 5–10 years, for optimum societal, ecosystem and environmental benefit? How should the Government support R&D in these areas?"
Sir Patrick Vallance, Government Chief Scientific Adviser, replied: "Well in a way, the Government has laid out its priorities there in the Industrial Strategy and the grand challenges that are associated with that; which are around ageing, clean growth, mobility, transport, and data and AI.
"There is something about turning the great science in the UK into great implementation."
On R&D, he said the UK is "very, very good" at research but "not quite as good" at development.
"So, I think there is quite a bit about which areas of science are ready now to [be] implement[ed] and how do we get on and implement them, and focus a bit more on that area and get the funding right to drive that; including using the private sector as part of that mechanism."
Commenting on the event, Xiao said: "It was great having all the different MPs there bringing expertise in their respective fields. They gave such interesting answers to the topics that we threw at them. Ranging from environmental, to plastics, to energy, genealogy, and pharmaceutical sciences, it was really interesting to see their point of view and what may be impacting us in the future, and also what key issues they're looking at."
Speaker of the House of Commons, John Bercow, thanked the various organisations involved in the planning and organisation. The event was split into four Q&A sessions, with themes ranging from the Government's plans to sustain and invest in science and technology post-Brexit; to mitigating the effects of climate change and plastic pollution.
You can listen to an audio recording of the event on Parliament TV.