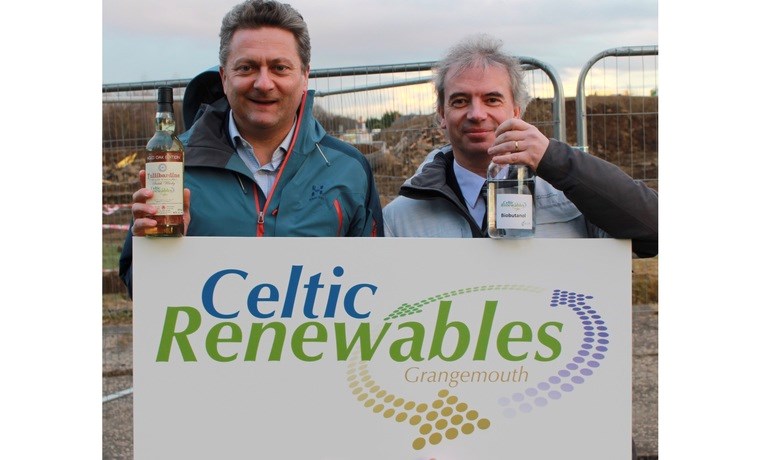 INNOVATIVE UK biofuel company Celtic Renewables is to build its first commercial demonstration plant to produce more than 0.5m L/y of biofuel from whisky waste.
Celtic Biofuels, which won an IChemE Award in 2012 for its technology, announced that it had obtained planning permission from Falkirk Council to build the plant in Grangemouth, Scotland. The primary product will be biobutanol, which unlike bioethanol can be used as a direct replacement for petrol and diesel. The company successfully completed a roadtrip in a car powered by biobutanol produced from draff and pot ale whisky byproducts from Scotland's Tullibardine Distillery in July this year.
The new plant will also make use of Tullibardine Distillery's production residues.  In total, the Scottish whisky industry produces 750,000 t/y of draff, the sugar-rich spent grains left over from the malting process, and 2bn L/y of pot ale, the liquid residue left over after the first distillation. Celtic Renewables hopes to exploit this potential. The facility will use bacterial fermentation to turn a mixture of the draff and pot ale into acetone, butanol, and ethanol, which will be separated.
Celtic Renewables received a £9m (US$11.6m) in funding from the Scottish government earlier this year to build its demonstration facility and is now seeking to raise a further £5.25m through investment platform Abundance Investment.
Construction on the facility is expected to begin early in 2018. Once completed, the plant will create 25 jobs in the local area.
"This is a huge step forward for Celtic Renewables as this demonstration plant will enable the roll out of the technology at full industrial scale across Scotland and internationally. Grangemouth is the perfect location for the plant, where we can benefit from the synergies of locating within the national petrochemical hub and work with a range of complementary partners with the full support of local and national Government agencies," said Mark Simmers, CEO of Celtic Renewables.