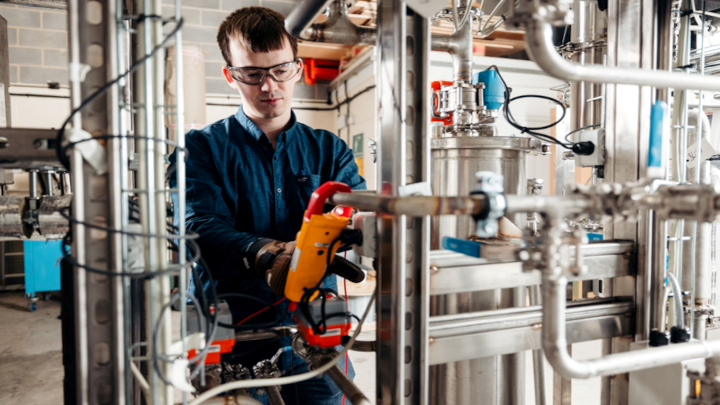 C-Capture
CARBON dioxide removal firm C-Capture has announced the launch of a national project that captures CO2 for hard-to-decarbonise industries using a low-cost, post-combustion collection approach. 
The project, called XLR8 CCS, uses a new class of capture solvents that are amine and nitrogen free, and can be manufactured inexpensively on a large scale. The technology can also produce biomethane as a renewable fuel. 
To demonstrate feasibility of the technology with real-world flue gas at numerous sites across the country, C-Capture has been awarded £1.7m (US$2.05m) in BEIS funding as part of the £20m Carbon Capture, Usage and Storage (CCUS) Innovation 2.0 programme aimed at accelerating the deployment of next-generation CCUS technology in the UK. 
These sites include the Hanson Cement site in Rutland, Energy Works Hull, and Glass Futures' research facility in St Helens, and at its member site, Pilkington UK in St Helens – all of which are partners in the project. Engineering company, Wood, is also collaborating on the study. 
Flue gas emissions at both cement and glass facilities are seen as particularly challenging to decarbonise due to the level and type of impurities produced. Indeed, XLR8 CCS will be the first time that a carbon capture and storage unit has been deployed at a glass-manufacturing site. 
Tom White, CEO, C-Capture, said: "The amount of CO2 being generated and released into the atmosphere is currently at a scale that is hard to imagine…Our solution has the potential to be a game changer for carbon capture. It uses less energy than currently available technology, meaning it can significantly reduce the cost of carbon capture to a point that makes it affordable globally. It is also environmentally benign, well suited to the large-scale capture of CO2 and robust enough to withstand even the most aggressive flue gases."  
Currently, the cement industry is one of the highest emitters of CO2 producing approximately 7.5m t of CO2 in the UK each year. The glass industry meanwhile emits over 2m t. Reducing emissions in these sectors is therefore seen as key to helping the UK achieve net zero by 2050. 
Recently, C-Capture secured a £5m grant from the UK Government for a two-year programme of work to progress its bioenergy and carbon capture and storage (BECCS) project at Drax Power Station. 
The company, which was established out of Leeds University's School of Chemistry, has been capturing CO2 from the plant since February, as it strives to become the world's first negative emissions power station in the 2020s.