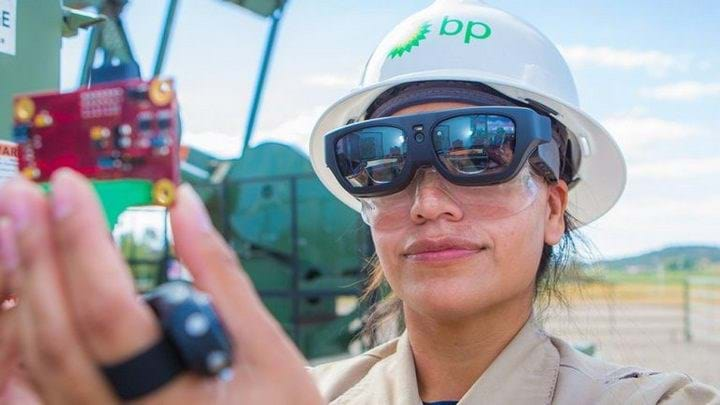 BP
BP says it is deploying technology to continuously detect, measure and reduce methane emissions from the new oil and gas processing projects it operates.
While the company has previously relied on engineering calculations and emission factors, it is now rolling out permanently-mounted gas cloud imaging (GCI) cameras that monitor sites and alert operators if a leak is detected.
The GCI technology has been tested at BP's Khazzan tight gas project in Oman and will now be used at all new major projects worldwide as the company seeks to improve on its methane intensity target of 0.2% from upstream operations. Methane is a significantly more potent greenhouse gas than CO2, and according to the International Energy Agency, the oil and gas sector emitted close to 80m t of it in 2017. This is equivalent to releasing 2.4bn t of CO2.
"For gas to play its fullest role in the energy transition, we have to keep it in the pipe," said Gordon Birrell, BP's Chief Operating Officer for Production, Transformation and Carbon. "This new technology will help us do that by detecting methane emissions in real time. The faster and more accurately we can identify and measure leaks, the better we can respond and, informed by the data collected, work to prevent them."
The announcement comes amid a contentious move in the US to roll back methane emission regulations. Following orders from President Trump to remove burdensome regulations, the EPA put forward plans in August to eliminate requirements for industry to control methane emissions from drilling operations, pipelines and storage facilities. While it argues that some of these emissions sources are covered under other rules to control VOCs, it notes the rollback will save industry up to US$123m by 2025 but lead to an additional release of 370,000 t of methane.
While the American Petroleum Institute has come out in support of the proposed changes, oil majors including BP, ExxonMobil and Shell have opposed them. Companies under pressure from shareholders to be more environmentally responsible have pledged a series of measures including setting methane emissions targets. One notable cross-industry effort is the Oil and Gas Climate Initiative (OGCI) set up by oil majors in 2014 that has pledged to invest more than US$1bn seeking technological solutions to climate change, including methane reduction measures.
The Trump administration has been rolling back many of the environmental regulations put in place by the Obama administration, and the latest move against methane controls follows it scrapping rules last year to reduce venting and flaring.