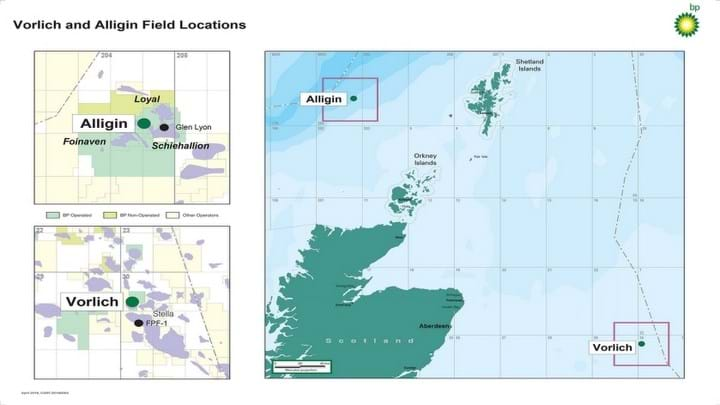 BP
BP has given the green light for the development of two North Sea oil fields worth a combined £420m (US$600m) and capable of a peak production of 30,000 bbl/d.
The Alligin field west of the Shetland Islands and Vorlich in the central North Sea are both satellite fields located near existing infrastructure, which will allow for rapid development. Both of the two-well fields are expected to come online in 2020.
Developing these small satellite fields is crucial to extending the life of the North Sea basin, as other larger fields such as Royal Dutch Shell's Brant become decommissioned. Both BP and Shell have sold many of their older North Sea assets but are continuing to invest in new production.
Alligin is a 50:50 partnership between BP and Shell with 20m bbl of recoverable oil and it will be tied back to BP's Glen Lyon floating production vessel. BP own two thirds of Vorlich and the rest is owned by Ithaca Energy. Vorlich will have a capacity of 30m bbl of oil and will be tied back to Ithaca's floating production vessel in the Greater Stella Area.
Ariel Florres, incoming BP North Sea regional president said:
"Through our Alligin and Vorlich developments we are simplifying and accelerating the stages of delivery to improve project cycle time, reduce costs and, importantly, add new production to our North Sea portfolio. These projects follow on from a period of record investment by BP in the North Sea which helped deliver our Quad 204 project last year and will deliver our Clair Ridge project which is planned to start up later in 2018. While not on the same scale as Quad 204 and Clair Ridge, Alligin and Vorlich will lead to significant production gains and further demonstrate BP's commitment to the North Sea."