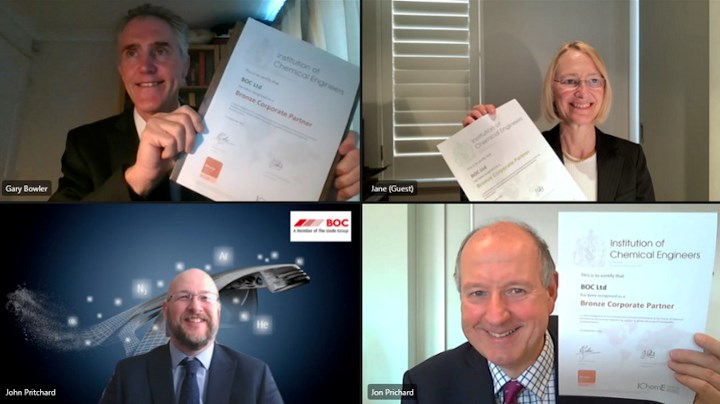 BOC HAS been awarded IChemE Bronze Corporate Partner Award status, in recognition of its professional development and mentoring.
Industrial, medical, and special gases supplier BOC was recognised for its commitment to the professional development of chemical engineers through its graduate programme, as well as its engagement scheme with school pupils aged 5–16.
Every chemical engineering graduate who joins BOC receives a personal mentor through the four-year IChemE Accredited Company Training Scheme (ACTS).
Corporate partner award submissions are peer-reviewed by IChemE's member volunteer assessors, who commended BOC for the extension of its mentoring relationship beyond graduation from the training scheme until professional qualification of Chartered Chemical Engineer is achieved.
The schools programme, called the Secret World of Gases Experience, sees specially-trained engineers use science experiments to teach children the properties of industrial gases, investigating the latest innovations, dispelling myths, and exploring how gases can be used for a greener future.
IChemE President Jane Cutler said: "BOC has demonstrated a strong support to the skill and personal development of its chemical engineers, and a keenness to inspire the next generation. I'm delighted to award BOC with the Bronze Corporate Partner Award.
"The Bronze status is the beginning of BOC's journey to gold, IChemE's highest award, which it aims to attain in 2022. This further emphasizes their dedication to professionalism and supporting the wider chemical engineering community through knowledge-sharing."
Jim Mercer, Business President, BOC UK & Ireland said: "BOC is thrilled to receive the Bronze Corporate Partner Award from the IChemE. This is a welcome recognition for our investment in people and the value we place on development of engineering talent especially in the early phases of a career. We are committed to advancing professional development and establishing best practice through engagement within our industry. This also builds on our championing of the STEM agenda within our local communities and for the next generation of engineers."