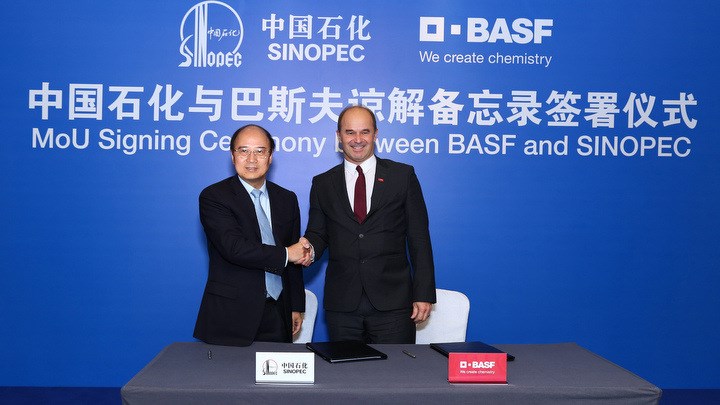 BASF
BASF and Sinopec have signed a memorandum of understanding that will further strengthen their partnership in upstream and downstream chemical production in China. Dai Hou-Liang, chairman of the board and president of Sinopec, and Martin Brudermueller, chairman of the executive board of directors at BASF signed the memorandum in Beijing.
The memorandum expresses the companies' intent to build an additional steam cracker in China and further expand their existing 50:50 joint venture, BASF-YPC. BASF-YPC will invest in a 50% stake to build this second steam cracker. Sinopec YPC, solely owned by Sinopec, will provide the other 50%. The companies will carry out a joint pre-feasibility study, which will be concluded by the end of 2018.
The plant will have a capacity of 1m t/y of ethylene. Ethylene is a building block for plastics, rubber, and synthetic fibres.
The steam cracker will provide basic chemicals which will enable the companies to expand the capacity of BASF-YPC, an existing, integrated "Verbund" site in Nanjing, China. BASF uses the term Verbund to refer to interconnected production plants. Interconnection allows the efficient use of products and by-products. In this system, chemical processes produce higher yields, conserve resources, and use less energy. 
Martin Brudermueller said: "This additional investment into a new steam cracker and the expansion of our BASF-YPC joint venture in Nanjing underline the strong partnership between Sinopec and BASF and the commitment to our customers in China."
BASF-YPC has spent about US$5.2bn in China since it was founded. The new steam cracker is the second major China investment BASF has pledged in four months. In July BASF signed a memorandum of understanding for a Verbund chemicals site in Guangdong, China.
BASF and Sinopec will also be jointly exploring the battery materials market, which is fast-growing in China. Alternative energy is becoming more important in China, especially in the automotive industry. This has led to an increased demand for innovative battery materials for a range of applications.