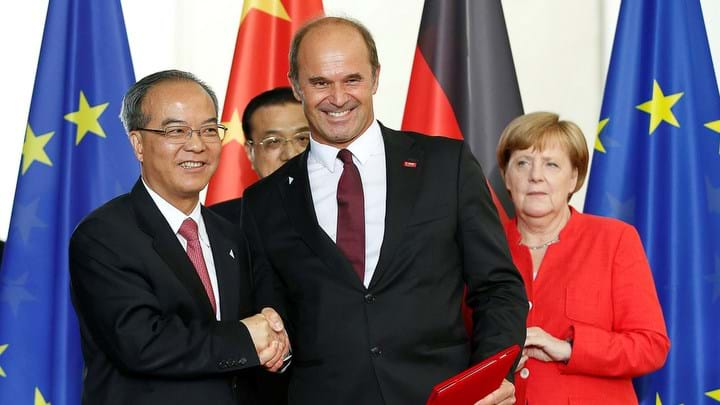 Bundesregierung
BASF is considering building a new highly-integrated – or 'Verbund' – chemicals site in Guangdong, China, and if it goes ahead it will be the company's largest investment.
Martin Brudermüller, BASF's chairman, and Lin Shaochun, executive vice governor of Guangdong Province, signed a non-binding memorandum of understanding in Berlin on Monday, in the presence of Germany's chancellor Angela Merkel and the Chinese premier Li Keqiang.
BASF says the investment could reach US$10bn by completion of the project around 2030. The first plants would be completed by 2026 at the latest.
BASF uses the term Verbund to describe its interconnection of production plants, where the products, by-products, and energy such as waste heat from one plant are fed to others downstream. The new site in China would become the seventh of BASF's highly connected chemical complexes. A steam cracker with a planned production capacity of 1m t/y of ethylene would serve as the starting point for the value chains at the Guangdong complex. In later phases, BASF would add plants downstream to produce products for the likes of the consumer goods and automotive sectors.
China is home to customers for these products, and with a market share of around 40% is the world's largest chemicals market, dominating growth in chemicals production.
BASF's existing six Verbund sites are in Ludwigshafen, Germany; Antwerp, Belgium; Texas and Louisiana, US; Nanjing, China, and Kuantan, Malaysia.