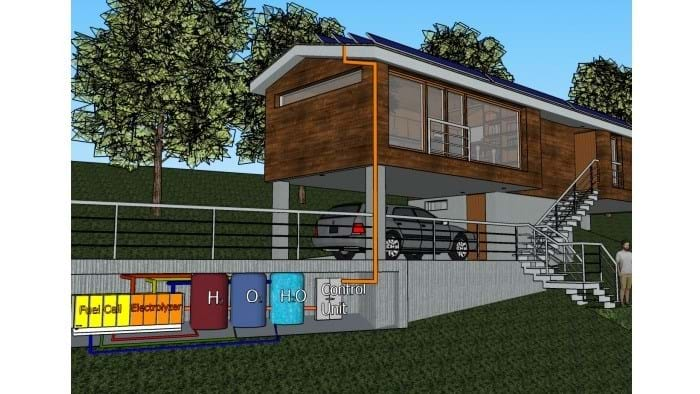 The University of New South Wales
RESEARCHERS in Australia have received a A$3.5m (US$2.4m) investment to develop a system that stores renewable energy as hydrogen. The technology could allow for cheaper and safer storage for renewable energy.
In collaboration with startup H2Store, the University of New South Wales (UNSW) developed a method that enables cheap storage and transportation of hydrogen with more than 90% efficiency. H2Store aims to develop hydrogen energy storage systems for renewable energy. With further development the researchers expect to provide an alternative for energy storage within two years.
Using the A$3.5m investment from Providence Asset Group (PAG) the collaborators are to develop a first-of-its-kind hydrogen storage system. This will help to deliver the first stage of a four-stage project that includes the creation of prototypes for residential and commercial use, demonstration units, and testing and optimisation to enable full commercialisation.
The technology employs hydride materials to store hydrogen in a solid-state form, said Kondo-Francois Aguey-Zinsou, Professor in the Faculty of Engineering at UNSW and co-founder of H2Store. The materials absorb hydrogen on application of hydrogen pressure at 30 bar (3 MPa) and the hydrogen is released by removing pressure, added Aguey-Zinsou.
According to Aguey-Zinsou, the hydrogen storage system could provide several advantages over current power storage technologies, such as the Tesla Powerwall battery.
One advantage Aguey-Zinsou discussed is the ability to store energy generated by solar panels as a dense form of hydrogen. This means that the potential hydrogen storage system could take up less space in homes than lithium-ion batteries that are currently used. In addition, Aguey-Zinsou said the developed method can be used to store seven times more energy than current systems.
Other advantages include a life span of about 30 years, compared to around ten years with other systems. In addition, the system would be safer as it would not pose the inherent fire risk associated with lithium-ion batteries.
The researchers hope to develop a 5 kW home storage prototype by the end of 2019 and a product on the market by late 2020.
The group is also working to develop large-scale storage systems for solar and wind farms, which includes designing storage vessels for hydrogen export. The vessels could potentially replace diesel in remote generating and large transport applications.
Llewellyn Owens, CEO and co-founder of H2Store, said: "Over the next two years we will develop a range of storage options for individuals, households and energy providers, including a solar farm 'battery' system to provide grid stability across Australia".
Mark Hoffman, Dean of Engineering at UNSW, said: "Australia has a real opportunity to lead the world in hydrogen storage, energy and transportation solutions.
"This is a very exciting project and I am very grateful to Providence Asset Group for investing in the pioneering work being done at UNSW.  I look forward to watching the developments over the next 12 months."
Last year UNSW signed an agreement to become the world's first solar university.