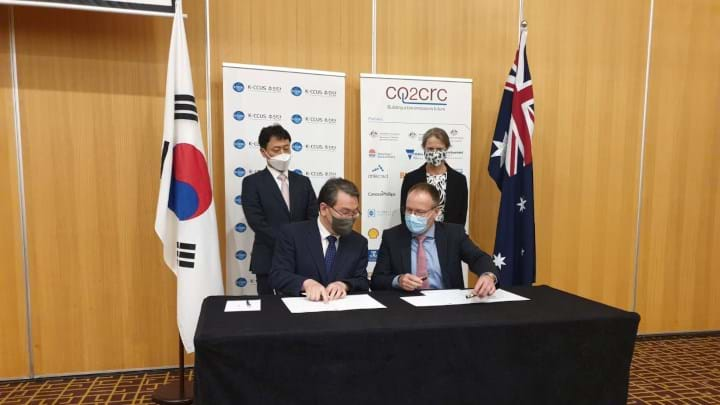 CO2CRC
SANTOS has signed a memorandum of understanding with SK E&S, K-CCUS Association, CO2CRC, and Korea Trade Insurance Corporation to support the development of new carbon capture and storage (CCS) facilities.
The collaboration will allow the partners to work on developing projects in Australia and nearby regions, including Santos' proposed Bayu-Undan CCS development located off the coast of Timor-Leste.
Last September Santos signed an agreement with the Timor-Leste regulator Autoridade Nacional do Petróleo e Minerais (ANPM) to advance progress on using the Bayu-Undan site for CO2 storage. The site would have a capacity to store around 10m t/y of CO2. This week Santos announced that the FEED phase has begun for the proposed CCS project.
Kevin Gallagher, CEO of Santos, said: "Located in Timor-Leste with potential CO2 sources from Australian gas projects and other industries in the Northern Territory, Bayu-Undan CCS could be the start of a valuable new carbon services industry for Timor-Leste. It would create new jobs and a new revenue stream for the nation once gas production from Bayu-Undan ceases."
Speaking on the new MoU with Korean partners, Gallagher said: "Increased deployment of carbon capture and storage is critical to achieve the world's climate goals. This agreement opens the potential for broader bilateral partnership and cooperation on CCS between Australia and Korea. Already partners in the Barossa Gas Project and Darwin LNG, the agreement further strengthens the deep and expanding relationship between SK E&S and Santos. We look forward to progressing this partnership to develop and commercialise CCS projects in our region"
The MoU includes research collaboration and accelerating technology advancements through field demonstrations at CO2CRC's Otway International Test Centre in Australia.
Matthias Raab, Chief Executive of CO2CRC, said: "This Memorandum of Understanding recognises K-CCUS as an important partner in advancing breakthrough low emission technologies assisted through Australia's International Partnership Program. It provides an opportunity to jointly prototype, demonstrate and upscale technology breakthroughs as required by Korea's 2050 Carbon Neutral Technology Roadmap and Australia's Low Emission Technology Investment Roadmap to achieve net zero emissions by 2050.
"The combination of expert researchers and industry involvement from Korea and Australia will accelerate the technology development and utilise Australia's unique research infrastructure at CO2CRC's Otway International Test Centre. Opportunities include commercially relevant demonstrations by upscaling carbon capture and storage technologies, as well as converting carbon-to-products and direct air capture with large carbon storage"
Yi Kyun Kwon, Director General of K-CCUS, said: "The collaboration between K-CCUS and CO2CRC will not only allow us to further develop research and technologies for CCUS, but also build mutual exchange programmes for industry and researchers to build organisational and people-to-people links and learnings through the direct experience and demonstration of projects. The exploration of international CCUS-based networks and solutions for countries with limited geological storage, such as Korea, will help further combat climate change"