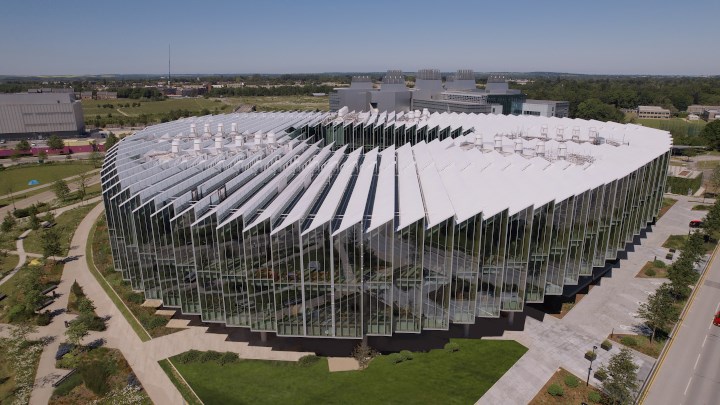 AstraZeneca
ASTRAZENECA has opened a new £1bn (US$1.3bn) R&D facility in Cambridge, UK.
Known as The Discovery Centre (DISC), the facility is located within the Cambridge Biomedical Campus. It will accommodate more than 2,200 research scientists and is equipped with advanced robotics, high-throughput screening and AI-driven technology. The focus of the research will be on specialised and precision medicines, as well as developing next-generation therapeutics, including nucleotide-based, gene-editing and cell therapies.
Pascal Soriot, Chief Executive Officer, AstraZeneca, said: "Our new Discovery Centre in Cambridge raises the bar for sustainable R&D and global collaboration across our industry. It will allow us to break new boundaries in the understanding of disease biology, bring life-changing medicines to patients, and power the next stage of our company's growth."
AstraZeneca said DISC was built to high environmental standards and the structure is "a feat of environmental engineering." It uses geothermal energy through 174 boreholes, along with a ground source heat pump. The roof design minimises energy use by maximising natural light, and the building has low-energy ventilation and high levels of insulation. The building was designed to be compatible with the company's commitment to have zero emissions from its global operations by 2025, and for its value chain to be carbon negative by 2030.
The facility was formally unveiled last week at an opening ceremony attended by Prince Charles. Speaking at the opening ceremony, he said: "Throughout the pandemic, I have greatly admired the dedicated commitment of Pascal and the entire AstraZeneca team. You have developed and delivered a vaccine for the world – in a remarkably short timescale – which will continue to have a positive impact on communities and society for years to come. You have demonstrated, together with your partners, the power of collaboration, of agility and, ultimately, of science itself. And, what is more, you have done it all on a not-for-profit basis.
"If I may say so, I am also greatly heartened by the focus on sustainability which is clearly in this company's DNA. From the lab to the patient, you are embedding innovation in everything you do, in order to improve human, as well as planetary health. Your mission to deliver net zero healthcare via the latest technologies, renewable alternatives and a circular approach, is one from which many within and outside of your sector can learn."