Understand your hazards, and feed back your priorities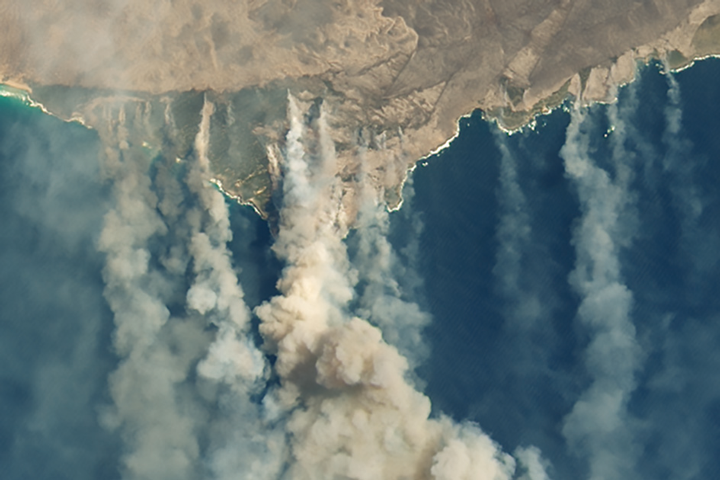 NASA Earth Observatory
WITH bushfires devastating large areas of Australia, there are calls for engineers to help reduce risks and come forward with expertise and ideas.
As we go to press, Australia is in the grip of a national tragedy, with bushfires having burned through more than 10m ha of land, killing at least 30 people and millions of animals. While Australia's Prime Minister Scott Morrison has come in for fierce criticism including for downplaying the influence of climate change, CSIRO, the country's national science research agency is explicit, noting that: "Human-caused climate change has resulted in more dangerous weather conditions for bushfires".
These fires have burned throughout the country but New South Wales and Victoria have been hardest hit. A combination of factors including lengthy droughts and record temperatures have increased the risk of bushfires, which have been sparked by lightning and fanned by brisk winds through parched vegetation.
Industries hit
Industries directly affected include those reliant on the land, including pulp and paper manufacturers, winemakers, and the dairy industry.
"Plantation trees provide more than 80% of the timber and fibre products we produce as a nation, and for years we haven't been able to even fill our own needs," said Ross Hampton, CEO of the Australian Forest Products Association. He added that the downstream consequences for rural communities will be severe.
"These trees take ten years, in the case of trees for paper and cardboard making, or 30 years, in the case of the pine trees used for house framing, to grow. So when the fires are finally contained, it will be like a slow motion train crash as the full downstream consequences are felt."
The downstream consequences for rural communities will be severe...when the fires are finally contained, it will be like a slow motion train crash as the full downstream consequences are felt
Hampton has called for government to help replant lost plantations and thin areas at risk in line with how indigenous Australians used to manage the forests.
It will take time to understand the full impact on the dairy industry, which has been suffering droughts and is now counting its loss of cattle. Australia is the world's fourth-largest exporter of dairy products, with around 6% of market share according to figures from national body Dairy Australia. This includes milk, milk powder and butter exported chiefly to Asia. Reuters reports that even before the fires, drought had been projected to drive milk production to a 22-year low.
However, Bega Cheese, one of the largest of Australia's dairy companies, has said that the fires have affected only a small proportion of suppliers and had minimal impact on its processing operations. 
Smoke effects
While most vineyards have escaped direct fire damage, there are warnings that smoke could taint this year's production. According to Tony Battaglene, CEO of the industry group Australian Grape and Wine, around 1% of vineyards have been destroyed by fires, with the Adelaide Hills region particularly affected.
"The bigger impact is the potential for smoke damage," he told Bloomberg on 21 January. This can impact the flavour of wine but the impact won't be known until grapes begin to ripen.
Drifting smoke has blanketed large parts of Australia including Canberra, Melbourne and Sydney, posing risks to public health. These air quality issues have also disrupted industrial operations, with BHP and Whitehaven Coal warning that smoke and poor visibility are hampering coal output.
The irony of this has not been lost on environmentalists, with Rachel Kennerley, Climate Campaigner at Friends of the Earth noting: "Perhaps having production impacted by bushfire smoke will finally hit home how important it is that we stop burning fossil fuels."
Meanwhile, utilities have been fighting to maintain supplies. Water New South Wales has deployed silt curtains and booms at the Warragamba Dam to prevent ash and debris from being washed by rain into drinking water supplies. State water minister Melinda Pavey said protecting Sydney's supplies is a priority: "We have worked closely with the [rural fire service] to ensure fire retardant chemicals used near Warragamba Dam are appropriate, and that exclusion zones were in place to avoid the use of retardants in close proximity to water where possible."
Community response
Asked where the chemical engineering community should focus its attention in response to the bushfires, Trish Kerin, Director of the IChemE Safety Centre said: "The current events in Australia highlight the need to plan for environmental impacts on our operations. Natech – which stands for 'natural hazard triggering technological disasters' – require specific assessment and management to ensure that hazards are understood and addressed. A key element here is to not discount scenarios based on likelihood, but to assume that they could occur, and plan accordingly.
"We have seen fire ash and smoke impact many industries and create hazardous situations. We must focus on hazard reduction and adaptation by engineering in resilience to natural disasters. Look at your facilities and their environment and think about what could occur there – how well equipped are you to handle a natural disaster, when emergency services may not be available to you?"
David Wood, a former chair of IChemE's Australian Board, who was evacuated from his home due to bushfires in northeast Victoria, has called for a wider community project: "Australia can be considered as a massive chemical plant for which no HAZOP study has ever been undertaken. We are paying the price for this right now. Maybe chemical engineers can contribute by using our hazard experts to undertake a HAZOP analysis for 'Project Australia'. For example, we could look at the hazards associated with explosive materials, including eucalyptus oil from gum trees. From this an appropriate policy could be derived for minimising the effects of future bushfires in Australia and elsewhere."
IChemE has issued a joint request along with Engineers Australia for the community to provide input on how both can support Australia during these testing times: "We would value any feedback on those areas that you and other engineering colleagues see as a priority, and how we might prioritise the resources and capabilities of IChemE and Engineers Australia members. Please provide any suggestions via fireresponse@engineersaustralia.org.au."
Australia's reaction
How Australia's politicians will respond remains to be seen. Morrison, before he became Prime Minister, famously brandished a lump of coal in parliament, saying: "Don't be scared! Won't hurt you!" He has now rejected calls for the tragedy to prompt a more ambitious climate policy. The country has been accused of charting a lonesome and morally-dubious path to meeting emissions targets, one that could rely on accountancy tricks involving emissions credits rolled over from earlier schemes.
The Prime Minister has argued that any policy must be balanced with broader economic interests that don't damage jobs or Australia's resource industries. But this ambition is increasingly under threat. BlackRock, the world's largest investment fund manager, said in January that it would abandon investments that carry high sustainability-related risk, including thermal coal, of which Australia is one of the largest producers.
Industry is evidently feeling the pressure too, with Peter Coleman, the CEO of Australian energy firm Woodside Petroleum telling an oil and gas conference that companies must be part of the solution: "We are not the cigarette industry and do not want to be viewed as such."
Coleman said the bushfires should trigger a heightened response on tackling climate change, The Australian reports.
"I think you've got to let us get through the triage of trying to repair what's happened and then that debate needs to occur and it needs to occur quickly."
---
NASA Earth Observatory image by Lauren Dauphin, using Landsat data from the US Geological Survey.