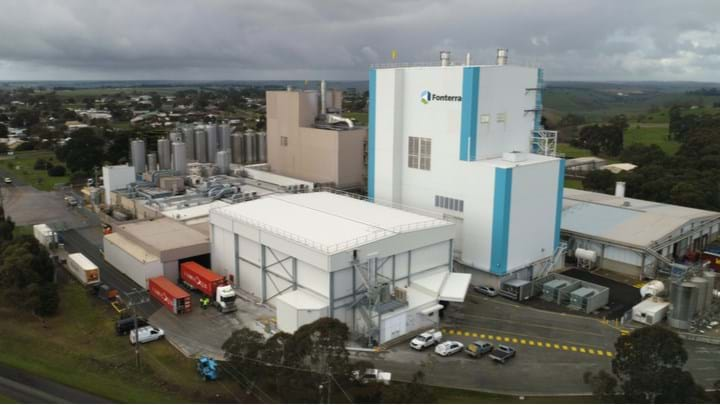 Powerhouse Productions / Shutterstock.com
FONTERRA – New Zealand's huge dairy cooperative – has come out in support of plans to end coal use for industrial heat by 2037 but has warned there are significant challenges to achieving this deadline.
The cooperative is owned by 10,000 New Zealand farming families and produces 20% of the country's emissions. 90% of this is from farming activities, 9% from its manufacturing operations including processing milk, and 1% from transport.
New Zealand has committed to achieving net zero emissions of long-lived gases by 2050 and reducing methane emissions, including from its large dairy sector, by 24–47% by 2050. After 12 months of study, the country's Climate Change Commission has warned that current policies will fall short of hitting these targets and has published draft plans for how the Government can succeed. These include eliminating coal use for food processing by 2037.
Fonterra has published its official response to the consultation, noting: "We accept the Commission's proposed pathway for decarbonisation of industrial process heat, including an end to coal use for industrial heat by 2037; and the subsequent retirement of natural gas for process heat from 2037 onwards."
But it goes on to warn: "The pathway to ending coal use by 2037 is ambitious and will be challenging to meet."
Gas concerns
Fonterra's 27 manufacturing sites use 24 PJ/y, equivalent to 3% of New Zealand's total primary energy supply, to process 17–18bn L of milk. This is predominantly thermal energy from burning coal (39%), natural gas (22%), and wood (4%) biomass. Cogenerated steam (17%), grid electricity (13%) and cogenerated electricity (5%) make up the rest of its energy sources.
Its 28-page submission explores the hurdles to switching its operations to cleaner fuels. It says it prefers changing the nine sites that burn coal to burning wood instead. Though it notes this may be constrained by the volumes of wood that are available.
On switching to gas, Fonterra says the forecasted scarcity of supply in the North Island poses a significant risk to completing a transition. It points to supply issues in the past 18 months, including disruption at the Kupe gas field, decline in the Pohokura gas field, and no new significant gas fields planned.
"We strongly recommend that the Commission focusses on the interdependency of coal and gas and the impact that the scarcity of gas could have on the dependence on coal for security of supply," the submissions says.
No plans for further electrification
In 2017, Fonterra conducted an electrification feasibility study and has since demonstrated the use of technologies across several plants, including its Stirling site in South Otago.
"During our studies into process heat electrification, we have assessed the integration of heat pumps in applications under 100 degrees; converting our thermal vapour recompression (TVR) evaporators to mechanical vapour recompression (MVR) evaporators; and fuel switching to use electrode boilers. Following these studies, we do not have any plans to switch any of our boilers to electricity. This is because although the emissions associated with electrification are low, the operational and capital cost when compared to other fuel sources is very high."  
Beyond capital costs, it also says the ability to electrify sites is constrained by the need to upgrade electrical lines to supply more power. It notes that with the Tiwai aluminium smelter set to close in 2024, Fonterra's transmission charges are forecast to increase by NZ$12m/y (US$8.4m/y) under the proposed new pricing scheme.
It also raises concerns that a skills shortage could hamper switching fuels.
"As an example of the external resource constraint to deliver a large boiler transition, there are currently only two New Zealand based boiler vendors that have the capability to design, build and commission biomass or electrode boilers in the 10 MW to 50 MW range. We understand that these boiler vendors only currently have a staffing capacity to be able to deliver one new boiler per year. It typically takes 40 people a year to build a new boiler, ranging from civil, electrical, and mechanical engineers, electricians, welders, scaffolders to general labourers. We acknowledge that the significant increase in demand for boiler transitions will aid vendors to increase their capacity, but there is a limit to the speed at which the skilled engineers, welders, fabricators, and electricians required can be trained."
Fonterra has 21 coal boilers and air heaters, and 76 gas boilers and air heaters installed throughout its sites, ranging in size from 1–56 MW, and with a total installed capacity of around 1,300 MW.
Narrow window for change
It warns there is a business continuity risk of having too many manufacturing sites undergoing significant infrastructure changes at the same time. Maintenance is undertaken during a 6–8 week period when the cows produce less milk and the business goes from collecting 82m L/d to 4m L/d.
Chief Operating Officer Fraser Whineray said: "While we're working on this transition, we need to make sure we can deliver on our customers' needs and process our farmer owners' milk. There is only a small window between each milking season when we can undertake the necessary engineering work to make key changes on the remaining sites.
The submission says: "Our ability to decarbonise our manufacturing sites is based on competing funding priorities including health and safety upgrades to protect our people, environmental initiatives such as wastewater treatment upgrades, plant maintenance and installing new, innovative product lines for our customers."
The Climate Change Commission received more than 10,000 responses to its proposed guidance. The consultation closed on 28 March. It will now review the responses and submit its final advice to government by 31 May.