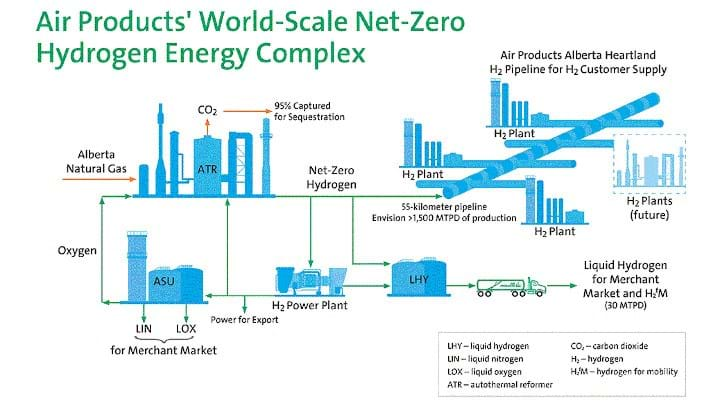 Air Products
AIR Products has announced a multibillion-dollar plan for a "landmark", world-scale net-zero hydrogen energy complex in Edmonton, Alberta, Canada.
Hydrogen as an energy carrier for powering fuel cells in vehicles, buildings, and other infrastructure is receiving widescale attention. The gas is a key tool which Canada will use to help achieve its goal of net-zero emissions by 2050.
Through the project, Air Products will deploy advanced hydrogen technology and innovative design to deliver net-zero emissions. The facility will capture more than 95% of CO2 produced from use of natural gas feedstock and store it underground. It will rely on Alberta's natural gas resources. The remaining 5% will be offset though use of hydrogen-fuelled electricity.
Air Products will build, own, and operate the complex. In addition to carbon capture operations and a power generation facility fuelled by 100% hydrogen, the complex will include: a world-scale autothermal reformer (ATR), built where there is the potential for expansion; a 30 t/y hydrogen liquefaction facility, which Air Products says will be the first of its kind liquid hydrogen operation globally; a world-scale air separation facility; and connection to Air Products' existing 55 km Alberta Heartland Hydrogen Pipeline network. The hydrogen liquefaction facility is expected to play a critical role in developing hydrogen economy across Western Canada.
The Heartland pipeline was designed for growth, and has the capability to more than triple current volume. The clean energy complex is expected to help refining and petrochemicals customers served by the Heartland pipeline to reduce their carbon intensity.
Edmonton was selected to allow expansion of the energy complex, including by replicating net-zero hydrogen production assets to meet growing demand. Air Products expects that its hydrogen business in Alberta will reach more than 1,500 t/d of hydrogen production and achieve greater than 3m t/y of CO2 capture.
In 2018, Air Products started work for a world-scale energy complex in Edmonton, which will begin with a C$1.3bn (US$1.05bn) net-zero hydrogen production and liquefaction facility expected to come on stream in 2024.
The planned complex will make Edmonton the centre of Western Canada's hydrogen economy.
The project will mark the first wider use of hydrogen in Alberta, enabling production of liquid hydrogen for emissions-free fuel in the transportation sector, and to generate clean energy.
According to Edmonton Mayor Don Iveson, the project will create 2,500 construction jobs.
Seifi Ghasemi, CEO of Air Products, said: "We are paving the way for hydrogen from Edmonton to meet industrial and transportation needs throughout western Canada. Our highly integrated project will be a model for net-zero atmospheric gas, hydrogen and power production consistent with our announced growth platforms."
Seamus O'Regan Jr, Canadian Minister of Natural Resources, said: "Hydrogen's moment has come. It's the low-carbon fuel that gets us to net zero. This opportunity will create thousands of jobs and use the skills and expertise of workers in Alberta to lead Canada to the forefront of the global hydrogen market. Working with Alberta and Air Products Canada, we are building a low-emissions energy future that leaves no one behind."
Air Products says it is already the leading hydrogen supplier in Canada, and is considering further investment in both existing and new hydrogen facilities in Alberta and across Canada. The company operates three hydrogen production facilities in Alberta, in addition to the Heartland pipeline. It also has a hydrogen production facility, a 30 km pipeline network, and a liquefaction facility in Sarnia, Ontario. It operates more than 1,100 km of hydrogen pipelines worldwide.
The project announcement was made by Air Products and its Canadian subsidiary, in conjunction with the Government of Canada and the Province of Alberta.