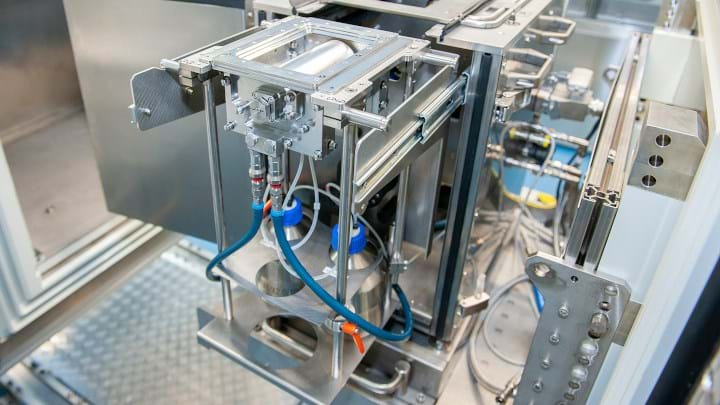 Fraunhofer
SEEKING to accelerate a novel method for producing inactivated vaccines to market and ensure competitivity, the Fraunhofer Institute for Manufacturing Engineering and Automation has partnered with a specialist machinery manufacturer and a consulting company. The novel method could make vaccine production faster, safer, and cheaper.
Inactivated vaccines contain virus particles that have been rendered such by chemicals to eliminate pathogens, typically by the toxic substance formaldehyde. According to Fraunhofer, a better method would be irradiating the pathogens using low-energy electrons, which enables quicker production and guarantees higher quality product.
Four Fraunhofer Institutes collaborated to develop a new, chemical-free method for making inactivated vaccines. The method uses low-energy electrons to destroy nucleic acid within the pathogens and bacteria, leaving the surface proteins intact. The surface proteins are the part of the pathogen that provoke an immune response.
The developed process is also suitable for other applications, for example, sterilising biopharmaceuticals and other liquid biological materials.
The production method was tested at a pilot plant installed at a Fraunhofer site in Leipzig, Germany to facilitate scale up of the process from laboratory scale to industrial scale. Martin Thoma, of the Fraunhofer Institute for Manufacturing Engineering and Automation, explained that findings at pilot scale validated the predicted potential of the inactivation method for a variety of pathogens with a strong therapeutic demand, and demonstrated and emphasised the feasibility for industrial scale manufacturing and GMP grade quality and reproducibility.
The pilot scale plant was designed with a research and process development focus. According to Thoma, commercial-scale manufacture requires a full redesign of the overall technical system, including simplifying and optimising the material handling and the manufacturing system equipment with regards to use and safety.
Work needed to progress this technology includes scale down of the current pilot scale plant from 6 t (with a footprint of 4 m × 4 m) to refrigerator size. Meanwhile, according to Thoma, plant production capacity needs to be scaled up from 4 L/h to about 10 L/h for the commercial product, with a potential further increase to 20 L/h in future, "thus capturing a large share of the commercial-scale production".
Fraunhofer said that to allow for a succerful market launch, a number of technical improvements are required along with a sound strategy and business analysis. To facilitate this, Fraunhofer has secured cooperation from KyooBe Tech and TIM Consulting.
KyooBe Tech, which works to improve pharmaceutical manufacturing through new technologies, can tap into more than 50 years of technological expertise in producing specialist machinery as it helps to develop the process on a commercial scale.
TIM (Technology and Innovation Management) Consulting, set up by former Fraunhofer researcher Thomas Abele, will help ensure a smooth technology transfer by supporting market research.
Correction
This article was edited on 19 February 2020 to change "an information analysis company" to read "consulting company" and "Total Information Management (TIM) Consulting" to read "TIM (Technology and Innovation Management) Consulting".