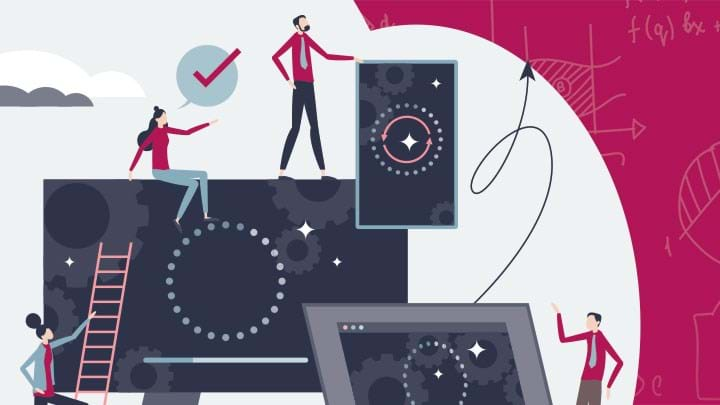 Esther Ventura-Medina, Joanne Tanner and Brent Young explain why digital literacy is so important
INDUSTRY 4.0 has brought changes in hardware and software in the workplace, all aiming to increase productivity and operational efficiencies1. We need to raise awareness amongst the chemical engineering community of the importance of digital literacy for chemical engineers. We'll look here at the range of digitalisation skills and technologies relevant to chemical engineering, and give an overview of some of the education options and the work that is already under way.
Given the amount of information out there, let's start with some general background on digital skills and competencies in the context of education. There are several definitions and frameworks for digital skills and competences in general. For instance, the European Commission has published the DigiComp 2.0 Framework2 which considers 21 specific competences grouped in five main areas (see Boxout). These are general areas and competencies but can apply to different contexts whether in education or at the workplace. One critical addition to this framework that IChemE's Learned Society Committee (LSC) Digitalisation Technical Advisory Group (DigiTAG) has identified is ethical and responsible digitalisation leadership, a key skill that chemical engineers need – eg in responsible production or major hazards management, the two other LSC priority topics.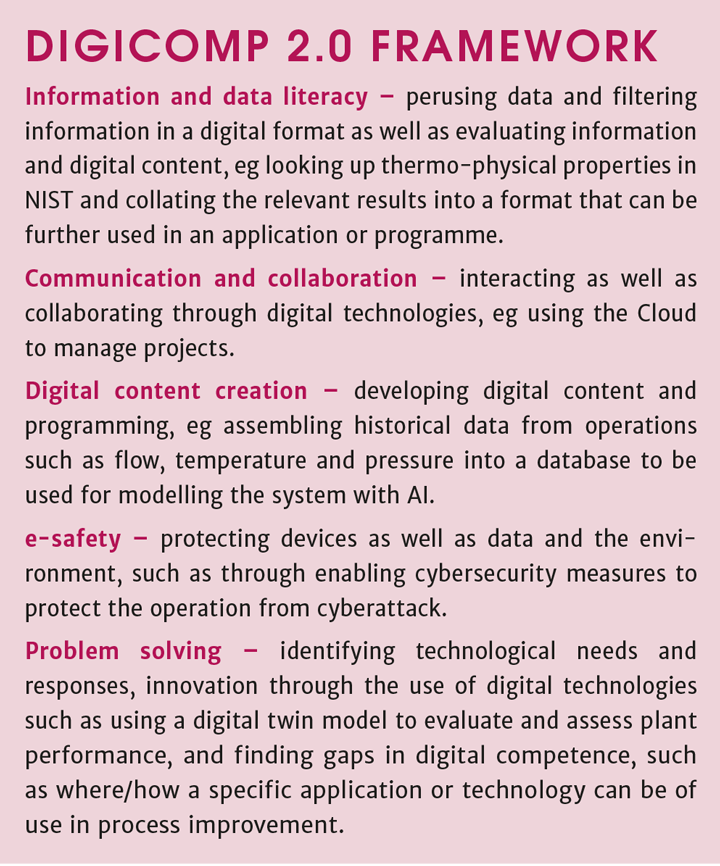 So how do we prepare future graduates and the current workforce to adopt and integrate their current and new digitalisation skillsets to current and future industry needs?
Evidently, the need for education and training depends very much on the gap in digital literacy (see Boxout) of individuals, as well as the needs of the sector and role. For instance, the competency requirements for a plant operator, a control engineer or a plant manager are different, as their roles have different remits. Similarly, some industry sectors might be further ahead in some areas of their digital transformation than others. For example, in a recent survey of Auckland alumni5, described in the following section, engineers in food/dairy businesses reported similar conversion, storage and use of digital data and real time analysis to engineers in energy/chemicals, but less use of digitalised workflows, digital enterprise operations, and digitalisation for forecasting.
How do we prepare future graduates and the current workforce to adopt and integrate their current and new digitalisation skillsets to current and future industry needs?
Digital literacy
In 2001, Marc Prensky3, introduced the terms digital "natives" and "immigrants" to distinguish between people who have grown up in an environment where computers and the internet are prevalent, as opposed to those who have had to adapt and integrate. Since then there has been much debate about whether a digital native is therefore digitally competent or has high levels of digital literacy. In language, for example, a native English speaker may be very fluent but, in comparison with an equally fluent non-native speaker, they may not necessarily have a better command of the grammar! The non-native speaker might well have a higher level of technical competency.
Similarly, the fact that recent graduates can be considered digital natives does not automatically qualify them as digitally competent. They may still need to learn about technical problem solving using digital technologies and techniques such as modelling, simulation, and statistical analysis. Undoubtedly, the level of competency achieved through any training (through formal education or on-the-job) is also associated with the need for the skills in a given context.
Prensky's thinking highlighted that education systems were ill-prepared to deal with students who were digital natives – partly because of the lack of digital literacy of the educators themselves and partly because of the low uptake in the use of digital technologies. In the case of higher education, many institutions then started to move towards delivery models where digitised content (ie content such as electronic lecture notes, video lectures in digital format) was offered through online platforms such as virtual learning environments. This digital transformation (altering an existing process to use a digital technology) has been significantly increased recently due to the Covid-19 pandemic. However, the digitalisation technologies used in education aren't the only technologies a chemical engineer might need to use in industry.
It's important to make a clear distinction between digitalisation of education and digitalisation in the chemical and process industries. In the education context the level of automation is much less advanced due to the innate nature of learning processes and practices – which depend strongly on human interactions. Having said this, remember that chemical engineering programmes aim to train graduates to be able to operate as engineers and consequently attend to the development of topics and skills relevant to digitalisation. Therefore, some crossover is to be expected, eg using cloud capabilities, online training and content delivery, and increasing digital connectivity in engineering and engineering education. It is also important to highlight the distinction between digitisation (transforming content to a digital format), and digitalisation, which as previously mentioned entails changes in processes (eg online assessment with immediate feedback such as online quizzes).
The levels of general digital literacy and skills required to be digitally competent vary based on role, productivity sector and region. For instance, a recent report published by RAND in 20214 indicates that employers in different sectors are finding it difficult to recruit people, as job opportunities in Europe (85%), UK (75%), Australia, New Zealand, Singapore, and the US (69%) require digital skills. This raises concerns not only about the training of future chemical engineers but also about how to bridge the skill gap in the current workforce while the industry moves along with (or catches up to) digital transformation.
Digital technologies and skills in chemical engineering
The survey of Auckland alumni probed the industrial needs for digitalisation education in chemical engineering and reported overwhelmingly that elements of digitalisation are already influencing the chemical engineering industry and chemical engineers' job functions, and that these influences are likely to get stronger over time. Across all sectors, approximately 70% of respondents reported that their industry converted and stored data in a digital format, 77% used a digital workflow for daily operations, and 64% used digitalisation at the enterprise level. A 5-15% increase in utilisation was predicted when asked the same questions about the future 10 years from now. An engineer manager in the chemical/energy industry commented that: "Once higher levels of management understand the importance of data and how to leverage it to make the company more competitive there will be an increased drive to capture this data digitally. Once this happens, analysis of engineering problems and how to adapt production targets will be simpler with more meaningful outputs. Simply put, engineers would spend less time trying to collect and analyse data and spend more time finding solutions". However, approximately 9% of the respondents disagreed with this sentiment, citing concerns around the cost/benefit for current projects, eg "The fundamental questions with Industry 4.0 are: What is the problem we are solving and what are the economic benefits?" When asked about what additional digitalisation knowledge, skills and attributes (KSAs) the future syllabus should have, some of the respondents pointed to specific deficiencies that should be addressed. Example comments included "...there is limited knowledge on how to specify systems/requirements in design stages, and how to manipulate the data in meaningful ways during design/problem solving stages" and "Understanding how these digital tools can be used with other disciplines to develop comprehensive models/solutions/datasets and influence big picture decision making".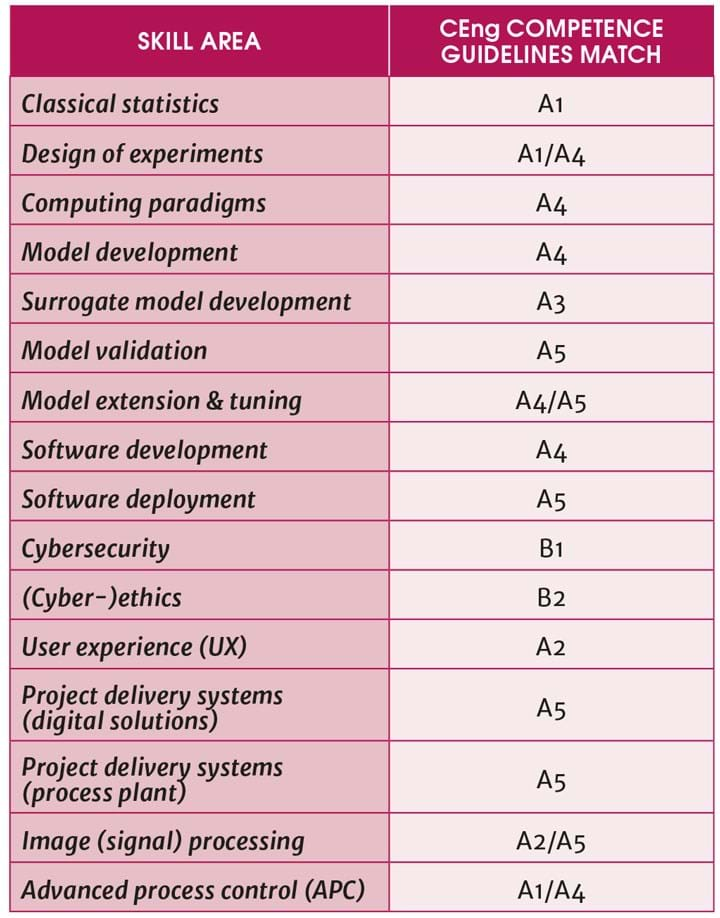 This same survey asked digitalisation experts who are chemical engineers in industry and academia for their opinions of academic best practice, and the academic staff for their opinions of curriculum limitations. The digitalisation experts identified that chemical engineering graduates will need a high level of knowledge and skill in digital models and statistical concepts as they will be the drivers of the implementation of digital twins in their industry. They will need to be able to more simply apply big data analytics for efficiencies in operations based on big data, but only need a basic understanding of Internet of Things (IoT) concepts in order to work with engineers in other disciplines such as electrical or computer systems engineering, for whom in depth knowledge of IoT devices may be critical.
Academic staff surveyed also reflected that these requirements can be satisfied in the future curriculum by taking the dual approach of integrating digitalisation content into core courses, eg developing digital models in process control and design subjects, and also developing standalone electives for advanced applications such as digital twins development or advanced process analytical technology applications. For those in industry without direct access to university course content, there are many online resources (see Boxout) for self-education, as well as formal short courses available in various aspects of digitalisation relevant to chemical engineers.
It is evident that digitalisation skills are as important as any other in the context of chemical engineering. There needs to be a consideration for the entire educational cycle. Digitalisation skills should be part of lifelong learning for chemical engineers: skills that need to be continuously developed from undergraduate programmes right through careers to the end of professional life. The DigiTAG group is developing a Digitalisation Skills Matrix for continuous learning that considers the topics that are core to any industry (eg classical statistics, computing paradigms, model development, cybersecurity, advanced process control) and are aligned with the CEng Competence Guidelines while taking into consideration different levels of competency (eg awareness, basic skills, advanced). As a taster, the 16 skills areas currently identified are listed in the table opposite against the CEng Competence Guidelines. A future DigiTAG output on the full skills matrix is anticipated.
Conclusions
Digital literacy for chemical engineers and the industries in which they operate, now and into the future, is of the utmost importance. Engineers will need digitalisation knowledge and skills to be able to drive implementation of digital models and twins, apply big data analytics, and provide ethical and responsible digitalisation leadership. Here we have highlighted several useful existing and developing resources as a good starting point for building skills, improving literacy, and breaking barriers, but there is still the need for industry and academia to work together in this exciting and fast developing field.
References
1. Cloud Computing and Chemical Engineering; https://bit.ly/363MJCF
2. The Digital Competence Framework 2.0; https://bit.ly/3tkRwsm
3. Digital Natives, Digital Immigrants; https://bit.ly/3ig9xBz
4. The Global Digital Skills Gap; https://bit.ly/3wfAZb4
5. Udugama et al; https://bit.ly/3JkTVJ3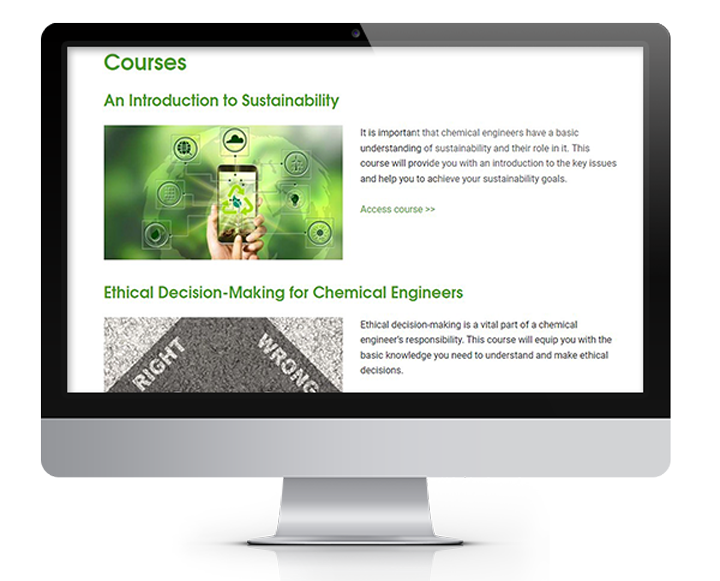 That'll teach you
There are lots of excellent resources that you can access online whether you want to learn more about digitalisation, are looking for tips on teaching or you want to expand your engineering skillsets. Why not give these a go.
Workshops and webinars
IChemE's Education SIG (EdSIG) and Heads of Chemical Engineering UK (HCEUK) Digitalisation workshops offer slides, video presentations and notes showcasing examples of big data, digitalisation of workflows in plant design and construction, data as an asset, digital skills for systems thinking, advanced control systems and digital twins in pharma, advanced process modelling and digital twins. You can also find information about digitalisation skills in practice. Access via the EdSIG webinar archive https://bit.ly/34LQOdZ
Chemical Engineering Online – offers access to free webinars on different topics of digital transformation for professionals in the chemical and process industries. Access via https://bit.ly/3tf430c
IChemE journals
Digital Chemical Engineering journal includes contributions from research and innovation at the interface between chemical engineering and relevant digitalisation disciplines on topics such as data science and machine learning. https://bit.ly/3KTwCGF
Education for Chemical Engineers journal has recently published a special issue on the topic of digitalisation in education and training with 13 papers covering a host of topics including augmented reality, game-based applications, remote teaching, and replacements for exams. https://bit.ly/3MS4eX8
It has also published a collection of papers to help educators teach virtual labs. https://bit.ly/3KPRNcq
Hubs of learning
The IChemE Knowledge Hub offers online resources for process engineers, and includes a digitalisation filter with subtopics including cybersecurity, AI, machine learning and more. https://bit.ly/37uCS9b
The IChemE Sustainability Hub provides IChemE members free access to all its courses throughout 2022. Current courses include Ethical Decision-Making. Future ones will cover lifecycle analysis and the circular economy. https://bit.ly/37qlgeE
For more information on IChemE's priority topics, visit its dedicated website, https://bit.ly/3MV5CrU