Amanda Jasi reports from the official opening of the chemical engineering programme at Southampton University
THE University of Southampton, UK has officially opened its chemical engineering programmes and unveiled a new laboratory with state-of-the-art equipment.
Efforts to fill the chemical engineering shaped gap in its degree-offerings began in 2015. In 2020, it began intake of MSc cohorts, with BEng and MEng students following a year later. Along with external support, chemical engineering at Southampton was developed as a joint effort between chemistry and engineering, allowing chemical engineering to benefit from the strengths of both schools, while providing the skills and knowledge unique to chemical engineers that will help graduates solve global challenges.
Chemical engineering was also designed with unmet needs and employers in mind, as well as accreditation. Associate Professor of Chemical Engineering Nuno Bimbo said the university has already started going through the relevant process with IChemE and aims to achieve accreditation "at the first available opportunity." Next steps for the course include increasing the teaching staff from two, over the next few years.
On 2 November faculty members and special guests gathered at an inauguration event to discuss the importance of educating the next generation of chemical engineers, the development and goals of the new programme, and tour its new and refurbished facilities.
David Bogle, President of IChemE, said that it was great to see the new programme putting sustainability at the heart of chemical engineering education. "This is so key to bringing new young people into studying chemical engineering. They really want to see a more sustainable world. It's their future in the end," he said.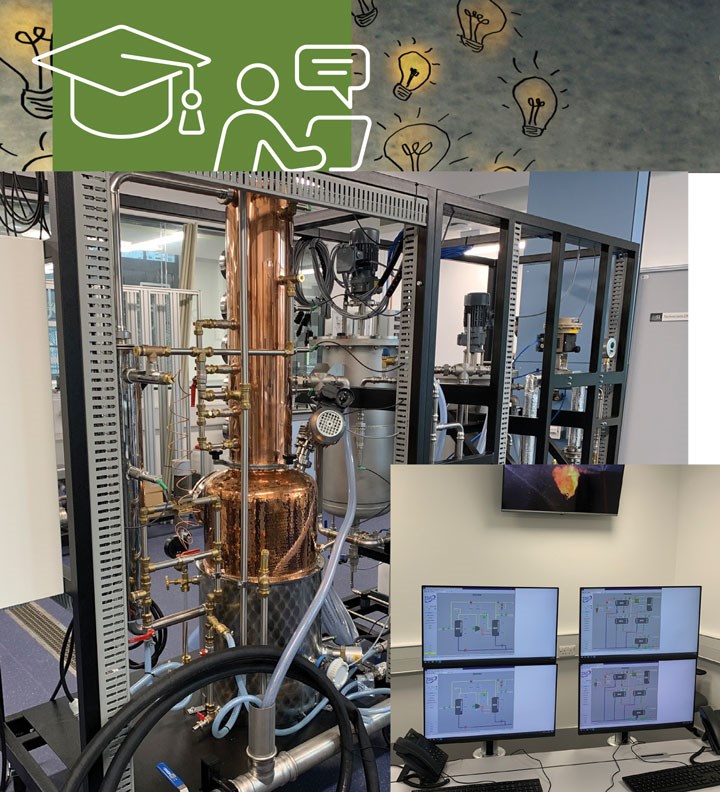 Well-equipped
Southampton invested £5.3m in developing the new chemical engineering course, including building and refurbishing its facilities. These include a new chemical engineering laboratory featuring state-of-the-art equipment, a virtual control room, and other office, computing, and design spaces.
During a tour, Bimbo said the laboratory project was completed in February, at which point equipment installation began. The laboratory features a convective dryer, extraction units, columns and reactors, and a small pilot plant for biotechnical production of ethanol. Students will use mashed potatoes to produce ethanol, getting the chance to observe an integrated process. More equipment is to come, namely an ion exchanger, and chromatography and adsorption units.
In the virtual control room, also completed in February, students will have the opportunity to manage processes and experience accidents safely using simulation software. The room includes walkie talkies and phones to further mimic the control room experience. Students can also use the software in a separate IT suite.
Chemical engineering education at Southampton will also benefit from a £12m investment to renovate the chemistry building, including teaching laboratories for chemists and chemical engineers. The faculty, throughout the opening celebrations, highlighted that underpinning chemistry was a key consideration in the development of the chemical engineering course.
Mohamed Sayed, Associate Professor of Chemical Engineering, said that experiments designed in collaboration with chemistry and equipment purchased for chemical engineering link the micro level of chemistry and macro level of the chemical engineering, as well as help students understand industrial application. Going a step further, they made digitisation, safety, and sustainability main focal elements.
"It's not just about using the equipment to get a fluidised bed going, but then linking back to a disaster that has happened based on a failure of fluidised beds, and then understanding that safety is important as part of the design element, which builds up to the fundamentals of chemistry".