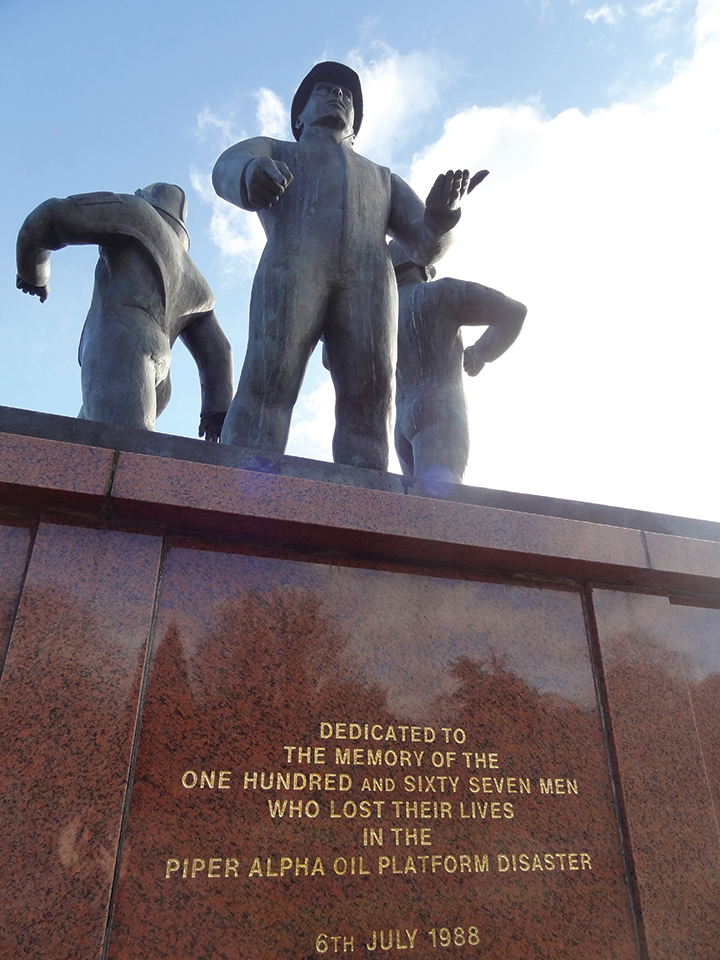 Iain Cameron/Flickr
MY VERY first introduction to the Piper Alpha disaster was in 2007 during the second year of my chemical engineering degree course at Imperial College London; more specifically during a safety and loss prevention module which was delivered brilliantly by Stephen Richardson and predominantly consisted of a timeline of images taken from various sources offshore as the disaster unfolded.
The adage of a picture paints a thousand words is typically overused in today's parlance, however from my perspective, the images brought a degree of realism to the theoretical aspects of hydrocarbon discharge rates, flame fronts, explosions etc and ultimately, the risks and associated hazards encountered in the upstream industry.
As I have transitioned through various roles in my albeit relatively short career; the Piper Alpha disaster has never been far from my radar; particularly as I am now based offshore in the North Sea. I once had a random encounter on a typically grey Aberdeen autumn evening with an individual at the Rose Garden in Hazlehead Park where the memorial to Piper Alpha stands today. He happened to be working on Piper Alpha on that very fateful night and was one of the few who disregarded the 'stay put' instructions and made the incredibly brave decision to make the 50 m jump from the helideck into the sea as fire engulfed the installation. Whilst like many folks, I have seen the Spiral to Disaster video numerous times which is indeed very hard hitting; his recount of his personal experience of the night was heart wrenching to say the least.
Have we learned?
In 2013 as part of IChemE's Oil & Natural Gas Special Interest Group committee and 25th anniversary of the Piper Alpha disaster, I organised an evening presentation at Imperial College London whereby Richardson and Graham Bennet (DNV GL) presented the events of the night of 6 July 1988. The theme of the evening was to question and debate whether the industry has learnt the lessons of Piper Alpha and recent events such as the Macondo well blowout in April 2010 in the Gulf of Mexico, thereby questioning whether it's a safer place to work.
The Health and Safety Report issued by Oil & Gas UK in 20171 stated that positive trends with regards to hydrocarbon releases and dangerous occurrences are being observed with a downward trend in hydrocarbon releases since a peak in 2004. Indeed, 2016 saw the number of major and significant process releases with the potential to escalate as the lowest on record. Statistically, positive strides being made however, hydrocarbon releases on the scale of Piper Alpha still occur, albeit with unrealised potential in most cases due to fortuitous factors.
For instance, in May 2016, a gas gathering offshore installation in the Southern North Sea sector received an improvement notice from the regulator after a "significant" gas release from a low-pressure vent knock out drum. Incidentally, the same installation had been subject to three significant gas releases in November 2012 with significant potential consequences (approximately 600 kg of gas released) and ultimately resulted in a prohibition to operate notice being served to the duty holder by the regulator. The investigation identified failures in the permit to work system and isolation procedures amongst others as root causes. Parallels to Piper Alpha, certainly; lessons learnt, one may argue either side in this case, however it took a substantial fine with associated reputational damage to reiterate the case for change.
The UK North Sea, long viewed as the standard bearer for offshore oil and gas safety, has improved markedly since Piper Alpha in inherent process safety design, safety management systems, human factors, emergency response communications, and management of operating procedures – largely driven by the 108 recommendations from the Cullen inquiry. There are however still improvement strides to be made, still lessons to be learnt and still cause to keep Piper Alpha at the forefront of our everyday decision-making processes, particularly those made at the forefront offshore.  
As I approach the ten-year mark of my career, Piper Alpha still resonates with me as it first did when I sat in my lecture theatre at university a decade ago. Maintaining the chronic sense of unease is critical to ensure that as an industry, we do not revert to complacency. I recommend that all graduates whether working in design or operations should attend DNV GL's Spadeadam hazard awareness training session to fully appreciate at first hand the energy and impact of a gas explosion and fire.
Lastly, we should always remember that 167 souls lost their lives as a result of the Piper Alpha disaster. Lest we forget.
Reference
1. Health & Safety Report, Oil & Gas UK, 2017
---
We have added fresh perspectives each day in the run up to the 30th anniversary of the Piper Alpha tragedy. Read the rest of the series here.