IN the 1970s, chemical operations that I have been exposed to used acetone and benzene for the main slurry solid-
liquid separation process, as well as for cleaning. In the 1980s, there was a push to minimise solvent use, and research was looking more towards using water as the process liquid, but you still had open filter presses, and rotary drum filters where the entire plant was white from titanium dioxide or pharma stearates.
Fast forward to the present and we all know that processes remain open with filter presses, vacuum filters and centrifuges. Our job these days is to find solid-liquid separation process solutions that can be contained for high solids slurries (greater than 10% solids) during filtration, cake washing and dewatering/drying. The discussion below looks at batch and continuous operations.
Batch operations
Nutsche filter-dryers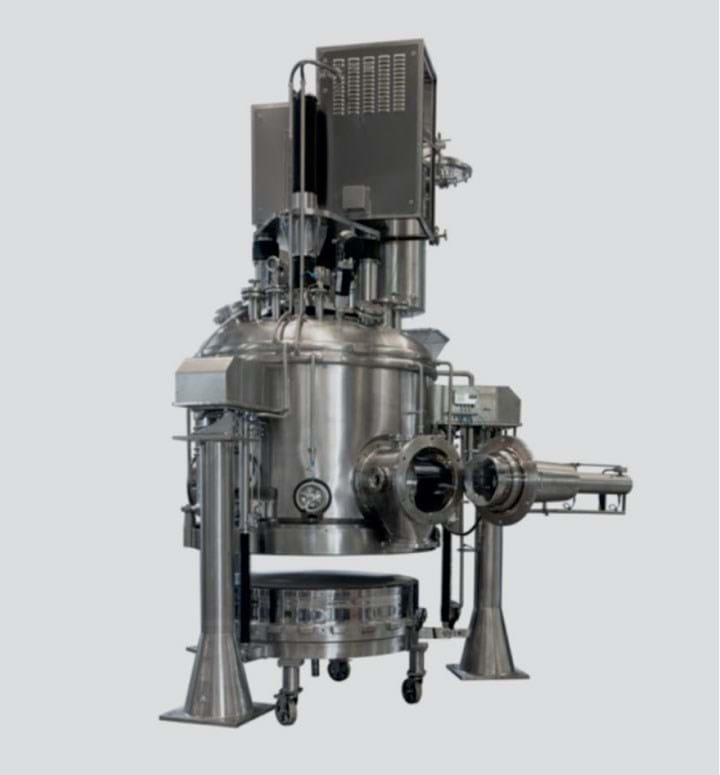 Nutsche filter-dryers (see Figure 1) have been around from the early 1980s and are a mature technology. When containment was required, every chemical engineer wanted to install a filter-dryer. They are sized to take the complete batch from the reactor and process it to completion, meaning final dryness. The agitated nutsche filter-dryer is based upon thick cakes from 5–7 cm up to 30 cm and higher. For this type of filter to be successful, the cake permeability must be able to accept a deep cake without compression. Circular or rectangular filter media with a drainage layer is installed on a perforated filter plate.
The nutsche filter contains an agitator sealed to the vessel by means of a stuffing box or mechanical seal. The agitator, normally three blades, covers the diameter of the vessel. The agitator moves up and down as well as in the clockwise and counter-clockwise directions. The agitated nutsche filter can conduct pressure filtration, cake smoothing, cake washing (displacement and reslurry washing), vacuum and pressure drying, and then automatic cake discharge.
Contained filter-presses
Contained filter-presses came onto the market for several reasons. Filter-presses are used everywhere, and when containment became a topic of concern, these manufacturers adapted their technologies. A contained unit did not require a process change and more importantly, these units could operate at a cake thickness down to 2.5 cm, which is not possible in a nutsche filter-dryer. There are several types of contained filter-presses. A typical design is shown in Figure 2, where a housing seals the plates.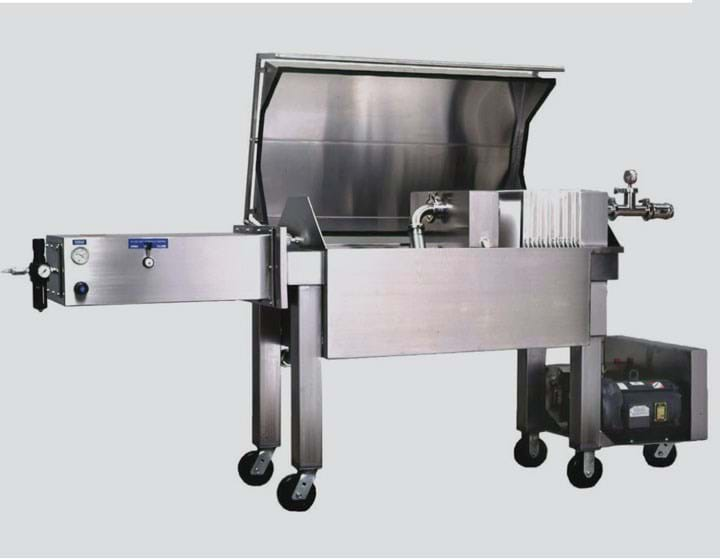 An improved design (see Figure 3), includes pressure filtration up to 1m Pa, cake washing in the forward and reverse direction, cake drying in the forward and reverse direction using pressure blowing and vacuum, as well as automatic cake discharge.
Circular plates with welded metal or synthetic media are contained in a pressurised housing. This allows for pressure filtration, cakes washing and vacuum or pressure drying. After the cycle is completed, the housing is moved and automatic cake discharge is via scraper knives that move between
the plates.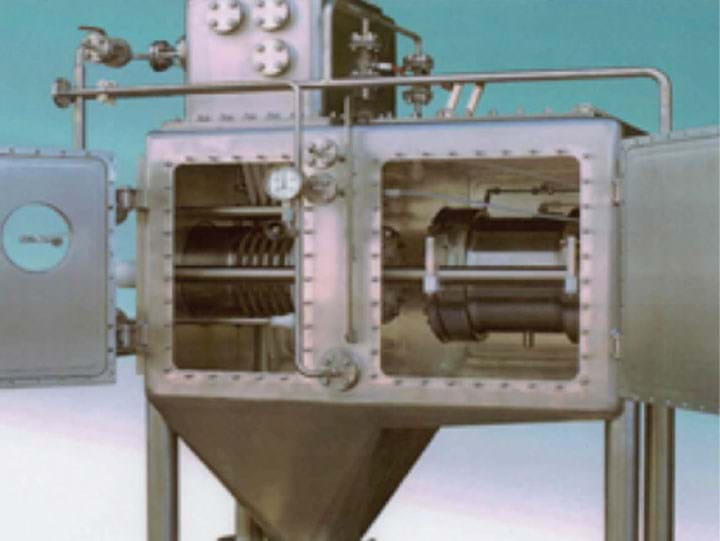 Contained centrifuges
Contained centrifuges vary in design depending upon the operation and the type of centrifuge such as horizontal peeler, inverting basket, and disk centrifuges. Centrifuges can be blanked or inerted for operation as well as sealed designs. For example, a contained centrifugal disk centrifuge is shown in Figure 4.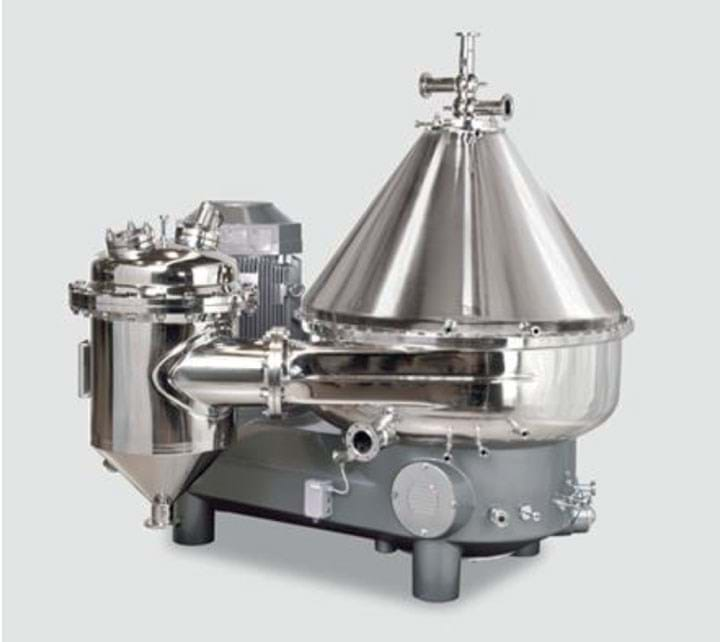 Continuous operations