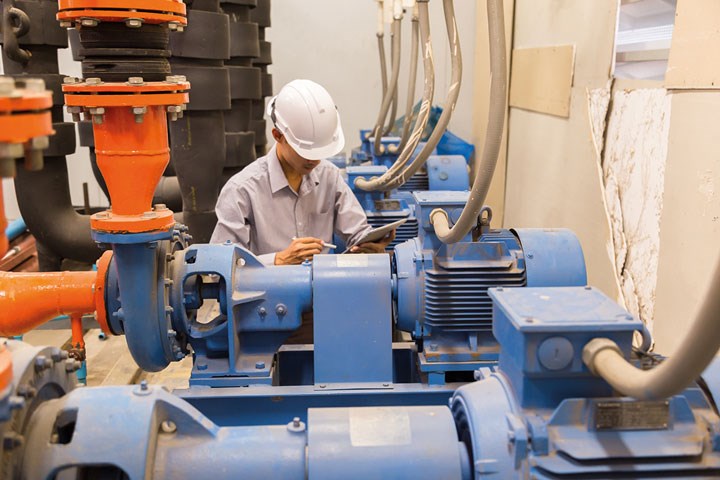 Stephen Hall discusses the golden rules for design
IN THIS article I'll show how to use a risk assessment approach to identify and mitigate safety concerns during a project's design phase. Pumps, like all rotating equipment, are inherently hazardous to people and their surroundings. There can be serious consequences if the energy input into a pump is misdirected. Consequences include direct injury from rotating parts, fire resulting from leaks or excess heat, equipment damage from overpressure or water hammer, and numerous others.
Engineers should incorporate features in their designs that ensure or facilitate safe operations. It is nearly always preferable to remove hazards rather than to rely on safeguards or procedures to prevent harm. In addition to using checklists of good design practices, try brainstorming to imagine failures and their potential consequences. Use the information in this article as a starting point and tailor design features to meet the specific challenges of your project.
Table 1 presents a brainstormed list of failures. A failure modes and effects (FMEA) methodology uses this format. Since I am proposing that this be done before the design is finalised, the table has a column that lists engineering features that can be considered. After the design is done and a formal process hazards analysis (PHA) is performed, the engineered features that are actually incorporated into the design become safeguards.
Each entry into the brainstormed list should be evaluated based on the likelihood that the failure will occur and the severity of the consequence if it occurs. For example, a major US company requires that the ventilation slots on motors be no more than 6 mm wide. Any motor that the company purchases that has slots wider than this are retrofitted with an additional screen. This company has determined that the likelihood of a person sticking a pencil or other narrow object into a running motor is such that they do not want to bear the risk that the consequence they perceive could occur. Other groups or companies are perfectly happy accepting motors with the standard ventilation cover. It is a matter of risk tolerance that leaves some possible safeguards in a grey area between universal adoption or rejection.
Every pump should be installed in accordance with the manufacturer's instructions. Pumps should be aligned with external connections (ie, piping) and, if applicable, motors should be aligned with the shaft. Alignment should not depend on flexible connectors; those are there to absorb other vibration and movement due to thermal expansion or contraction, not to correct for improperly positioned equipment.
Several entries in the table call for interlocks that will safeguard the pump if sensors detect abnormal conditions. Interlocks should be considered where indicated, but they should also be evaluated holistically to ensure that the system's interlocks work together and do not cause additional problems that could potentially be more severe than the issue that is local to the pump.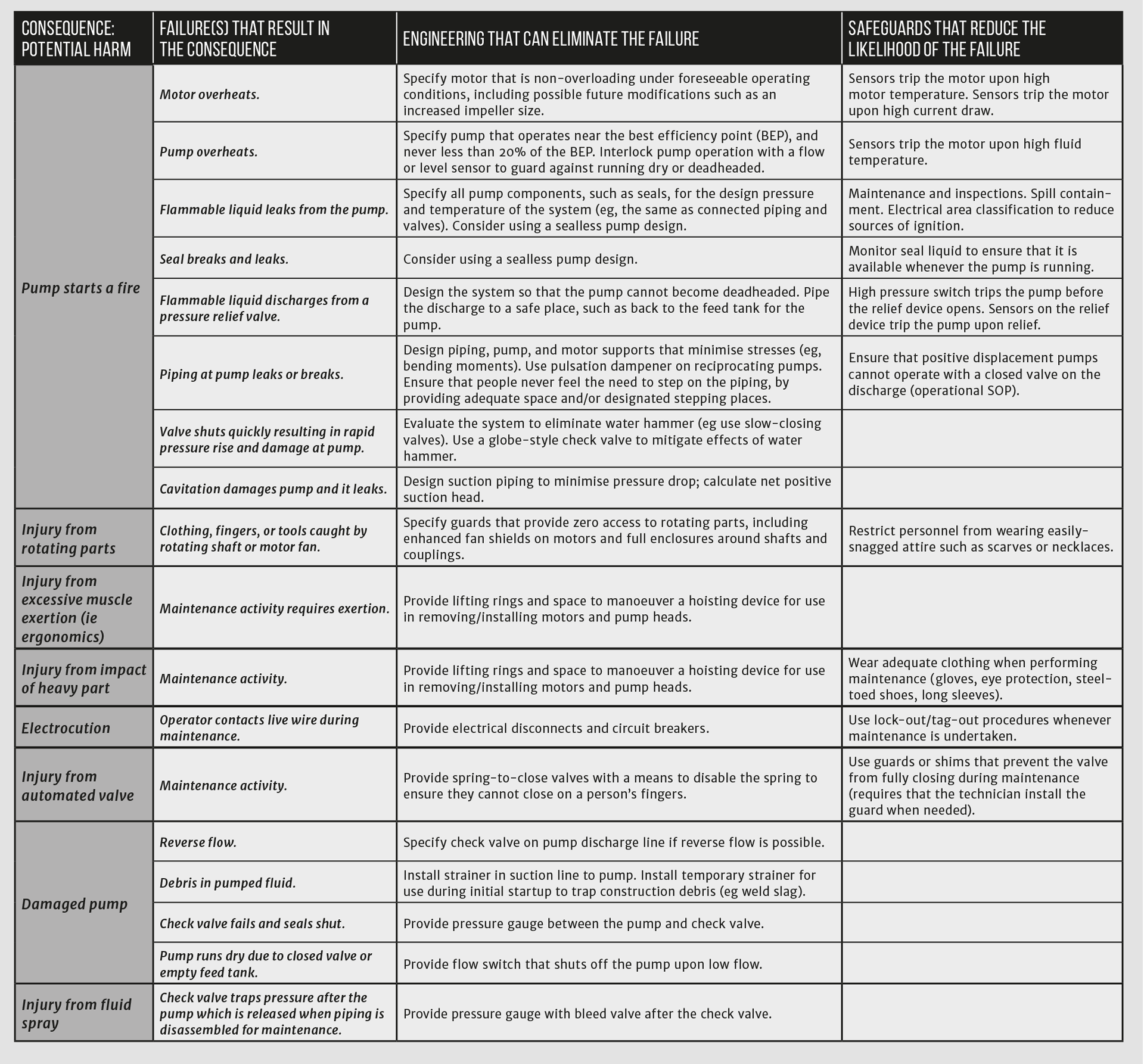 General operation and maintenance procedures will help to identify problems before they cause severe damage.
Maintain operating logs that track the pump performance (such as discharge pressure). Logs should be reviewed periodically to identify trends that may indicate performance degradation.
Ensure operators are trained in the startup, normal operation, and shutdown of pumped systems. This includes alarms and emergency response.
Train all personnel in the site-specific lock-out/tag-out (LOTO) procedures.
Before starting any pump, check that all valves are in the correct position. Valves in the intended flow path should be open and vents and drains should be closed.
For large or complex pumping systems, consider hiring a technician from the pump company (or representative) to be on site during startup.
Perform routine preventative maintenance according to established schedules and following prescribed procedures.
Maintain equipment history files that document the pump's life cycle. This typically includes the original specifications, changes (such as components that might be replaced whether or not the new component is "like for like" to the original), maintenance, and failures.
The same brainstorming technique – coupled with checklists that recite good engineering practices – can be used for any project where hazardous conditions might exist. Apply it to unit operations, as in this article, or larger systems such as piping networks. Fully document the exercise, including the names and dates of participants, for later reference. The documentation should also give rationale for possible features that you decided to omit from the design.
We, as design engineers, have many responsibilities; safety should be our first priority.
---
This is the 14th in a series that provides practical insights into on-the-job problems. To read more, visit the series hub at https://www.thechemicalengineer.com/tags/rules-of-thumb.
Disclaimer: This article is provided for guidance alone. Expert engineering advice should be sought before application.