Bringing the story of Flixborough to life via cartoons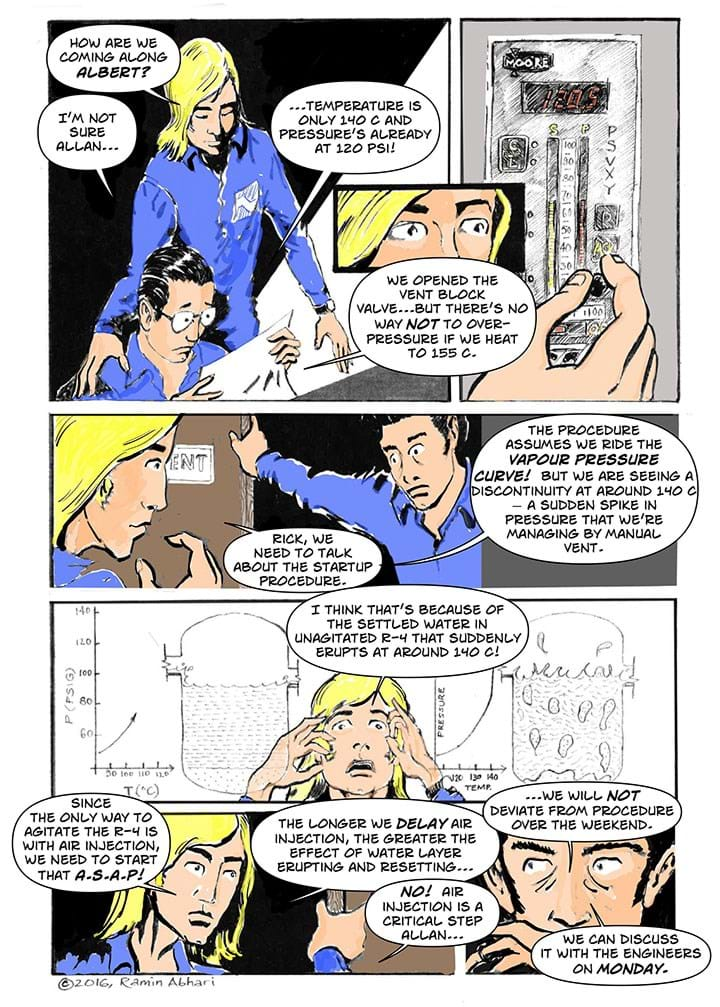 A RECENT Process Safety Beacon feature (Chemical Engineering Progress, Jan 2019) highlighted the importance of stories. Fairy tales and mythology enrich a culture by teaching correct values.
Similarly, case histories of accidents can become a part of an organisation's safety culture. There is a story behind every safety policy, isn't there? At least one great story for MOC, another for LOTO, others for updating SOPs, and so on. Knowing and sharing the stories could transform policies into values.
IChemE Safety Centre (ISC) Director Trish Kirin pointed out in a recent article in Loss Prevention Bulletin (LPB264, Dec 2018) how reading most accident case histories tends to place the reader in the position of an unconnected observer, judging instead of relating. Kerin's team has developed computer-based interactive modules based on well-studied case histories that turn the user into a participant. Similarly, by establishing an emotional connection, a story can make a distant accident more personal.  
Drawing Flixborough
The first time I heard of Flixborough was when I was browsing through Ralph King's book, Safety in the Process Industries a couple years after its first publication. The book had a whole chapter on Flixborough. Once I started reading that, I couldn't stop. I had never seen such a comprehensive approach to accident investigation. Having worked as an engineer and shift operator at a process demonstration plant where 'creative workarounds' to operational issues were not uncommon, I could completely relate to what went wrong.  
The Flixborough story teaches us how poorly-managed changes can compromise even the most elegant process designs and the safest plants. I found myself sharing the facts about Flixborough with friends and colleagues throughout my career. Then about four years ago, I decided to combine my hobby of drawing comics with my chemical engineering experience to share the Flixborough story with a wider audience. The product is a graphic novel, titled Nylon Years that I hope becomes a story that enriches our safety culture. 
---
The main part of the book will be available free-of-charge on the Loss Prevention Bulletin website, which will release a new chapter every Friday. 
Read the first chapter here.