Efstratios Pistikopoulos and Yuhe Tian ISBN: 9780323855877; Elsevier; 2022; US$190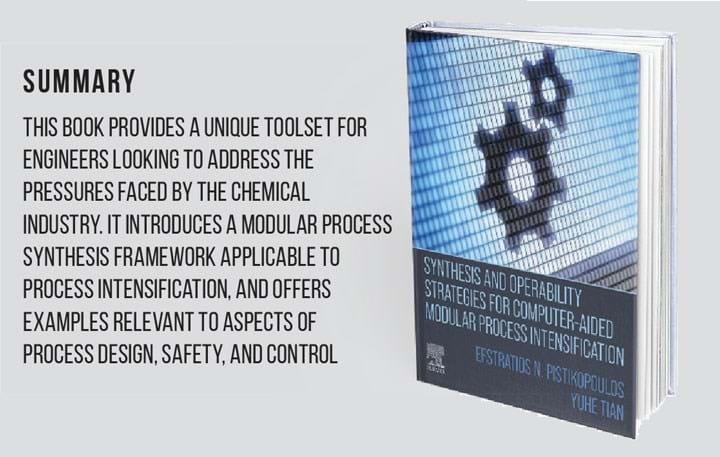 IT was some 20 years ago that I was involved in process intensification (PI). Synthesis and Operability: Strategies for Computer-Aided Modular Process Intensification offered me an eagerly-accepted opportunity to reacquaint myself with the art. PI technology can start to address the economic and social pressures we find ourselves under today by making dramatic improvements in manufacturing and processing, substantially decreasing equipment size, waste production, and energy consumption.
The strategies presented in Pistikopoulos and Tian's work offer a systematic, computational methodology to develop process intensified applications which, until now, have been developed using a very Edisonian approach. This has led to long lead times while not, necessarily, finding the optimum solution. The proposed approach unifies synthesis and operability methods in one framework, harnessing the synergy of multi-functional phenomena and, hence, integrating multiple process steps into a single piece of equipment.
The book opens with an introduction to the basic concepts and fundamental principles of modular process intensification, which offers insight into the history and current practices of the process systems engineering community. The authors then introduce their Generalised Modular Representation Framework (GMF). This is a methodology of reducing a process to a number of phenomena including mass transfer, heat transfer, and momentum. And then using these in combination with a series of tasks, including separation, reaction, heating, and cooling, as modular building blocks for a PI flowsheet. By applying driving force constraints to process metrics (energy, cost, sustainability etc) the approach identifies the necessary reaction or separation tasks applicable to the process equipment.
The methodology is flexible in producing an optimised solution consisting of conventional and/or intensified unit operations, incorporating other criteria into consideration such as energy use or carbon footprint. This approach is further enhanced by coupling orthogonal collocation method on the finite elements of the process to incorporate heat integration across the process. The detailed theoretical approach for all these aspects is supported by worked examples for actual processes, which helps show its efficacy.
Where the authors' work stands out for me is that they have extended the focus of their approach to include aspects of safety, controllability, and overall operability. The application of Dow's Safety Indices into an overall safety weighted hazard index provides, along with an equipment quantitative risk analysis, an approach to fully evaluate the safety of any synthesised process.