Raj P Chhabra and Basavaraj Gurappa ISBN: 9780081010983 (Paperback), 9780081012208 (eBook; Butterworth-Heinemann; 2019; £84.95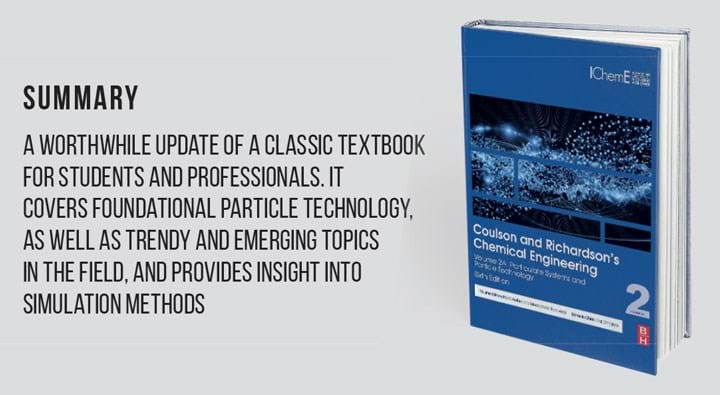 Throughout all stages of their careers, the chances are really high that practising chemical engineers will face, and sometimes struggle with, particulate materials in all forms. Particles are everywhere in industry; and a cause of headache to practising engineers and scientists in areas from raw materials to intermediates and products; from biopharmaceuticals to catalysts; and from manufacturing to technical sales.
At the same time, it is recognised internationally that there is a lack of courses in particle technology at undergraduate and postgraduate level. This is something I faced myself, as I was designing the curriculum for the new chemical engineering degree at the University of Greenwich, UK. Noting the deficiency, I tried to incorporate particle technology as much as possible into the curriculum I created, squeezing related topics into areas that more traditionally focus on liquids and gases, and unit operations that deal with mixtures of both phases.
This book represents an extensive volume (in the order of 800 pages) that covers most aspects of particle technology including size reduction as well as size enlargement and in some cases with a lot of detail. This volume is restyled and includes some changes with respect to the previous version, affecting chapters and sections (eg crystallisation, gas cleaning) leaving scope for other topics (membrane separation, product design).
The previous volume available in this series emphasises separation methods, and this recent version also touches on the topic of solid separation methods. However, the new version does not focus as much on final purification methods, which is unfortunate as this is an area that is gaining increasing attention because of the need to upgrade product purity. As an example, current lithium sources for lithium batteries require high purity grade lithium (>99.95%).
This book is an excellent piece of reference with a clear and effective writing style, and a wide coverage of topics, including the incorporation of state-of-the-art techniques and trends. In this respect, the book considerably improves the previous version adding aspects like new characterisation methods, DEM, population balance modelling, or nanoprecipitation to name a few. However, nanoparticles are arguably ignored or treated in a superficial manner (only in solutions in chapter 13). This is unfortunate, because the properties of nanoparticulate substances are different from those of the same substance in bulk. Additionally, nanoparticles are contributing to the enhancement of microparticle properties in so many ways, eg coating or structural and property enhancement.
The authors use some space to describe the angle of repose as a rapid technique of estimating flow behaviour, or the Hausner ratio. However, they could have reflected and introduced more rigor into this, incorporating modern methods used to analyse dynamic flowability of powders and particulate materials at low stresses, since many industrial processes operate in those conditions.