Amanda Doyle looks at how the crisis of coronavirus is impacting the pressing need to go green
JUST two months ago, I wrote a feature about the upcoming COP26 climate summit in Glasgow, and why the November event was so important in addressing the climate crisis. Now the world is in the grip of a completely different kind of crisis and the tragedy of this pandemic will touch us all in one way or another. But while humanity deals with the more pressing task of eradicating the coronavirus, the other crisis is still there. COP26 may be postponed until next year, but the climate emergency hasn't gone anywhere. Emissions may temporarily be reduced, but that won't be enough to halt the inevitable worsening droughts, floods, wildfires, hurricanes and the humanitarian crises that follow. Should we completely turn our backs on one emergency while we deal with another? Or should humanity see this as a chance to rebuild the world into something better?
The effect on the climate
Numerous countries in lockdown has led to some industries being at a standstill or significantly reducing production, changes in energy use, and major decreases in road and aviation transport. Overall this had led to a drop in CO2 emissions, with Chinese emissions temporarily falling by 25%, according to an analysis by Carbon Brief. It estimates that global emissions for 2020 could fall by 2,000m t, equivalent to 5.5% of emissions in 2019. However, it cautions that there are uncertainties in these projections, especially when attributing which reductions are a direct result of the impact of the virus. For example coal-fired power was already in decline at the start of the year.
As CO2 remains in the atmosphere for centuries, a drop in emissions doesn't equate to an immediate drop in CO2 concentration in the atmosphere. According to the World Meteorological Organization (WMO), CO2 levels at key observing stations are still higher than last year. "Past experience suggests that emission declines during economic crises are followed by a rapid upsurge. We need to change that trajectory," said Petteri Taalas, WMO Secretary-General. The WMO warns that it is too early to draw conclusions on the emissions reductions related to the virus.
Speaking at a WMO event in March on the state of the  global climate, UN Secretary General António Guterres warned that the fall in emissions should not be seen as a silver lining to the pandemic, adding that "we will not fight climate change with a virus".
There has also been significant reduction in NO2, which is primarily produced by industry and vehicles. NO2 has a short atmospheric lifetime and therefore doesn't get transported far from the emission source. Satellite observations have shown that NO2 pollution levels have dropped by around 50% in parts of Europe, according to the European Environment Agency. While NO2 emissions will climb once again when lockdowns ease, the temporary respite offers a glimpse into a future with cleaner air.
Should we completely turn our backs on one emergency while we deal with another? Or should humanity see this as a chance to rebuild the world into something better?
Alastair Lewis, Professor of Atmospheric Chemistry, National Centre for Atmospheric Science, University of York, said: "The temporary reductions in emissions being seen at the moment provide us with some unique insight into what might be possible for future air quality in cities. The large reductions being seen in transport emissions of NOx allow us to evaluate how the atmosphere will respond to a future electrified fleet that will no longer emit this pollutant. The chemistry of the atmosphere is complex with many contributing sources, and this 'clean' period is likely to help inform what air quality standards might be feasible for secondary pollutants such as PM2.5 and ozone in the future."
The coronavirus has also had an impact on climate activism, with group protests no longer able to go ahead. Greta Thunberg urged the weekly youth climate strikes to go digital, encouraging people to participate in a "climate strike online" as well as join weekly webinars. Thunberg said on Twitter: "In a crisis we change our behaviour and adapt to the new circumstances for the greater good of society."
In an interview with New Scientist, Thunberg said: "People don't want to hear about the climate crisis [now]. I completely understand that, but we have to make sure that it's not forgotten. We need to treat both of these crises at the same time, because the climate crisis will not go away." Thunberg added that the virus' impact on the economy shows that societies are not very resilient, but also shows that people can act and change behaviour quickly in an emergency.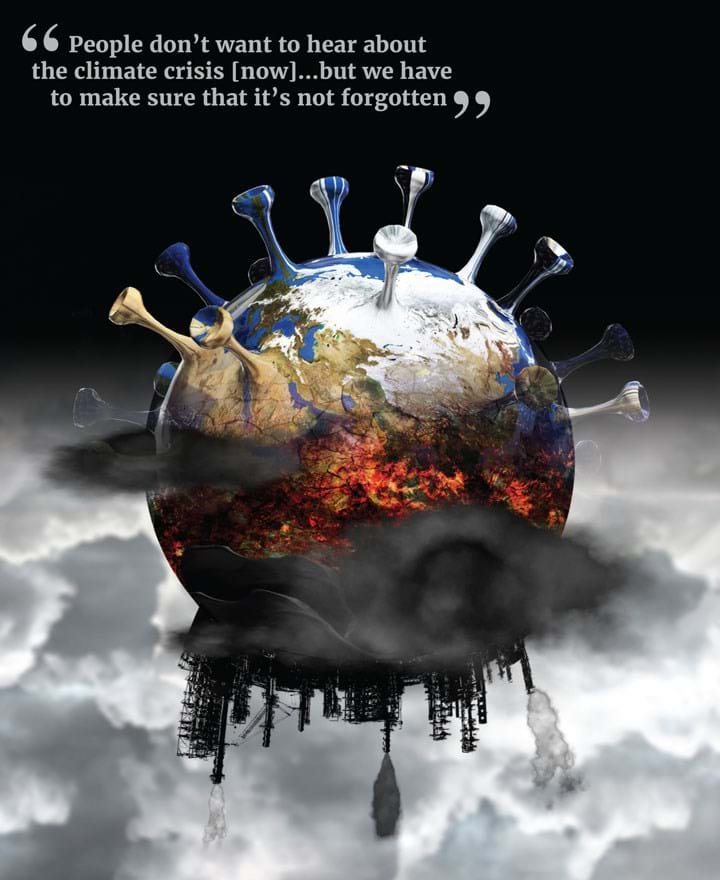 Challenges for the energy sector
While almost every sector has seen some impact from the virus, the energy sector in particular has been hit with new challenges.
A fall in demand for oil combined with plummeting oil prices has had a knock-on effect for the energy industry – both fossil fuels and renewables. The International Energy Agency (IEA) has warned that low oil prices risk delaying clean energy investments, including renewables, hydrogen, and carbon capture and storage. According to The New York Times, it could be difficult to secure financing for planned renewable projects if a global recession occurs, and this could be made worse where investment incentives are due to expire at the end of 2020. In addition, lower oil prices lead to cheaper energy which results in people using it less efficiently. The European Commission has said that closing borders can disrupt supply chains, which includes renewable technologies.
There have also been impacts on the biofuels industry due to falling demand from policy changes. Euractiv has reported that some European governments are considering, or have already suspended, the requirement for 10% biofuels to be blended with petrol, as increasing the percentage of fossil fuels will soften the blow to the oil industry. The Sustainable Biofuels Alliance said in a statement: "Although the European Union committed to phase out subsidies for fossil fuels by 2020, one spectacular last subsidy is now in the works in Central and Eastern Europe (CEE). 'Suspending biofuel mandates' is a polite way of saying 'substituting oil for biofuels'. With a decline in overall liquid fuel demand, demand for biofuels will fall by an equivalent amount without any government action, which is already a problem for Europe's economies. Worsening that situation by de facto banning biofuels in favour of oil is daft."
However, the virus has not affected the ambitions of some oil companies to continue to push for net zero, with BP and Shell both confirming continued decarbonisation plans. Bernard Looney, CEO of BP, wrote on LinkedIn that the company will not be watering down its climate ambitions as a result of the virus. "In fact the current crisis has reinforced my belief in reimagining energy and reinventing BP. Climate change and the drive for the world to get to net zero have not gone away. Even while the world comes together to fight Covid-19."
Shell announced on 16 April at an investor briefing that it intends to reach net zero by 2050 or sooner and strengthen its previous decarbonisation targets. Ben van Beurden, CEO of Shell, said: "With the Covid-19 pandemic having a serious impact on people's health and our economies, these are extraordinary times. Yet even at this time of immediate challenge, we must also maintain the focus on the long term. Society's expectations have shifted quickly in the debate around climate change. Shell now needs to go further with our own ambitions, which is why we aim to be a net zero emissions energy business by 2050 or sooner."
It could be difficult to secure financing for planned renewable projects if a global recession occurs, and this could be made worse where investment incentives are due to expire at the end of 2020
Forecasting the future of energy demand has always been challenging. BP's Energy Outlook 2019 predicted that oil demand would continue to grow before plateauing in the 2030s, whereas DNV GL's Energy Transition Outlook 2019 said that oil would likely peak in 2022. The Carbon Tracker Initiative predicted in 2018 that fossil fuel demand would peak in 2023, but now it suggests that peak demand could have already occurred in 2019.
According to The Guardian, a spokesperson for the International Association of Oil and Gas Producers, said: "The oil and gas industry has a history of successfully responding to difficult situations and we anticipate that it will adapt as it has before. Furthermore, the industry has been a key engine of prosperity and a driver of innovation for many decades. It has the experience, skills, knowledge and resources needed to realise a low-emissions energy future – a transition that would be more difficult and more expensive without it."
Policy changes
Climate policies are also changing or being delayed as a result of the virus. According to Business Green, a report by Morgan Stanley about the impact of Covid-19 on decarbonisation said that new climate policies are likely to be delayed but that the longer-term trends of engagement with the climate crisis will continue. It also said that there is a potential for a shift in behaviours which could reduce emissions, such as continuing to hold some meetings via video calls rather than global business travel.
The COP26 climate summit has been postponed until 2021, although a new date has not yet been set. The summit is particularly important as it marks five years since the Paris Agreement was adopted at COP21 in 2015. Countries are expected to submit new or updated nationally-determined contributions (NDCs) which show increased ambition on policies that deal with the climate crisis. Despite the postponement of the summit, NDCs should still be submitted by the end of this year as the Paris Agreement calls for them by the end of 2020, not by COP26.
According to Business Green, the delay to COP26 could create some opportunities. The UK will host the G7 Summit next year, and COP26 co-host Italy will host the G20, which offers the opportunity to put the climate crisis high on the agenda. Depending on the outcome of the US election in November, the US could rejoin the Paris Agreement in time for the summit.
The reaction of the US to the virus has been to ease pollution restrictions as a boost for struggling industries. The US Environmental Protection Agency (EPA) has implemented a temporary policy that allows facilities such as power plants to monitor themselves on meeting legal requirements regarding pollution levels. During the outbreak the EPA will not issue penalties for violations and has asked companies to "act responsibly". The EPA's policy has no end date.
The European Commission released its European Green Deal last year, which is an ambitious plan for the EU to achieve a carbon-neutral economy by 2050. Despite the pandemic, efforts are still underway to continue with the plan. However, this approach has been met with some criticism as Andrej Babiš, Prime Minister of the Czech Republic, said: "Europe should forget about the Green Deal now and focus on the coronavirus instead".
Despite this, the European Commission launched a consultation on 30 March to seek input on whether to revise the EU's 2030 climate target. It said in a statement: "While all the Commission's immediate political focus is on the task of combating the coronavirus, we are continuing our preparatory work on long-term policy priorities including the European Green Deal."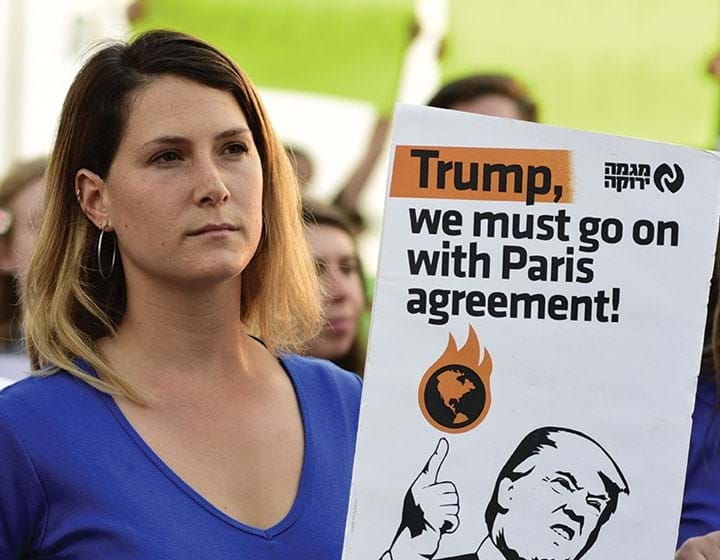 A green recovery
The IEA has called on governments to keep clean energy in mind while considering measures to protect economies in response to the coronavirus.
Fatih Birol, Executive Director of the IEA, said that large-scale investments in clean energy technologies should be part of governments' plans as they will both stimulate economies and accelerate the clean energy transition. He added that the drop in oil prices is a great opportunity to remove fossil fuel subsidies.
"The coronavirus is turning into an unprecedented international crisis, with serious repercussions for people's health and economic activity. Although they may be severe, the effects are likely to be temporary. Meanwhile, the threat posed by climate change, which requires us to reduce global emissions significantly this decade, will remain. We should not allow today's crisis to compromise our efforts to tackle the world's inescapable challenge."
We should not allow today's crisis to compromise our efforts to tackle the world's inescapable challenge
The UK's Committee on Climate Change (CCC) has said that it will present advice to the Government on green recovery plans that will allow the country to continue on its net zero path. The CCC's Chief Executive, Chris Stark, said: "Responding to the pandemic is, rightly, the immediate priority for everyone. Eventually, thoughts will turn to the need to rebuild after coronavirus – the climate priorities can help shape these efforts. The Committee will offer advice to Government on constructing a resilient recovery. Coronavirus is teaching us all the value of prudent planning for global shocks."
The way in which that these two crises are intertwined is complex. A virus is clearly not the way to reduce emissions. However the global effort to deal with one crisis shows that it is possible to tackle another. The pandemic has resulted in interdisciplinary and international cooperation on a tremendous scale, as well as governments in consultation with scientists and engineers as to the best way forward. If that can be harnessed in recovery plans for when the pandemic ends – and it will end – then maybe humanity can turn the tide on the climate emergency.