When sustainability numbers don't exist, get creative
SOMETIMES a task can seem too daunting. That's how we at the life science business of Merck felt when we repeatedly got requests for lifecycle analysis (LCA) for our products. You may be saying, "Yes, they're detailed, but come on." Well, doing LCAs for more than 300,000 products isn't an easy task. Was there a better way to tackle these requests?
The idea for an improved framework came to me after reading a story about how Nike was equipping its designers with tools to think with a more environmentally friendly mindset when designing shoes. Since Nike has a competitive environment, it turned this task into a competition as well. The company designed apparel and was then asked if it could do it better. I stepped back and thought, if they could do that, why couldn't we? We're not having any monumental scientific competition or anything, but if I've learned anything over 15 years in the life sciences, it's that scientists and data go well together.
We started with a globally-accepted framework: the 12 Principles of Green Chemistry. This framework, which was codified in the early 90s, provided a great starting point. It was created by two scientists with the goal to shift how the scientific world thought about the intersection of science and sustainability — and worked to make it mainstream.
Now that we had a framework, the tough part started. It took us several years, a PhD scientist, numerous interns working on degrees in the sciences, an advertising major completing an MBA, a master environmental health and safety guru, and a lawyer to provide guidance through the process.
The challenge was simple and complex at the same time: How do you create an analysis system that is straightforward yet deals with complexity and variables? As we set out on this task, we needed to look at the data that we had that was readily accessible. We knew that there was safety data and globally-harmonised data for the labeling of chemicals that could help us. We then started to look at the products we manufactured and realised there was another set of data under our noses — the manufacturing recipe, if you will. With these three sources, the team worked through many, many iterations over several years. 
The magic number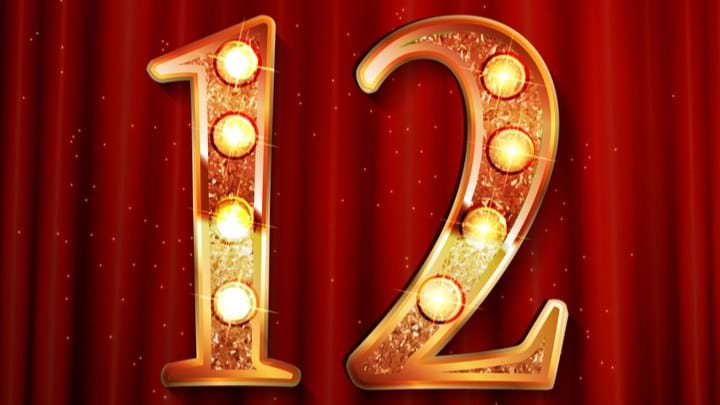 Ultimately, we landed on what we thought was a good approach: 12 calculations or algorithms that would be grouped and averaged to produce a final score from 0 to 100, with zero being most desirable. The next step was to validate our approach. We worked with consultants who reviewed, pressure tested and tried to break the approach. After some modifications to strengthen the scientific accuracy of the model, the team officially verified that our approach was scientifically accurate for what we set out to accomplish. (See how we calculate greener against the 12 Principles of Green Chemistry in our white paper.)
Let me demonstrate how the calculation works, and why it's become an important tool. Our scientists were actively 're-engineering' our products as part of an initiative to increase the sustainability of our portfolio. They did some amazing work and came up with some significant savings, but we didn't really have a way to translate the improvements to our customers or internal stakeholders.
Enter beta-amylase — an enzyme that is extracted from a specific type of sweet potato. Two of our scientists were conducting some at-home research about the craft wine making and brewing processes when they came across a reference in a text from the 50s about stripping a poly-phenol more efficiently. They thought it was highly probable that it could work in the process we were working on to improve the manufacturing of beta-amylase — and they were right. We initially used:
2,722 kg of sweet potatoes;

8,638 L of acetone; and 

a significant amount of electricity to increase temperature and pressure to make the reaction happen.
 When our scientists revealed the new figures, I thought they were kidding. They were able to:
reduce our sweet potato requirement by two thirds;

completely eliminate the use of the acetone and make it an aqueous-based process; and

eliminate the use of electricity to increase temperature and pressure to make the reaction happen.
(See below for the 12 calculations and overall score for this process.)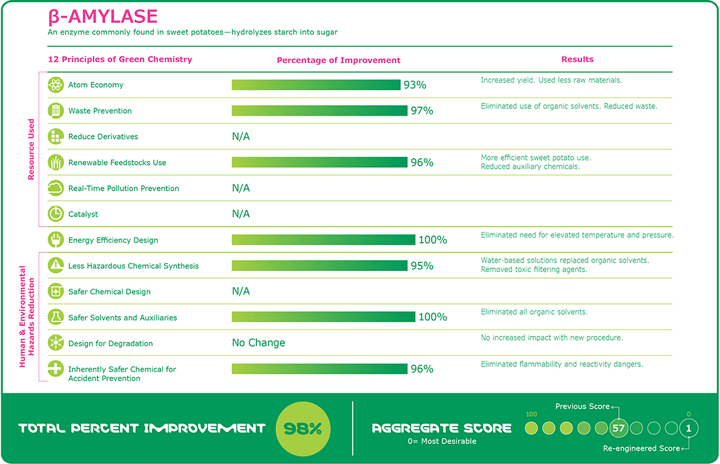 Sharing knowledge
On top of those results, our scientists made the product 15% purer than that previously provided to customers. This is great, but I doubt many people are taking the time to read that soliloquy.
This is where our DOZN tool helps us take the facts and put them into a digestible, data-rich system. It allows someone who wants to dig deeper understand where information is coming from, but also offers peace of mind to know that a consistent calculation is being applied to score products.
The more exciting part launched in May, which was DOZN 2.0. With this publicly-facing tool, scientists have the option to compare an entire process rather than just a single product. And in the spirit of enabling more people to make better decisions, the web-based tool is free.
Our intent was to take an idea to a starting point that could spark a conversation around green chemistry metrics and ways to advance the approach so that more people can make sustainability-enabled decisions. For instance, the calculation for real-time pollution prevention takes very sophisticated equipment to measure — and what's the solution? The answer is having more people think about it and adding to the conversation to improve the approach and practice. It's going to be iterative and we're in it for the long haul.
Our take is that imperfect data that is scientifically rigorous and directionally correct is preferable over perfect data that is not available or usable.