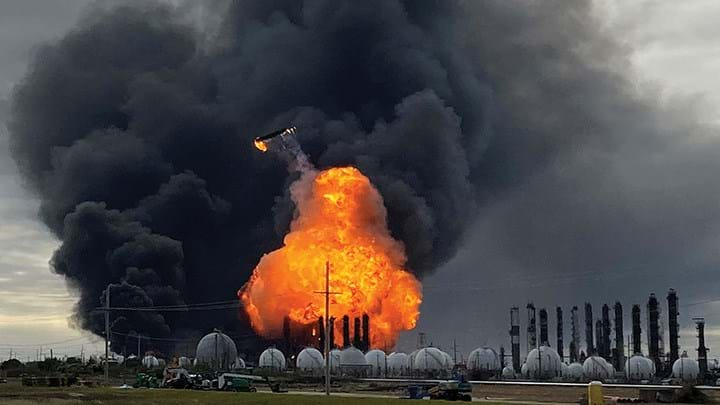 Erwin Seba/Reuters
EPA cuts costs by rescinding safety rules; days later Texas blast devastates plant
THE US Environmental Protection Agency (EPA) has rescinded most of the Chemical Disaster Rule – which was designed to improve safety at chemical facilities – saying that it was an unnecessary regulatory burden. While industry trade groups have welcomed the move, it has been met with disappointment by the safety community; and came just a week before another major blast at a Texas chemicals facility (pictured). 
The Chemical Disaster Rule, an amendment to the Risk Management Program (RMP), was created in response to the explosion at a fertiliser plant in West, Texas, in 2013. The explosion killed 15 people, including 12 first responders, and injured more than 260 people. The Obama-era rule was designed to ensure that any facilities dealing with hazardous chemicals would be required to disclose potential risks to local emergency responders. The rule also required facilities to have third-party audits, incident investigation analyses, and to assess possibilities of safer technologies. It was finalised on 13 January 2017, but was delayed under the Trump administration until a federal appeals court ordered the EPA to implement the rule in August 2018. It finally came into effect in December 2018, after an attempt to enforce the rule immediately was blocked. In the time of the delay, 73 incidents occurred.
The EPA, under the Trump administration, proposed changes to the rule in May 2018 which were finalised on 21 November 2019.
Under the revised rule, companies will not have to assess the possibilities of using safer technologies. Companies will not be required to perform third-party audits or a root-cause analysis after an incident. The hazard review team will not have to include findings of incident investigations. The rule rescinds the requirement to investigate a catastrophic release if the incident also results in the affected process being decommissioned or destroyed. It also rescinds employee training requirements for supervisors responsible for process operations. The operator of the plant will no longer be required to keep process safety information up-to-date.
Information about what types of chemicals are used at the facilities will no longer have to be made public, which the EPA said was a security risk.
The rule is retaining the 2017 amendment which says that the investigation team should have at least one person knowledgeable in the process. It is also retaining the requirement for facilities to provide local first responders with their emergency response plans.
The EPA said in a statement that the revised rule will "remove burdensome, costly, unnecessary amendments while maintaining appropriate protections and ensuring first responders have access to all of the necessary safety information."
Andrew Wheeler, EPA Administrator said: "Accident prevention is a top priority of the EPA and this rule promotes improved coordination between chemical facilities and emergency responders, reduces unnecessary regulatory burdens, and addresses security risks associated with previous amendments to the RMP rule."
Mike Walls, Vice President of Regulatory and Technical Affairs at the American Chemistry Council, said: "EPA's changes to RMP will provide a strong regulatory framework for our industry to continue our work to safeguard chemical facilities and to work with our state and local partners to plan for a potential emergency."