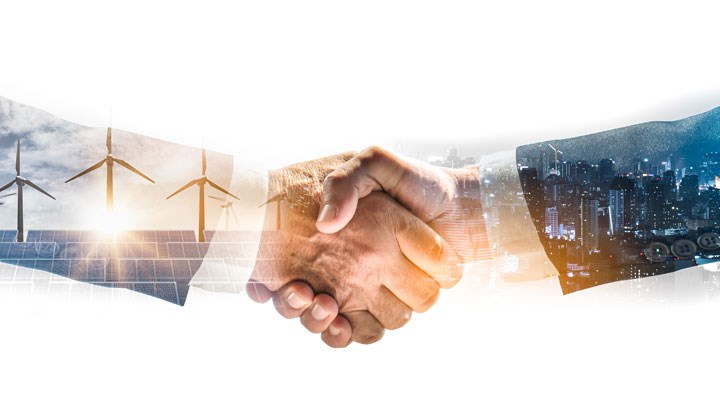 The UK and Saudi Arabia have agreed to deepen collaboration and work together in areas including critical minerals, and space based solar power. In a separate meeting, the UK has also strengthened its relationship with UAE on hydrogen technology. 
The Saudi agreements, which were forged by UK business secretary Grant Shapps who was in Riyadh for the Future Minerals Forum, laid out plans to facilitate the sharing of technical knowledge, advice, skills and expertise, while paving the way forward for Saudi investment in the UK's manufacturing and mining finance sectors. New opportunities for UK mining firms to do business in Saudi Arabia was also discussed. 
Along with possessing around 17% of the world's oil reserves, the Saudi government estimates it has untapped mineral resources worth about US$1.3trn, with vast quantities of aluminium, phosphate, gold, copper and uranium hidden underground. 
Last year, Saudi Arabia said it plans to award over a dozen mining exploration licenses to international investors as it looks to diversify away from hydrocarbons, and explore the possibility of setting up a new metals and mining stock exchange index, similar to Australia's ASX 300 Metals & Mining (XMM) sub-index. 
For the UK, the deal bolsters the objectives set out in its critical minerals strategy released last year, which seeks, amongst other things, to collaborate with international partners to ease reliance on the world's biggest producer of rare earth metals, China.  
Almost every part of modern daily life relies on minerals, and by 2040 the world is expected to need four times as many critical minerals for clean energy technologies as it does today.  
However, the government acknowledges that it is not possible for the UK to meet all of its critical mineral needs domestically. Finding alternative supply chains is therefore key to not only providing resilient access to critical minerals, but also to help boost domestic capability in a way that generates new jobs and wealth, as the country pushes forward with its energy transition, said the government.  
"The impact of Putin's illegal war in Ukraine on energy prices has shown us all how important international supply chains are to our economy, and why we can never be too reliant on any one nation. That's why it's so key that we work with partners like Saudi Arabia to make sure our supply chains are diverse and robust, supporting jobs and prosperity across the UK in the decades to come," said Shapps. 
Collaboration in space and innovation 
During his visit to Saudi Arabia, Shapps also met with the chairman of the country's Space Commission, Abdullah Al-Swaha to discuss a collaboration between UK company Space Solar, and Neom – a new smart city that is being built on Saudi Arabia's  Red Sea coast.  
A plan to use satellites in Earth's orbit to harvest the Sun's energy from space and beam it down to Earth using microwaves has already caught the attention of ministers, who announced £3m (US$3.6m) in funding for space-based solar power (SBSP) projects.  
Forging a collaboration with Saudi Arabia, could see each nation committing significant investment into developing the technology in the coming years, said the UK government. 
Shapps said Saudi Arabia's efforts to modernise "opens up a host of opportunities for burgeoning British businesses." 
Although no details into a potential SBSP partnership was released, the UK government said that while "exporting UK expertise could transform global access to renewable energy", future funding in collaboration with Saudi Arabia would be "subject to value-for-money analysis and investment security scrutiny." 
Clean Energy with UAE 
After leaving Saudi, Shapps concluded his visit to the Middle East by attending the Abu Dhabi Sustainability Week. At the conference, the business secretary met with Suhail Mohammed Al Mazrouei, the UAE minister of energy and infrastructure, to cement a partnership on energy that was discussed in 2018. 
Building on deals already in the pipeline, such as ADNOC's 25% stake in the design stage of BP's blue hydrogen project at H2Teesside, and Sabic's £850m investment at a hydrogen facility in the same region, the UK government said the MoU would "further reinforce the robust economic links between the two countries….while boosting jobs and investment in the UK." 
According to the UK government, the MoU also "acknowledges the progress the UAE has made so far on climate action," before advising that the UAE had announced it will collaborate with the UK-launched Breakthrough Agenda, a commitment to make clean technologies the most affordable and accessible option globally by 2030. 
This agenda was first launched at the UK hosted COP26 in Glasgow by a coalition of 45 world leaders, whose governments collectively represent over 70% of global GDP. Leaders agreed at COP26 to review progress annually and at COP27, a package of 28 priority actions were submitted by participants to strengthen the "international collaboration gap" which threatens to delay achieving net zero by decades. 
COP28 will take place in Dubai in November and December 2023, and has already sparked a backlash from climate activists and civil society groups after Sultan Al Jaber was appointed president-designate of the summit by the UAE.  
Many have hailed the decision of appointing ADNOC's CEO, whose firm pumps some 4m barrels of crude a day, as a clear conflict of interest with presiding over the next round of global climate talks. 
A COP28 spokesperson for UAE responded by saying that as ADNOC CEO, "[Al Jaber] has spearheaded investments of US$15bn over five years in decarbonisation strategy and new low-carbon solutions." In addition, "his experience as founding CEO and current chairman of Masdar, which has made clean energy investments in over 40 countries and operates three of the world's largest and lowest-cost solar plants, uniquely positions him to be able to convene both the public and private sector to bring about pragmatic solutions to achieve the goals and aspirations of the Paris climate agreement", the spokesperson said.