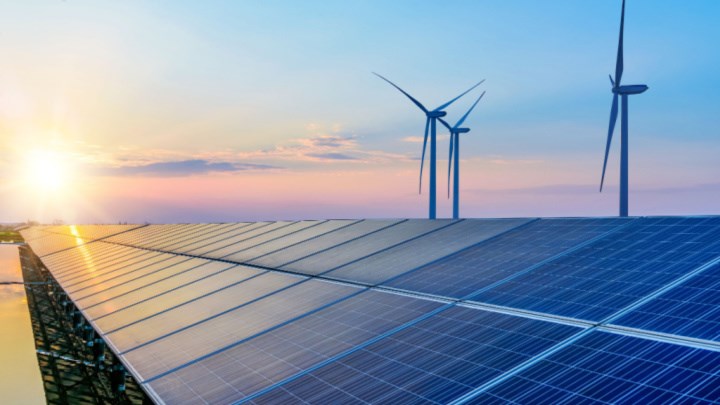 ADDRESSING a country still reeling from the pound plummeting, and the prospect of higher inflation and interest rates caused primarily by the Conservative Government's new fiscal policy, the Labour party have in their annual meeting outlined plans for an industrial strategy, which includes setting up a publicly-owned green energy company within a year if its leader, Keir Starmer, wins the next election. 
Advocating for public money to be spent on building-up British industry, rather than funding projects owned by other countries, such as the largest onshore wind farm in Wales which is owned by Sweden, and UK nuclear facilities run by Chinese interests, Starmer said in his hour-long address, that British power should belong to the British people. 
"Labour won't make the mistake the Tories made with North Sea oil and gas back in the 1980s, where they frittered away the wealth from our national resources," Starmer said. "That's why today I'm so proud to launch our Green Prosperity Plan. A plan that will turn the UK into a green growth superpower. And driving the plan forward is a goal that will put us ahead of any major economy in the world: 100% clean power by 2030." 
Starmer said that to achieve the party's plans will require a "huge national effort" but in turn that effort will be rewarded with "double Britain's onshore wind capacity, treble solar power, quadruple offshore wind, invest in tidal, hydrogen, and nuclear." On top of that Labour said they will back carbon capture, commit to green steel production, invest in new gigafactories, and insulate 19 million homes. 
The idea has already gained favour with environmental groups. "Backing the government's plans and establishing a UK-owned energy generator has the potential to give homegrown renewables a big boost," said Rebecca Newsom, Greenpeace UK head of politics. "Under a publicly-owned Great British Energy, vital emerging technologies like floating offshore wind and green hydrogen electrolysers could be given the extra support needed as UK supply chains are grown and costs come down." 
Labour's pledges are a far cry from the Government's recently announced Plan for Growth 2022 strategy, which has garnered widespread criticism due to its tax cuts that favour the wealthy, and an estimated pay-out of £60bn to the UK's energy companies – some of which have announced record profits this year – to help protect consumers against higher bills.   
Along with offering 100 new licenses to North Sea oil and gas producers, and lifting the ban on fracking, the Conservatives controversial fossil fuel energy targets are proving as unpopular as its intention to create 38 "investment zones" across England. 
Portrayed as areas that will benefit from tax incentives, and planning liberalisation, the move to invest in its Freeports programme has been labelled as an "attack on nature", by organisations including the Royal Society for the Protection of Birds (RSPB), the Wildlife Trusts and the National Trust, who fear that the laxed laws promised to investors will prove catastrophic for local wildlife. "The RSPB is deeply concerned about today's proposals for investment zones and "liberalised planning rules" in places as widespread as Norfolk, West of England, West Midlands and Tees Valley," the charity said in a press release.  
Alongside the potential powers in the new Retained EU Law Bill, which could see hundreds of Britain's environmental laws covering clean air, water quality, sewage pollution, and the use of pesticides removed from UK law, "Government has effectively launched a full-on attack on the laws that protect nature," the RSPB added. 
 To end what Labour see as over a decade of stagnant productivity, the party has published an industrial strategy proposal that it sayssays, "would help end the farce of long-term plans that do not survive the political cycle". It plans include establishing an Industrial Strategy Council (ISC) and placing it on a statutory footing like the Committee on Climate Change (CCC) and Office for Budget Responsibility (OBR). The ISC would include experts from business, academia and trade unions, and would assess the effectiveness of the government's industrial strategy. 
Referring to a string of Tory Government Industrial Strategies that have been established and subsequently scrapped just a few years later when new Conservative Prime Ministers are appointed – three Industrial Strategies have been shelved since David Cameron became PM in 2010 – Labour argues that such inconsistency makes it difficult for businesses to plan ahead and take decisions about their future direction. 
Instead, Labour said it will provide a clear and dependable policy framework that businesses can trust and grow with, through the introduction of four key missions: delivering clean power by 2030, harnessing data for the public good, caring for the future, and building a more resilient economy. In turn, these missions will drive improvements in people's wages and living standards, revitalise public services, and re-energise communities, said the party.