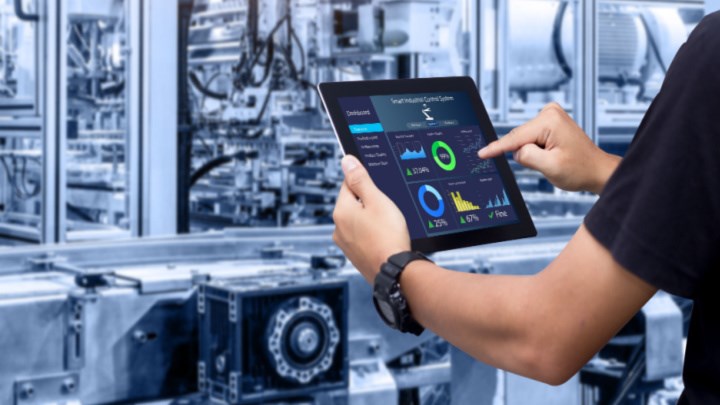 NATIONAL funding agency UK Research and Innovation (UKRI) has announced the winners of £13.7m (US$15.4m) to back projects aimed at harnessing digital technologies to improve the sustainability and efficiency of manufacturing processes.
Projects applying for funding from the Sustainable Smart Factory competition needed to demonstrate innovative development and application of data or digital technology that could help to optimise material use; reduce, reuse, or separate waste materials; or lower energy consumption to increase sustainability throughout an area of production. In total, 12 projects were selected to receive a share of the funding, each securing funding between £500,000 and £4m.
A project that received £510,410 will advance technology from Topolytics, a data aggregation and analytics business, which uses mapping and machine learning to make the world's waste "visible, verifiable, and valuable". Through its WasteMap platform, Topolytics aims to turn the waste system into an efficient materials supply chain that will more readily allow the identification and recovery of industrial byproducts or waste, and post-consumer material. WasteMap ingests, normalises, and analyses waste data at scale, from a range of sources, to generate insights for waste producers, the waste industry, investors, and regulators.
UK-based startup Deep.Meta is leading a project that received £991,026 to use artificial intelligence (AI) to reduce energy use in steel production, and subsequently carbon emissions across the supply chain through efficiency gains. The project is also expected to help take UK steel to the next level of technological advancement and increase its international competitiveness. Revenue increases are projected at £80m and 100 new jobs are expected in the steel-tech sector, in the next four years.
Batch.works is a UK manufacturer that combines 3D-printing and recycled materials to make products for UK brands, including lighting, stationery, fashion, and homeware. Its project, which received £876,390, will integrate AI to reduce the costly fail rate of 3D-printing to improve efficiency and automate processes towards several other goals. These include increasing use of recycled materials, improving lifecycle circularity for new products, and reducing embodied carbon in products, and improve profitability as they scale. Batch.works also aims to build UK manufacturing capability that is inherently adaptable and makes it more resilient and less reliant on global supply chains, which were vulnerable under Covid-19.
The awarded projects offer a wide range of technologies to manufacturing goods and industrial processes across sectors spanning food, automotive, plastics, electronics, and various engineering disciplines. All the projects will run for up to 2 years, and they could create 1,000 jobs in three years after their completion, while reducing manufacturing CO2 emissions by 300,000 t/y.
Projects range from 2–10 participant organisations each – totalling 55 organisations from Scotland, the South West, Northern Ireland, and East Anglia. The organisations are small- and medium-sized enterprises (SMEs) and large manufacturers, technology developers, universities, and research and technology organisation.
Jackie Doyle-Price, Industry Minister (Minister of State at the Department for Business, Energy and Industrial Strategy, Minister for Industry), said: "Creating and adopting the latest in digital technology solutions will be key to the continued success of our manufacturing sector.
"It is now critical that companies in industries as varied as baking to advanced robotics are maximising their potential using technology such as AI and virtual reality.
"The projects awarded funding today will cut energy consumption and boost growth for businesses in regions right across the UK, while helping our world-leading manufacturers keep pace with ever growing global competition."
Chris Needham, Innovation Lead in the Made Smarter innovation challenge at Innovate UK, said: "Effective digital technologies can have a substantial impact on the manufacturing sector, bringing outdated, inefficient and unproductive products and processes up the standards needed for a net zero industry of the future."
The Sustainable Smart Factory Competition is funded through the £147m Made Smart innovation challenge, which supports transformation of UK manufacturing by pioneering the development and integration of new and existing industrial digital technologies, including AI and VR.